Minister of Energy, Water Resources and Irrigation Barshaman Pun urges Australian investors to invest in Nepal's hydro power sector.
Minister Pun made this remarks during his meeting with Australian ambassador to Nepal Peter Budd. Ambassador Budd said that Australia is willing to invest in the energy sector.
Minister Pun said that the government has issued white paper for integrated development of hydro power sector aiming to generate 10000-15000 MW of hydro power.
Minister Pun added that Nepal needs additional investment for hydro power and Australian support is necessary for this.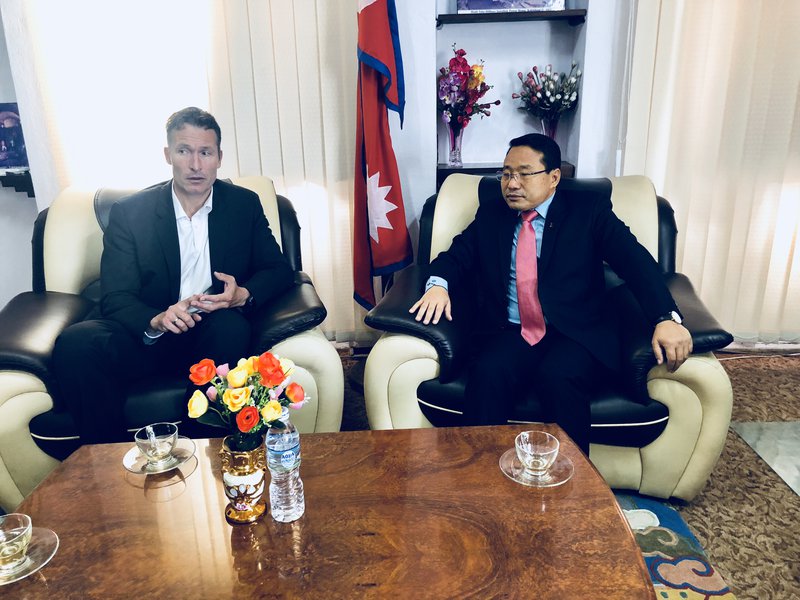 Australian Ambassador Budd said that Australia is ready to provide expert and technical support to the offices under the Ministry of Energy. Australian ambassador Budd also said that Australian companies are interested to invest in solar energy in Nepal. He also informed that one Australian company has shown interest to invest in 300 MW solar plants in Nepal.
Australian Embassy and Power Development Company also signed technical cooperation agreement. In presences of Energy minister Pun, Managing Director of Company Mohan Raj Panta and head of Australian Development Cooperation signed 12 points agreement. As per the agreement, Australia will support in development power project and provide technical assistance in the design of power houses.