One of the main candidates in Pakistan's election, Shahbaz Sharif, rejected the results of the poll Thursday as counting was still underway, alleging 'blatant' rigging.
"It's such a blatant rigging that everyone has started crying. Today what they have done has pushed Pakistan back 30 years.We reject this result," Sharif, who leads the incumbent Pakistan Muslim League-Nawaz (PML-N), told a press conference in Lahore.
Shortly before he spoke state television said that just 18 per cent of the vote had been counted so far.
Late Night Trend Favors Imran Khan's PTI
Pakistan's biggest ever polling exercise largely ended smoothly with sporadic incidents of violence, including a bomb blast in Quetta resulting in death of 31 people.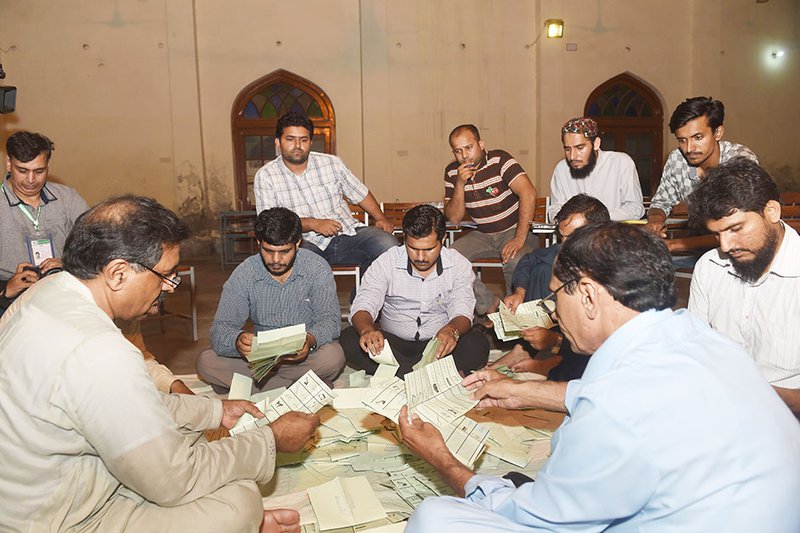 Late night trend of unofficial results indicate win for Imran Khan's Pakistan Tehreek-e-Insaf (PTI) closely followed by Pakistan Muslim League-Nawaz (PML-N) and the PPP lagging far behind at third place. PTI supporters erupted in celebration as the electronic media started announcing unofficial results showing lead for Imran Khan in Pakistan's 11th General Election.
Voters came out in record number braving any security concern to give their verdict in a knife-edge general election.
Most analysts had predicted a hung parliament in the 342 seat National Assembly but going by the trends, it may Imran Khan all the way if he manages to secure more than 137 out of 272 contested seats. Announcement of final official results will start today by the Election Commission of Pakistan.
As many as 12,570 candidates contested for a total of 849 seats of national and provincial assemblies in the general election yesterday in a race to the parliament.
Director General (DG) Inter-Services Public Relations (ISPR), Major General Asif Ghafoor thanked the nation for using their right to vote and showing their love for the men in uniform. "Thank you fellow Pakistanis. World has seen your love and respect for Pakistan Armed Forces. You have rejected all kinds of malicious propaganda," he tweeted.
No conspiracy' as vote result delayed
A top Pakistani election official said results from Wednesday's general election were coming in late because of technical issues, and there was "no conspiracy" in the delay.
"There's no conspiracy, nor any pressure in delay of the results," Babar Yaqoob, secretary of the Election Commission of Pakistan, told reporters on Thursday. "The delay is being caused because the result transmission system has collapsed."
Sources: Gulf News, Reuters and AFP