At a time when Nepal has been facing several internal crises, including power sharing between local, provincial and central governments and rising political violence, the role of Nepal Army, a strong national force and national security force, is sure to increase.
With the growing rivalry of new military powers in the Asia, the external environment is also very unpredictable. Having a long history of keeping Nepal's unity and integrity intact, the army will have more challenging days ahead.
Looking at all internal trends and external trends closely, COAS General Thapa has announced several new strategies for the coming days. He announced that he will prepare and implement Nepali Army Vision 2030, aiming to strengthen the organizational structures of Nepal Army.
Announcing his new reform policies on September 9, COAS General Thapa has hailed the role of his predecessor retired COAS General Rajendra Chhetri for his mentorship and expressed his commitment to implement the good plans and policies implemented by his predecessor.
At a time when there is a growing criticism over corruption in Nepal Army, COAS General Thapa has urged all his generals to be transparent in handling the transactions.
Announcing new reforms in the selections process of UN Peacekeeping, COAS General Thapa is set to review the previous guidelines to make the selection process open and transparent.
As the country's overall security structure is also in the process of transformation with provincial local level police apparatus, there is the need to make proper security arrangements for the future on command and control of the security agencies. As the main national security agency, Nepal Army is in need of work to make it strong and capable to guide and direct other security agencies on national security issues.
Addressing the army's rank and file, COAS General Thapa hinted at the need to have a Comprehensive Defense Review to formulate a new defense strategy for the future to make Nepal Army stronger to handle any kind of security related issues.
"I will bring National Guidance if it is necessary in coming days," said General Thapa. He also said that there is the need to have cohesiveness among all the levels of leadership in different units.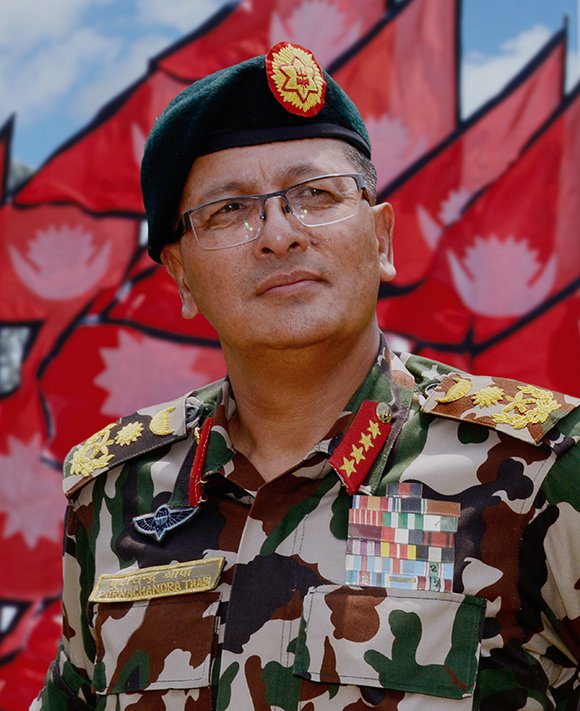 COAS General Thapa
He also said that a cantonment system will be prepared and implemented to uphold the high morale of the ranks and files of Nepal Army. He also said that mission command and operational command concepts will be introduced to make the local commanders more responsible under the decentralization approach.
He also said that there is need of specialization in Nepal Army. He announced that various specialized units will be made as per the requirement of army like Corps of Logistics, Corps of Medical Services, Corps of Signals, Corps of Combat Engineers, Corps of Construction Engineering, Corps of Intelligence, and Corps of EME.
COAS General Thapa also expressed his commitment to complete the economically important Fast Track in scheduled time. Similarly, COAS General Thapa urged his ranks and files to continue to dedicate themselves in the work of preservation of national park and nature.
In his address, he also announced the need to use the resources of Welfare Fund in a transparent manner to provide more services to the retired and working persons of Nepal Army. He also said there was the need to improve the recruitment system.
Paying high respect to the first commander-in-chief of Nepal Army and nation builder Prithvi Aryan Shah the great, COAS General Thapa urged all his ranks and files to maintain glory, prestige and respect of Nepal Army. He also urged all army personnel not to lose trust of the people.