Bhutan's prime minister-elect and Druk Nyamrup Tshogpa(DNT) party president Dr Lotay Tsheringon October 18 said that his government would have a "positive approach towards the two countries in the next five years" even as his regime's "foreign policy will be guided by King Jigme Khesar Namgyel Wangchuk".
In an exclusive interview to the South Asian Monitor at his native village of Wang Sisisna in South Thimpu constituency, Dr Tshering, who studied medicine in Bangladesh and lived in that country for 10 years, said that he was in favour of allowing China to open its mission in the Bhutanese capital, though this "should be done after talking to all (internal stakeholders)" and after "weighing the pros cons" of such a critical move that could have regional repercussions.
The DNT won a stunning victory in Bhutan's elections to the National Assembly, following a second-round route of its rival, the Druk Phusensum Tshogpa (DPT) party.
In the course of the electoral campaign for the final round of elections which ended on October 16, two days before polling day (October 18), both the DNT and the DPT were penalised by the Election Commission of Bhutan for raising the controversial issue of Thimpu's relations with India, which invariably would have dragged China into the political discourse.
While the India-China rivalry in the context of Bhutan's peculiar geographical location in South Asian region shot into global prominence last year during the Doklam stand-off, Thimpu maintained a diplomatically significant 'silence' at the peak of the confrontation that continued for 73 days. This was interpreted by observers of regional geopolitics to be a stand in favour of India, though there were others who found Bhutan's reticence to take any vocal stand as an imperceptible shift from its New Delhi-centric foreign policy.
It is in this context that Dr Tshering, whose party was pitted against the DPT, which is seen to be pro-China, said "Bhutan's foreign policy cannot change every five years, especially when it is in the hands of a visionary king who is the safest and best" for his country. Dr Tshering's cryptic message, according to foreign policy analysts in Thimpu, indicated that he was inclined to "go along" with King Jigme Khesar Namgyel Wangchuk's distinctive and historical relations with India.
"We will take part diplomatically but see to it that there is no singular stand because of our confidence in his majesty who guides Bhutan's foreign policy," Dr Tshering said, adding clearly that while he and his party were in favour of more foreign missions in Thimpu, "such a decision should not be arrived at overnight and all its pros and cons should be considered well in advance". Dr Tshering said that in the event a decision is taken to invite other countries to open their missions in Thimpu, "Bhutan would expect reciprocity from others".
According to Dr Tshering, Bhutan in general and his party in particular "value the monarchy, His Majesty's vision and the changes that he has been able to bring to the country's foreign policy". Therefore, given the "social structure, deep-rooted religious sentiments, it would be wrong and inconceivable to say that we won't want him to continue to play a role in the fledgling democracy in the years to come," the DNT chief said, adding that "the king is a self-less and benevolent monarch".
Dr. Lotay Tshering, president of the DNT party arriving at Wang Sisina village to cast his ballot on October 18 when Bhutan went to the polls to elect representatives to its 47-member National Assembly. PHOTO: SOUTH ASIAN MONITOR
While calling upon all political parties in Bhutan "to act in cooperative ways", Dr Tshering said that his "only hope is that the country doesn't get divided on religious, political and ethnic lines". Accepting "unemployment" as perhaps the biggest socio-economic challenge before the Bhutanese, Dr Tshering said that "a large number of people, as much as 25,000, remain jobless and they account for about 2.5 percent which is a "huge number".
When asked what solution he would employ to address the issue of unemployment, which Michael Rutland, a close confidante of the king, had earlier described to the South Asian Monitor as "the biggest internal problem that could destroy Bhutan's tranquility", Dr Tshering said he would take recourse to a "more realistic approach" to tackle the problem.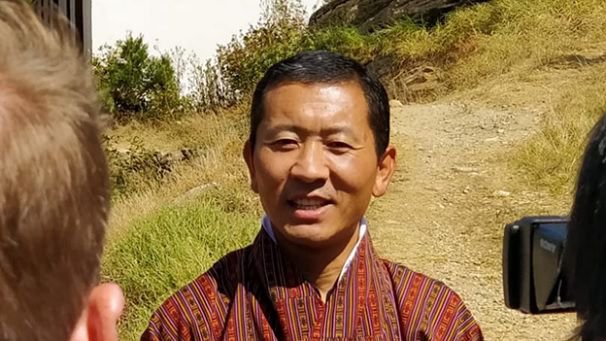 "Instead of an agency, my government would institute an employment board as the labour department has no authority to take independent decisions on how to mitigate the problem of unemployment. DNT will push beyond and focus on infrastructure and training of youth. My party's stand is that we do not believe in sending youth out to work unless it is to first-world countries," Dr. Tshering, maintaining a calm and composed demeanour said.
Bhutan's Prime Minister-Elect Dr. Lotay Tshering flanked by South Asian Monitor Editor Irtiza Nasim Ali (on his right) and Executive Editor Chandan Nandy.
Internally, Dr. Tshering said, DNT would work out modalities by which there "will be no division on party lines", adding that "there are three other parties and we will all sit together from time to time to work out a common stand on different issues by consulting and discussing among each other so that consensus emerges".
A urologist with Bhutan's ministry of health, Dr Tshering graduated from Dhaka Medical College with an MBBS degree and later took an MBA from Canberra University, Australia. Before he joined the DNT, Dr Tshering worked as a consultant surgeon and urologist. Hailing from a humble family that was previously based in Wang Sisisna village about 15 kms outside of Thimphu, Dr. Tshering is said to be close to the king with whom he accompanied on national tours, providing medical services to Bhutanese people living in far-flung areas of the country.
Courtesy: South Asian Monitor