At a time when there are misunderstanding about country's with highest foreign investment, a revelation came out. Presenting key note address, former vice chair of National Planning Commission disclosed that out of 137.6 billion rupees total foreign direct investment, West Indies is number one foreign investor in Nepal with Rs.62. 8 billion rupees followed by India with 27.3 billion and China Rs.10.8 billion.
According to the paper presented by Dr. Pokharel Singapore with 7.1 billion stood fourth followed by Ireland 5.8 billion. Other top countries in the list include Australia 3.8 billion, South Korea 2.9 billion, Bangladesh 2.5 billion, UK 2.3 billion, USA 2.3 billion others 10.0 billion.
He also said that West Indies, Ireland, Australia and Bangladesh investment is directed to service sector only. India's investment is diversified in Industry, Service and Agriculture. However, China's investment is in industry and service sector.
Organized by Center for Economic and Technical Studies (CETS) with support from Friedrich Ebert Stiftung (FES), various scholars presented the papers in the first day of two day national seminar on Dimension of Foreign Direct Investment and Social Justice in Nepal.
Chaired by Dr. Meena Acharya, Birendra Saud advocate investment expert welcomed the guest highlighting Nepal's legal and policy lapses in inviting the foreign investment in Nepal.
Addressing the workshop, Annette Schlicht, Resident Representative of Friedrich-Ebert-Stiftung (FES) Nepal office said that this is an important contemporary national and global issue and happy to be part of it.
" You may ask yourself why FES as organization which is promoting social justice together with its partners in 110 offices all over the world is bringing together trade unionists, businessmen, representatives of ministries, media and civil society to talk on the character and nature of investments coming from different sources to Nepal," said Annette Schlicht.
"First of all, the main focus we want to apply when talking about FDI in the course of this event is the issue of social justice, or to put it into simple question: Does FDI promotes social justice in general? What frame work conditions what ways of implementation are needed for that? And last not least-Justice in what sense? Does FDI enforce the creation of employment and if yes for whom? Do we talk about low paid, unqualified jobs or possibilities for qualification and decent work conditions? What about huge project e.g. in the infrastructure sector- are they contributing to improve the living conditions of many people especially those who are disadvantaged and deprived of equal changes and access to development. And about environment risks? Do short and mid-term benefits outweigh the long term costs in terms of loss of natural resources or a high vulnerability to natural risks? Viewed against this backdrop it is, I think, easily understandable, why FDI as an important contributor to development besides public finance, remittances and official development assistance is indeed a very important topic to analyze more detail for all those close to the ideas of social democracy. And not only that, I think, for all those who are striving for social justice as it is also enshrined in the constitution of Nepal shaping the framework conditions for FDI in order to allow as many people as possible to benefit from it in the form of better living and working conditions is a must," said Annette Schlicht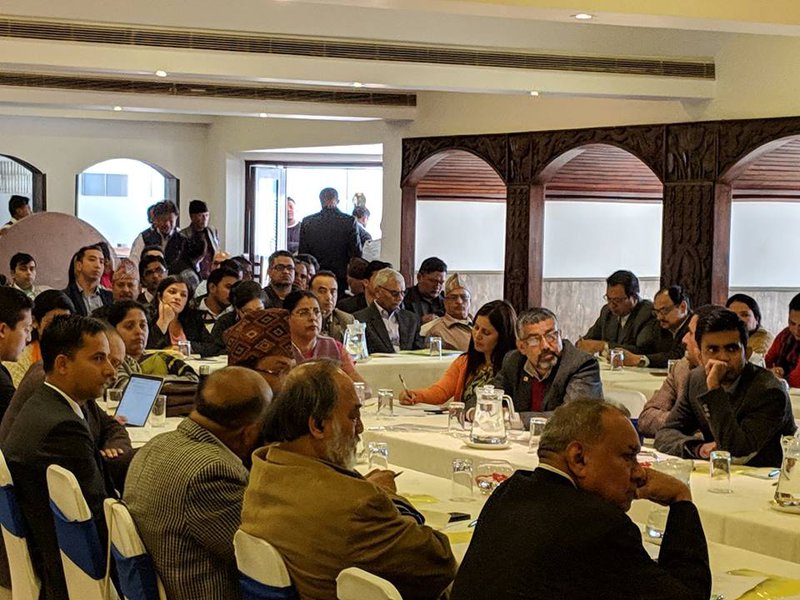 "Secondly, we have chosen to tackle this subject along geographic lines, That why there will be four sessions during which will have distinguished experts talking about the current status as well as the challenges and prospects of FDI from China, India and Western countries, as well as South East Asian and West Asian countries. "
Opening the program, economist Dr. Hari Bansha Jha highlighted the importance of the program. From the chair Dr. Acharya said that there need to have balance between FDI and Social Development Goals. "Nepal should set the agenda and priority for the foreign direct investment," said Acharya.
Chaired by Professor Madan Kumar Dahal, Dr. Jha presented a paper on Chinese Investment in Nepal in the context to other countries in South Asia, Africa and South East Asia followed by advocate and FDI expert advocate Rudra Sharma.
The second session began with a paper presented by Atul K Thakur, deputy secretary, PHD Chamber of Commerce and Industry, New Delhi, on Indian Investment in Nepal: Keeping High promises, coping big challenges.
As he did not come, Binayak Basnyat, Program associate, The Asia Foundation read the paper. Commented by Madhukar S. Rana, economist and former finance minister, Thakur replied the quires from SKYPE.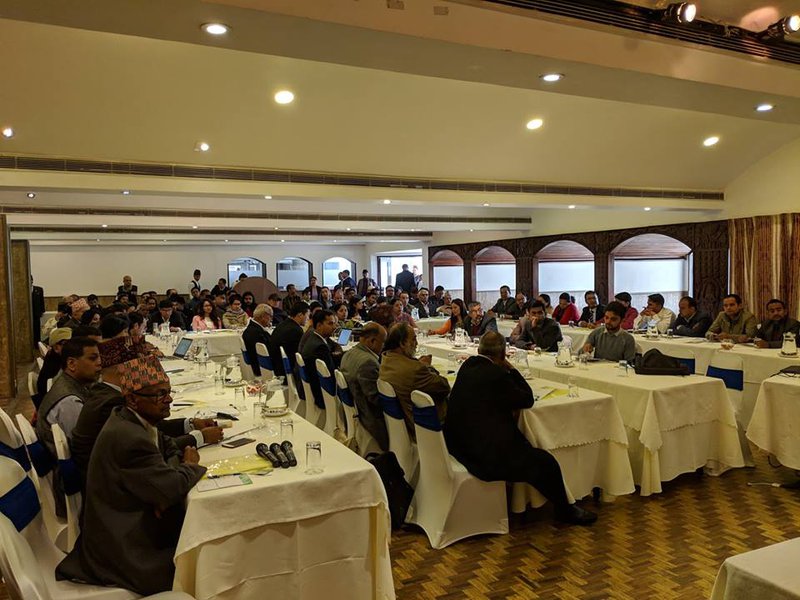 Participated by over 100 experts, economist, political scientist, students and people from different walk of life, the first day session occluded with the remark by Sharma.
Other remaining two papers will be presented tomorrow. The first paper will be on Western Investment in Nepal by Professor Meena Vaidaya Malla with comments by senior advocate Dinesh Tripathi.
Last session will be chaired by German Ambassador to Nepal Roland Schafer on Socially Just Development in Nepal and the role of FDI.
Panelists include Baljit Vohara, Lous Berger, Dr. Pramod Jaiswal, TU, Bijan Pant, Development economist, and Professor Aanjan Shakya, ICC-Nepal.