German Ambassador to Nepal Roland Schafer said that the global scenario has changed and the time has come now for to start business to business promotion instead of government to government aid. He said that Nepal and Germany has six decades old relations based on Government to Government and I am here to change this pattern promoting more business to business relations.
Moderating the panel in Dimensions of Foreign Direct Investment and Social Justice in Nepal, ambassador Schafer said that the current global business is based on global network and not manufacturing hub with cheap labor.
Organized by Center for Economic and Technical Studies (CETS) with support from Friedrich Ebert Stiftung (FES) Nepal Office, the two day workshop concluded today with panelists Baljit Vohara of Louis Berger, Dr. Bijen Pant, development economist, Anjan Shakya, ICC-Nepal and Dr. Pramod Jaiswal of Tribhuwan University.
Panelists argued that the country needs to create more conducive environment for the foreign investment which is currently mixed with hassles. Talking the importance of BRI in the context of Nepal, Dr. Jaiswal said that Nepal needs to exploit Chinese investment in the broader interest of Nepal.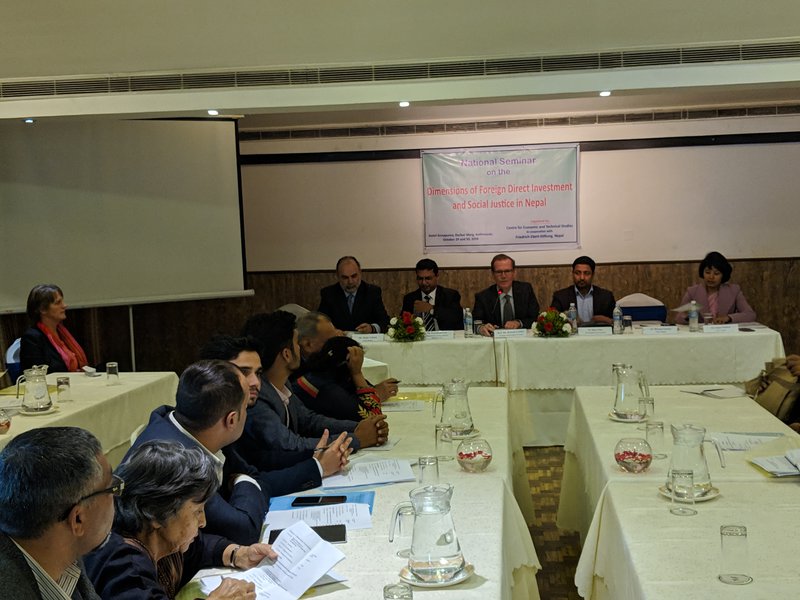 Dr. Pant said that Nepal needs to change the overall mindset on foreign investment. "If we really want foreign investment, Nepal needs to change all its old rules, regulations and mindset, "said Dr. Pant.
Addressing the program Anjan Shakya said that Nepal needs foreign direct investment but they need to be Nepal's priority sector and they should address the issue of social justice.
Chaired by former minister Dr. Minendra Rijal, Dr. Achyut Wagle, an economist, presented his paper on South East Asia and East Asia. Dr. Wagle presented a per which described how the foreign investment is flowing in Nepal.
Chaired by Professor Dr. Meena Vaidya Malla, Central Department of Political Science TU, Professor Ram Prasad Gyanwaly presented his paper on Western Investment in Nepal highlighting how they are contributing for the promotion of trade and social justice in the country. Commenting on the paper, Senior Advocate Dinesh Tripathy said that Nepal's legal regime is not favorable for the foreign direct investment.