Leadership is very much a matter of primary interest for any organization. Nepal Britain Society is no exception. In the last three years, Nepal and Britain have celebrated very important events in the history of bilateral relations.
Celebration of establishment of bicentennial relationship was one of the most important followed by the visit of British Prince Harry. On the state to state relations, governments of both the countries organized various programs.
Along with government to government relations, people to people relations between Nepal and Britain have also a long, very strong and deep rooted history. Thanks to the chairperson of Nepal Britain Society Pande, the relations between people to people have also reached new heights in recent times.
When Pande assumed the position of chairperson of Nepal Britain Society, the organization was in a very bad state. As soon as she held the position, Pande has launched several programs to engage people to make the organization active.
Now Nepal Britain Society not only has a fame of oldest bilateral people to people level organization but has also active organization to foster and strengthen people to people relations given the proper leadership.
Speaker after speaker, whether British ambassador Morris or Trustee of Nepal Britain Society Sagar SJB Rana or trustee Jana Thapa, everyone has hailed the role played by Pande to revive the organization and to enhance the people to people relations.
Arriving just a few months before the celebration of bicentennial ceremony, the present British Ambassador Richard Morris, who quietly but with diplomatic skills, has made great contributions to restore strong bond of Nepal-Britain Relations.
Along with a high level visit of British Prince Harry, there was also some high level visit from Nepal that has taken place in the recent years. Recently concluded consultative meeting between the two countries further strengthens the relations between the two countries.
Backing all the efforts made by Nepal Britain Society, British ambassador Morris has also contributed to revive the people to people relations at the highest point. This is what one could see in a solid form at a program organized by Nepal Britain Society on the occasion of its annual meeting.
Attended by people from different walks of life of Nepalese society, Nepal Britain Society organized two different programs. Along with its annual general meeting, the second session saw the BIEX Catalogue Launching.
Launched by British Ambassador Morris, Satya Mohan Joshi and Himalaya Sumsher Rana, the catalogue consisted of photographs and other documents related to two hundred years of Nepal Britain Relations.
Ambassador Morris said that along with government to government relations, people to people relations between the two countries are closer and stronger. He thanked persons like Pande for contributing to this.
Addressing the program British ambassador to Nepal Morris reiterated that the relations between Britain and Nepal always cordial. He said that the sacrifice made by Gurkhas will always be in the heart of the British people. Ambassador Morris expressed happiness over the works of society.
Centenarian personality of Nepal Satya Mohan Joshi said that the book is very important to know the history of independent Nepal. He said that Nepal's current shape was possible only after the treaty of 1816 eulogizing the role of British scholars introducing Nepal's culture, religions and arts globally.
"Had not British historians, officials and other scholars compiled documents, Nepal would not have anything left now to show the world about Nepal's unique culture and religion," said Joshi. "Nepalese will always remember Britain's contribution, particularly of persons like Brian Hudgso, the first British resident to Nepal, for his role in keeping Nepal's record," said Joshi.
The catalogue included the historical photographs related to Nepal Britain Relations exhibited during the bi-centenary celebration two years ago. Presenting the highlights of BIEX Catalogue trustee of Nepal Britain Society Sagar SJB Rana highlighted the catalogue.
Nepal Britain Society And Its Activities
Pratima Pande
We are very happy that all of you are here today to attend the AGM of the Society and hear about our past activities and future programs.
The Nepal Britain Society is a friendship society established in 1964 and is over fifty years. Over the years, we have conducted many interesting functions and also have done social work and given money to many charities. We have also promoted the theater, art and music.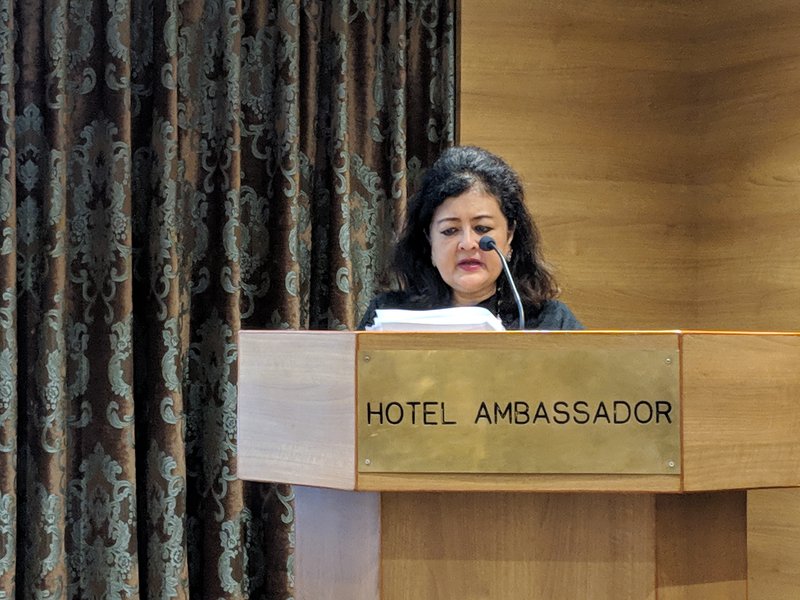 For bicentenary celebration in 2016, we all celebrated by attending various programs. Our future programs will be promoting the theater, a play called "Some Time Next Year, a romantic comedy in English by Bernard Slade at the Kausi Theater Teku which is owned by Akanchha Karki, who is also actress and director. She is a part of Nepal Britain Society, New Shakespeare Wallha.
We also have some lecture lined up which we will inform you about. One of the highlights is a lecture His Excellency Richard Morris on his trip to the Everest and the Dolpo region. We will be eagerly waiting to visually see and listen to his Hiamalayan adventure very soon.
I would like to thank each and everyone for their enormous contribution to the society. I would like to thank His Excellency Richard Morris, for his support and guidance and for taking interest and giving his precious time to the Nepal Britain Society to its members and society's activities.
(Pande is chairperson of Nepal Britain Society. Excerpts of the Statement delivered at Annual General Meeting.)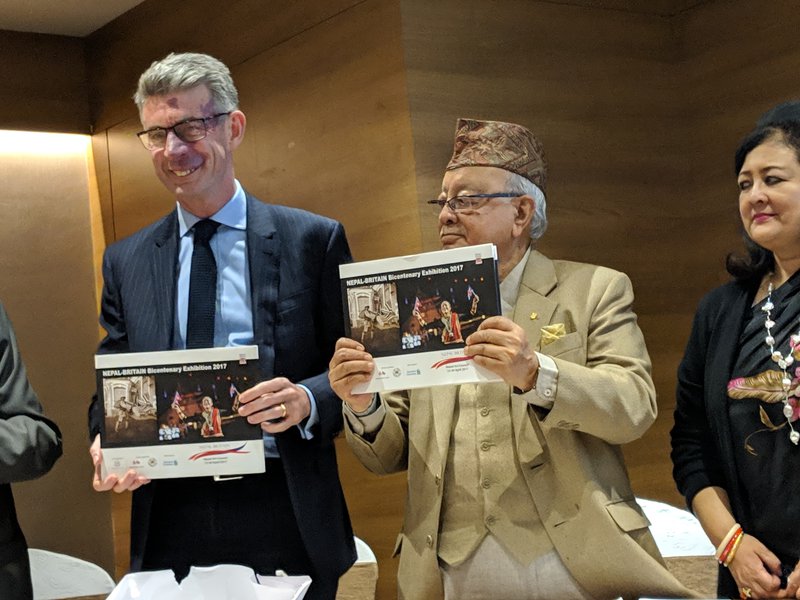 British Ambassador Morris and Himalaya SJB Rana and Pande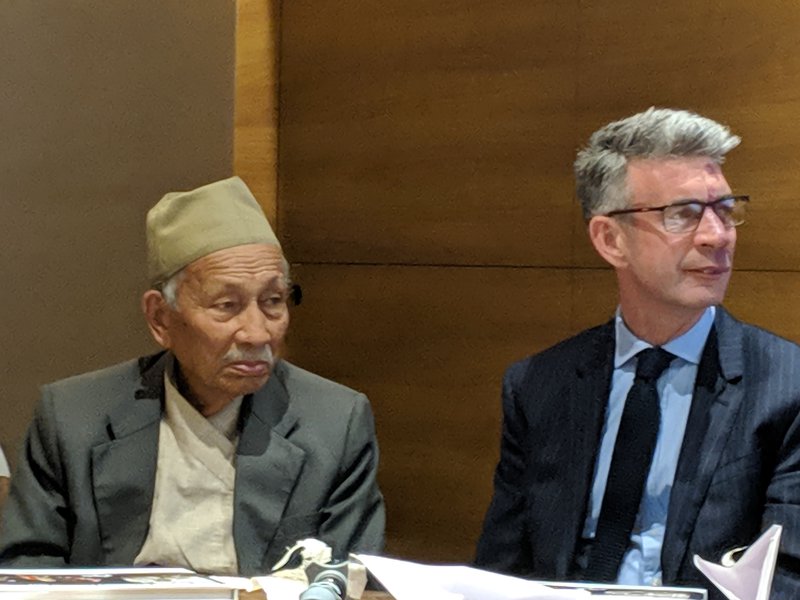 Ambassador Morris and Satya Mohan Joshi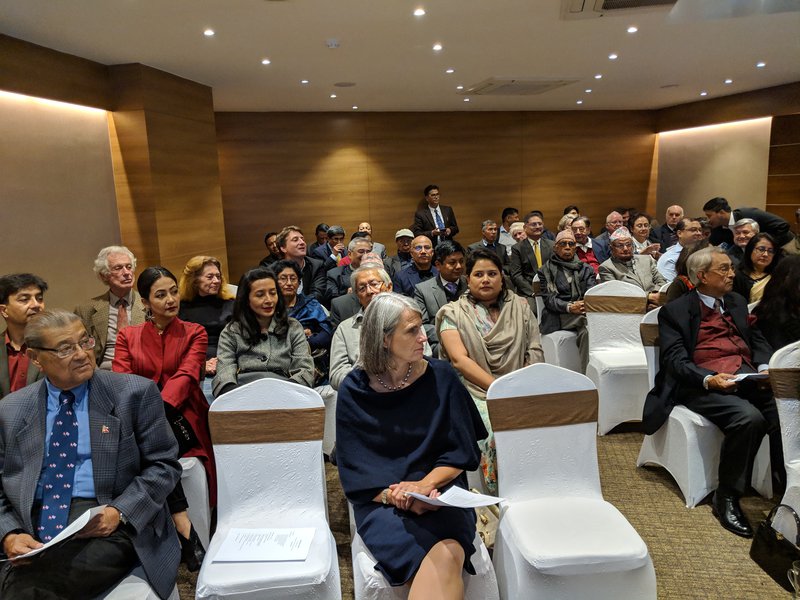 Audiences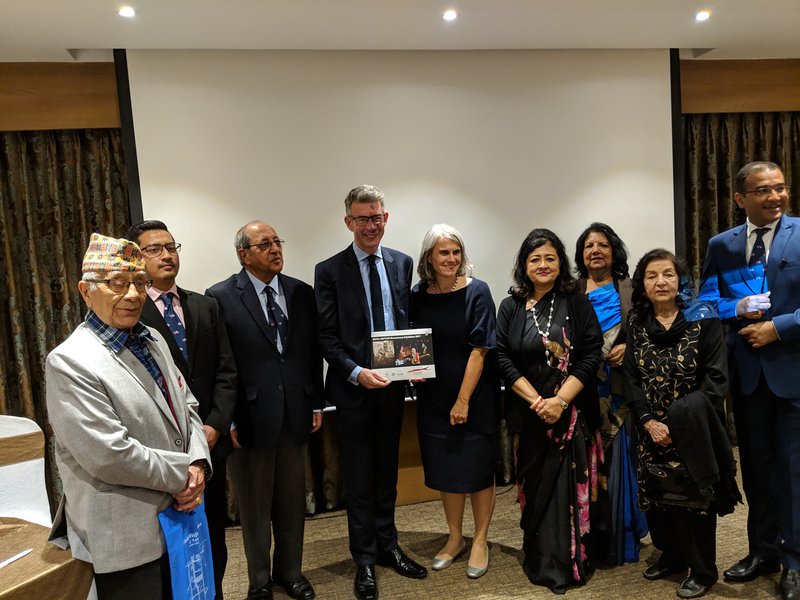 Group photo of Nepal Britain Society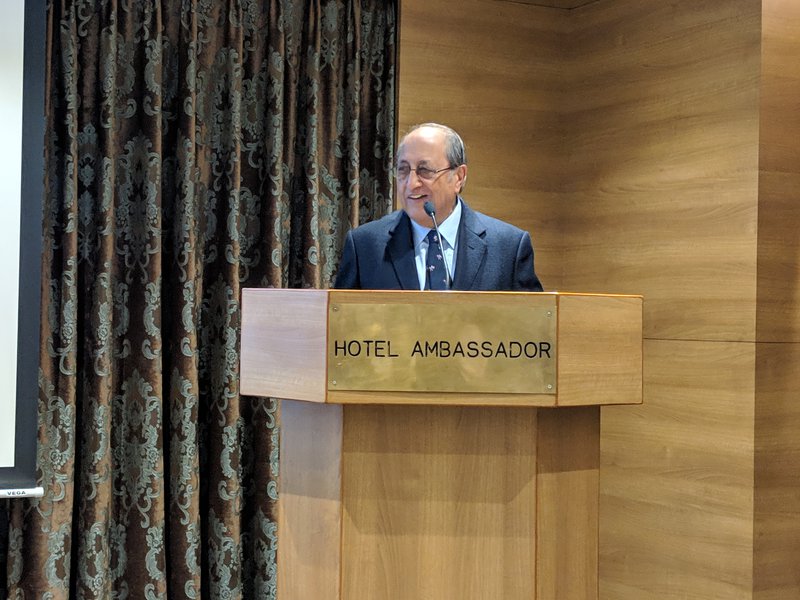 Sagar SJB Rana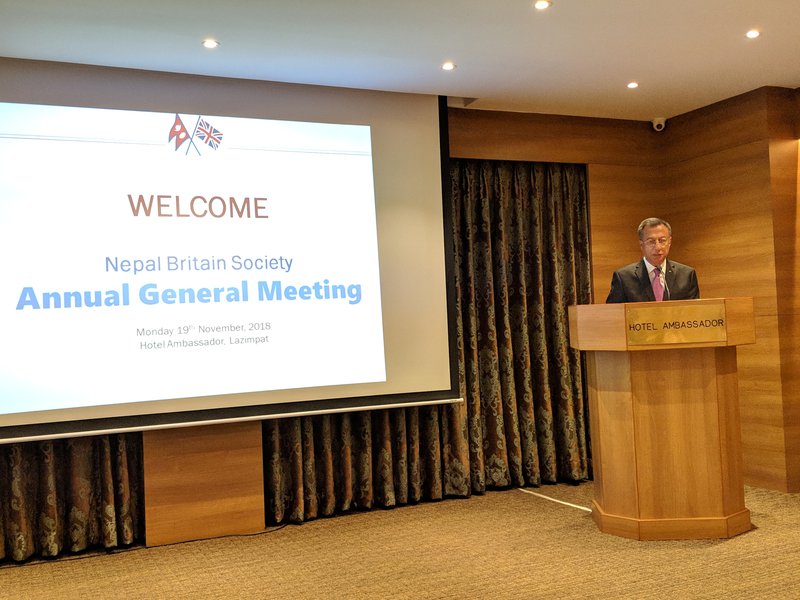 Treasurer Jitendra Rajbhadary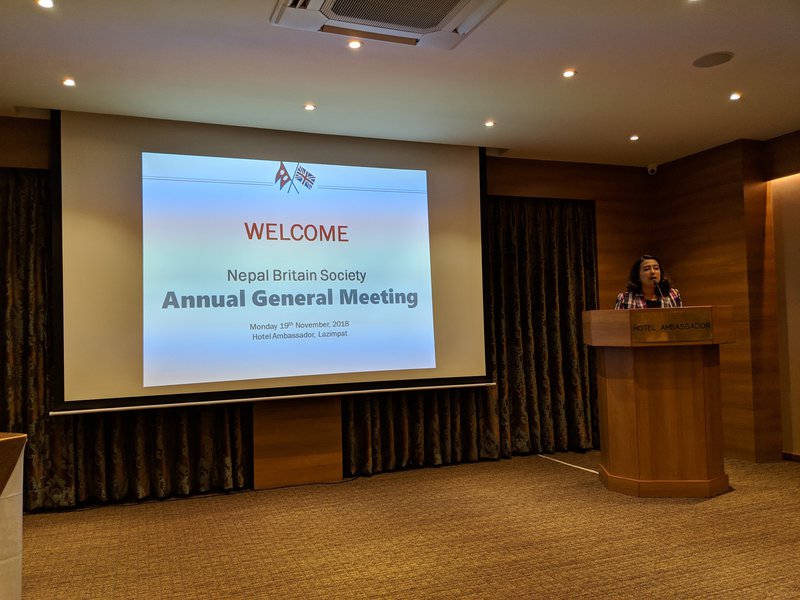 Akancha Karki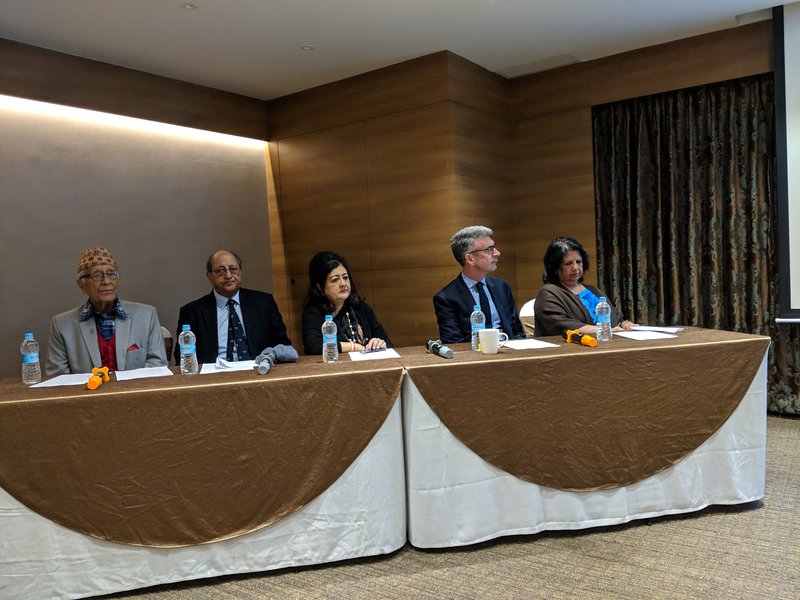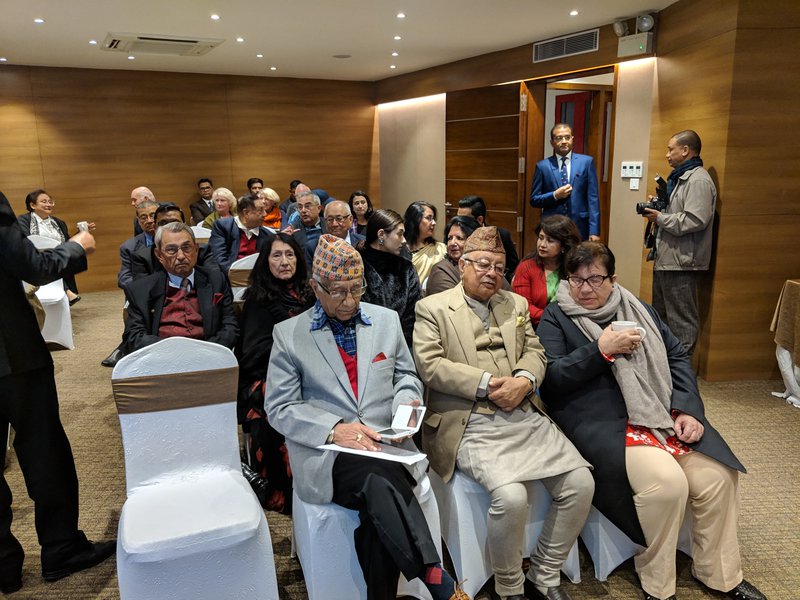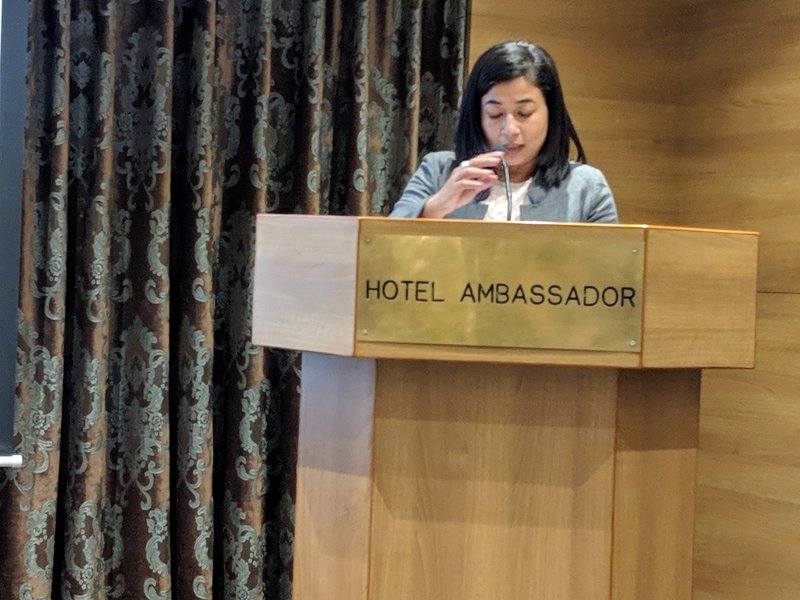 Curator Nepal Art Council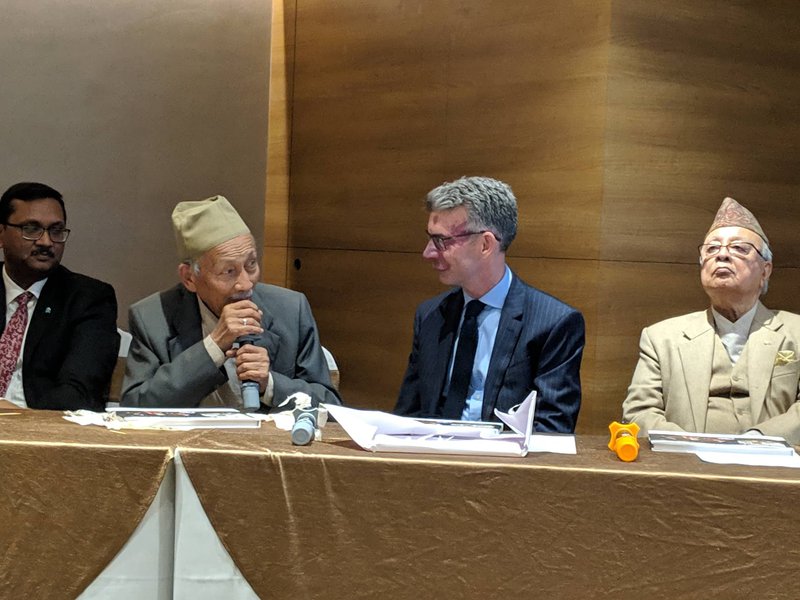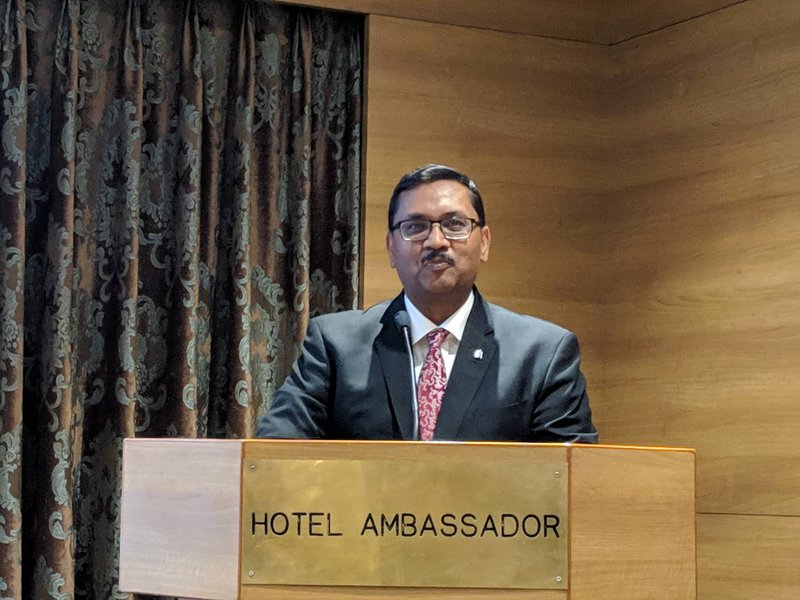 Joseph Sivanus, CEO Standard Chartered Bank Nepal