U.S. Ambassador to Nepal Randy Berry paid a courtesy call to home minister Ram Bahadur Thapa at his officer. According to a press release issued by Home Minister Thapa's personal secretariat, during the meeting minister Thapa and ambassador Berry discussed focusing on the areas of Nepal-U.S relations and mutual cooperation.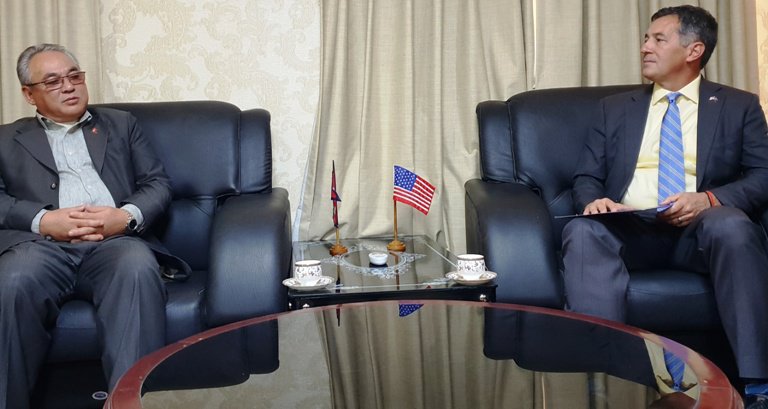 Home minister Thapa congratulated ambassador berry for taking responsibility of U.S. Ambassador to Nepal and expressed the hope that Nepal-U.S relations will reach in new height during his tenure. Home minister Thapa thanked U.S. Government for continually providing support to Nepal to enhance capability of Nepal to cope disaster and providing training to security agencies. Minister also expressed the hope that U.S. will continue to provide such support in coming days as well.
U.S. Ambassador to Nepal Berry expressed his commitment to work to further strengthen U.S.-Nepal relations during his tenure. He also showed U.S. concerns on human trafficking, management of Bhutanese and Tibetan Refugees. He also raised the issue to review the visa fees currently Nepal is charging to U.S. tourists.