As the government has been unable to unearth the culprits behind the rape and murder of 13-year-old Nirmala Panta for almost five months, United Nations Special Rapporteur on Violence Against Women Dubravka Šimonović expressed her concerns over the case.
"I am gravely concerned about the number of cases related to sexual violence against women and girls, such as the case of Nirmala Panta, among others, that have been referred to the police or court for redress, and have resulted in the impunity of the perpetrators."
The ongoing case Nirmala Panta is a test case for the government, she said, adding, "My mandate will closely follow any developments in this case, in the hope that it will be effectively resolved in line with the human rights standards, as adopted by Nepal."
Her remarks came when Nirmala Panta's parents are in a hunger strike demanding arrest and punishment of the culprits.
At a time when the civil society and women activists are putting the pressure on the government, the recent remarks from the United Nations Special Rapporteur is a major setback.
Her remarks against the political commission to settle the cases of conflict-related violence deliver another setback to the government.
United Nations Special Rapporteur on Violence Against Women Dubravka Šimonović said that it was unacceptable for UN and international community that a commission was set up against the basic international standards prescribed by UN Commission on Human Rights.
This remarks are significant in the context that government is considering to form a political commission to settle the conflict related human rights issues. According to a recent media report, human rights activist Sushil Pyakurel, who is the Human Rights Adviser to President Bidhya Bhadari, is currently in Bangkok with other political leaders to develop consensus to constitute a political mechanism to settle conflict related human rights violations.
"While welcoming the introduction of a draft Bill in 2018 to amend the 2014 Enforced Disappearances Enquiry, Truth and Reconciliation Commission Act, it is essential that the Government expedite the adoption of the Bill, and fully implement its provisions in line with Nepal's international commitments and obligations. The women and girls who suffered sexual violence and torture during the conflict have waited too long for justice," said Šimonović.
"Now is the time for the Government to demonstrate its commitment to ensuring that these women and girls attain justice, and that their cases are investigated in a gender-friendly manner while guaranteeing protection for victims."
She said that Nepal needs to settle the conflict related issue as per the standards set by United Nations. In her preliminary observations and recommendations, she said that Nepal should strengthen access to justice and ensure the elimination of gender-based violence and harmful practices against women.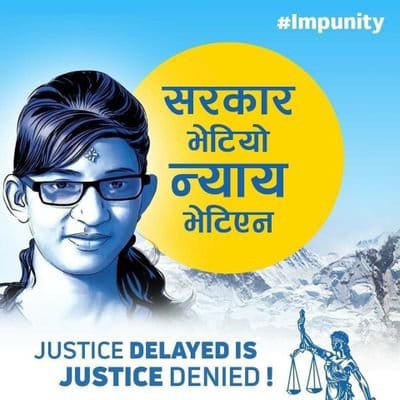 The United Nations Special Rapporteur on violence against women Šimonović paid an official visit to Nepal from 19 - 29 November 2018. She will present her final report to the United Nations Human Rights Council in June 2019.
"Within the framework of the Interim Relief Program (IRP), only the relatives of individuals killed or forcibly disappeared, and those injured or disabled as a result of the armed conflict, were granted monetary assistance. Victims of torture, including rape and other forms of sexual violence, were not entitled to claim compensation. Sections 23 (A) and (B) of the draft bill recognize victims' right to reparation and stipulate that interim relief shall be provided to those who did not receive support through this program initially. Interim measures must include provision for psychosocial counselling, and health services, as well as adequate compensation."
Nepal should strengthen access to justice and ensure the elimination of gender-based violence and harmful practices against women.
"I am addressing you today at the conclusion of my official visit to Nepal, which I undertook at the invitation of the Government from 19 to 29 November 2018. My objective during this visit has been to evaluate the situation of violence against women in the country, and the following statement contains my preliminary findings and recommendations. I will present my final report, to the United Nations Human Rights Council in June 2019," she said in her statement.
"I humbly believe that the information I have gathered has allowed me to gain an insight into the reality faced by many women and girls in the country, as well as some of the systematic problems they face when it comes to gender-based violence against women and their right to live a life free from violence and gender inequality."
The legal reform process has resulted in the establishment of a robust legal framework on women's human rights, however, the process is still ongoing with many new laws under preparation, while the continued existence of some legislation and harmful practices that discriminate against women and lead to gender based violence and discrimination, combined with the current restructuring to a federalist system of governance with seven provinces and the devolution of powers to provincial and local levels, pose significant challenges for the country, she said.
While recognizing the many new laws that have been adopted related to sexual and gender-based violence, considerable implementation gaps exist in almost all social policies related to women's rights, ranging from various harmful practices, sexual violence, domestic violence to trafficking and continue to pose a considerable challenge.
"Indeed, many government officials and other stakeholders that I met with, recognized that violence against women is a disturbingly common occurrence deeply rooted in the mindset and patriarchal attitudes that continues to have a significant negative impact on women, children and the wider community in Nepal."
The promulgation of a new Constitution in 2015 has brought with it many progressive provisions that aspire to achieve an equitable society based on the principles of inclusion and proportionate participation, while guaranteeing non-discrimination as a fundamental right, and outlining steps towards the elimination of gender-based discrimination. Article 38 (c) specifically provides that: No woman shall be subjected to physical, mental, sexual, psychological or other form of violence or exploitation on grounds of religion, social, cultural tradition, practice or on any other grounds. Such act shall be punishable by law, and the victim shall have the right to obtain compensation in accordance with law.
"Despite these positive provisions, I share the concerns and recommendations highlighted by both the Committee on the Rights of the Child and the CEDAW Committee with respect to direct and indirect discrimination against women in Article 11 of the Constitution and the Citizenship Act of 2006. Acquisition of Nepalese citizenship by descent is conditional on evidence that both the father and mother of the child are Nepalese citizens. The criteria for transmission of citizenship from Nepalese mothers to their children remain discriminatory, as they require the mother to be a resident of Nepal, exclude children born to women who are not permanent residents, and make citizenship subject to revocation for children whose previously unidentified father is later proven to be a foreigner. This provision is in direct contravention of Article 9 of the CEDAW Convention, and proposed amendments to the Citizenship Act 2063 Amendment Bill should ensure that any amendments are in line with Article 9 (1) of the Nepal Treaty Act 2047 (1990) ."
The recent substantial reform of the legal system, including amendments to gender discriminatory provisions of 32 Acts, through the Act to Amend Some Nepal Acts for Maintaining Gender Equality and Ending Gender Based Violence (2015), is a significant achievement, as is the introduction of legislation to make all forms of domestic violence, including marital rape, punishable crimes alongside human trafficking, cultural practices that perpetuate violence against women and girls as well as sexual harassment at the work place.
At a time when the government's inability to make progress to contain violence against women and sexual harassments and conflict related violence, UN Rapporteur's report shows the international community's growing concern over Nepal's ongoing problem.