At a time when newly inaugurated two international airports is yet to go for operation, Prime Minister Pushpa Kamal Dahal 'Prachanda' has said the construction of Nijgadh International Airport would be started soon.
Although in his first national address, PM Prachanda, who is heading most unstable rainbow government of seven parties, said that he will talk less in his second tenure, Prachanda has shown that he is also a populist leader to issue a ridiculous economically unviable statement.
With technical hitches, Nepal is baring heavy price operating two international airports for domestic flights, PM Prachanda seems to have no sense about the financial cost and burden the country is going to face for spending in such a huge infrastructure project forgot about the environmental cost.
PM Prachanda's call is also against the order of the full Bench of Supreme Court, which clearly directed the government to protect the pristine forest and nature before going to construct a mega project.
With his controversial statement, PM Prachadna inaugurated the Pokhara International Airport here today. He said that the air route is the most effective way for connectivity in a land-locked country like Nepal and the construction of Nijgadh International Airport is required for that.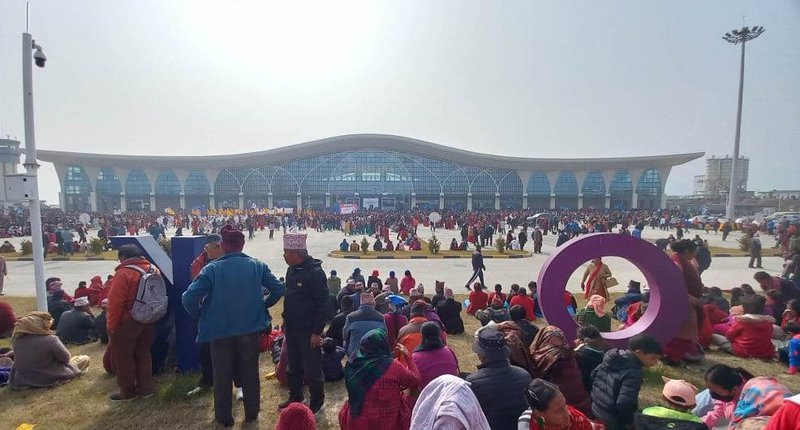 "The country's third international airport has come into operation in Pokhara from today, establishing international connectivity to the international sector," PM Dahal said, adding that he had taken initiative for the prompt construction of this airport through the Chinese embassy and in a face-to-face meeting with the Chinese President Xi Jinping.
Stated that Shankar Raj Pathak, the man who conceptualized Pokhara International Airport, is his teacher, and he praised him.
The Executive Chief urged the Chinese government to extend support in the construction of projects including the railway service and in easing trade by opening the transit points.
He viewed that there could not be two opinions that the operation of the international airport in Pokhara will contribute to the economic development of the entire nation, along with that of the Gandaki province.
"I have become the Prime Minister winning the general election from Gandaki province. The Gandaki people have provided the opportunity to serve the nation as the Prime Minister for the third time and I want to thank for that," PM Dahal said.
Premier Dahal reiterated that the government under his leadership will carry out work, taking social justice, good governance and people's prosperity as the main slogan.
"I fulfilled a leading role before this for establishing the democratic republic. Now, I will take the country on the development trajectory through economic development, prosperity and promotion of good governance," he said.