Prime Minister Pushpa Kamal Dahal 'Prachanda' has secured a historic vote of confidence.
A total of 268 out of 270 members of the House of Representatives (HoR) present in the meeting voted for the proposal on the vote of confidence to the government presented today at the HoR meeting by PM Prachanda.
Out of 275 members of the HoR, 270 members were present in the HoR meeting today.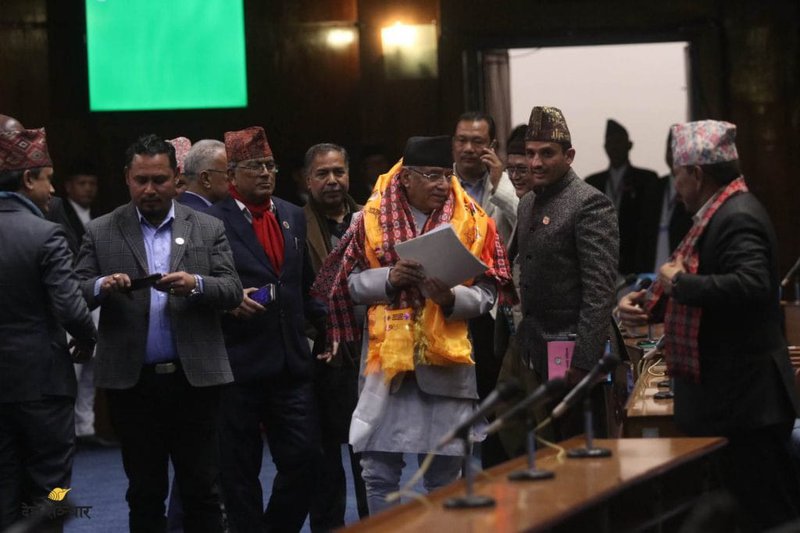 CPN (Maoist Center) Chairman Prachanda was appointed the Prime Minister of Nepal on December 25, 2022.
Pashupati Shumsher JB Rana, the senior-most member of the HoR who presided over the HoR meeting today, declared that PM Prachanda has got 268 votes in favour of his proposal while two votes were against the proposal, and thus PM Prachanda got the vote of confidence. He said 270 members of the HoR were present in the meeting today.
The number of votes for the proposal on a vote of confidence secured by PM Prachanda is historic in the sense that no other PM has garnered so largest majority as his.
Back in 2018, KP Sharma Oli had got 208 votes for his proposal out of 268 present in the HoR meeting on March 11, 2018. Late Manmohan Adhikari had got 198 votes for and 4 against his proposal of the vote of confidence as the PM on 22 December 1994. Then the parliament was a 105-member body.