New infrastructure facilities for water disaster reduction have been constructed in Madi Municipality, Chitwan district as part of a project supported by the Japanese Government under the Grant Assistance for Japanese NGO Projects schemes.
The project is being implemented by Japanese NGO Shapla Neer - Citizens' Community in Japan for Overseas Support, and it is currently in its final year.
The project aims at reducing water induced disaster risks in Chitwan based on the 'one-river one-community' concept and supports strengthening the disaster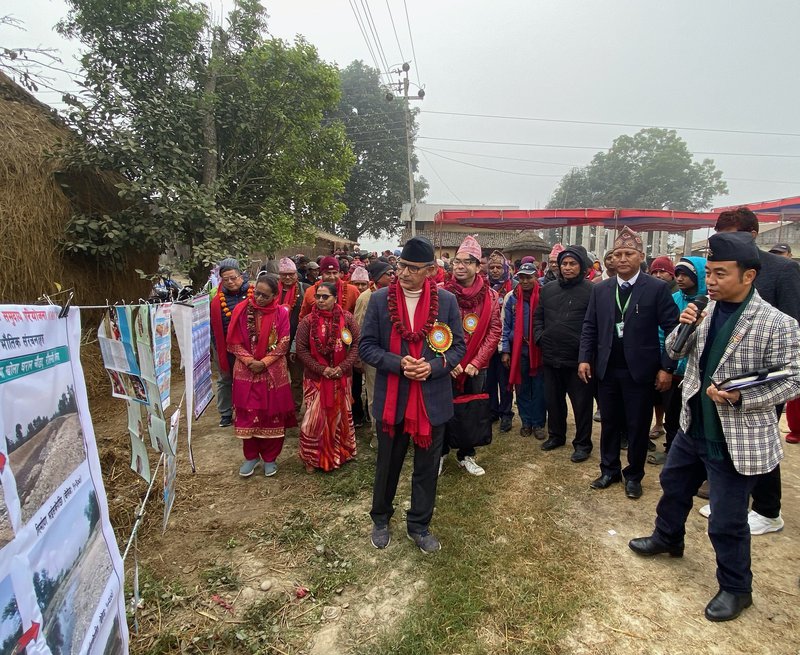 resilience capacity of the local government and communities.
Nepal has experienced many disasters in the past, and implementing disaster prevention measures is an important matter to protect lives and property. Japan has experienced many disasters as well, and has taken advantage of this knowledge to provide assistance to Nepal.
The handover ceremony for infrastructure facilities for reducing water induced disaster risks took place January 10. On the occasion, Kikuta Yutaka, Ambassador of Japan to Nepal, sent a congratulatory message to all involved in the project.
He recognized the efforts of all who worked with Shapla Neer to complete the project. He also expressed his hope that this structure and community organization will become an asset in disaster prevention and will function to protect your lives and property in the event of an emergency.
Ambassador Kikuta noted that 2022 was the 120th year since Nepal dispatched its first eight students to Japan for study, and expressed his pleasure at being able to celebrate the completion of the project at the beginning of the following year with the same spirit of the wonderful anniversary. He added his hope that the results of this project will contribute greatly to the exchange between the two countries and to the development of Nepal.
The Embassy of Japan in Nepal hopes that the assistance further strengthens the relationship between Japan and Nepal, and the friendship between the peoples of the two countries for future generations.