The vaccine support from Germany through the COVAX partnership will contribute to the Government of Nepal's efforts to continue vaccinating people across the country
Germany has just handed over more than 1.5 million doses of Pfizer-BioNTech's bivalent COVID-19 vaccine to Nepal through the COVAX Facility. The Ambassador of Germany to Nepal, Dr Thomas Prinz, presented the vaccines to the Minister for Health and Population Padam Giri at the Ministry earlier today in the presence of UNICEF Representative to Nepal Elke Wisch and WHO Representative to Nepal Dr. Rajesh Sambhajirao Pandav.
"From the beginning of this pandemic, Germany has supported the people of Nepal and has advocated for multilateral solutions like COVAX and ACT-Accelerator. Vaccines are the key in the fight against this pandemic and I am delighted to hand over today vaccines that were invented in Germany. With this delivery the German support reaches more than 5.6 million Doses," said Ambassador Dr Prinz. "Nepal is one of the top 10 countries worldwide to receive vaccine support from Germany."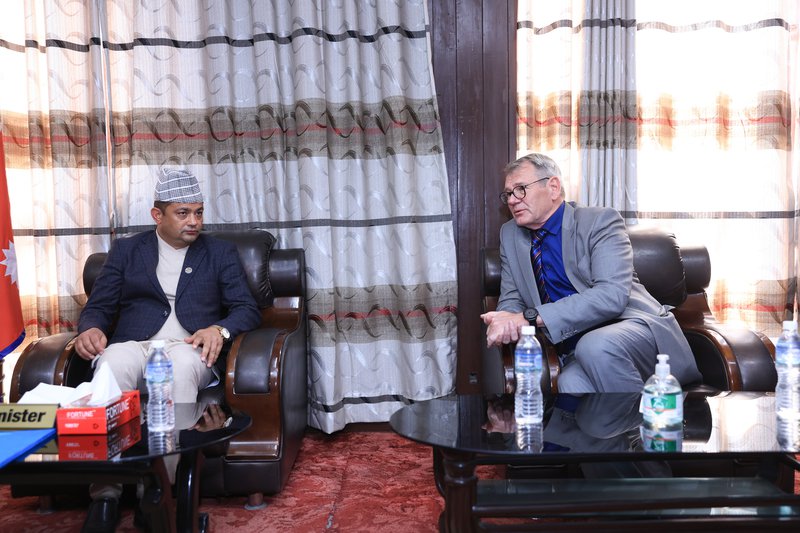 Although the number of COVID-19 infections in Nepal is relatively low at present, experts remain concerned about potential new surges in the days to come. So far, over 82 per cent of the total population has been vaccinated, with 9,083,976 having received booster shots (Until Feb 7 2023).
"In light of rising COVID-19 infections in different countries around the world, we are keen to continue administering booster shots and expand protection to more people across Nepal," said Honorable Minister for Health and Population Padam Giri. "This generous assistance from Germany comes at a crucial time to support our vaccination efforts."
Germany was one of the founding members of the Country Coordinating Mechanism Access to COVID-19 Tools Accelerator (ACT-Accelerator) in April 2020 and remains its second-largest donor, with contributions totalling 3.3 billion euro so far. Germany has donated and delivered approximately 120 million doses since the start of the pandemic – the majority of them through COVAX.
The COVAX Facility is part of the ACT-Accelerator, and brings together several key partners such as Gavi, the Vaccine Alliance, WHO and UNICEF to ensure efficient and equitable global allocation of COVID-19 vaccines.
UNICEF Representative to Nepal Elke Wisch thanked the Government and people of Germany for contributing these life-saving vaccines to Nepal. "Germany has been a generous partner in not just ensuring access to COVID-19 vaccines but also in supporting Nepal to procure cold-chain equipment to ensure safe delivery of these doses to communities," Wisch said. "On behalf of the COVAX facility, we thank the Government of Germany for providing this boost to the country's ongoing vaccination drive."