After successfully completion of tunnel using Tunnel Boring Machine (TBM), the second phase work of the Bheri-Babai Diversion Multi-purpose Project (BBDMP) is gaining momentum.
With the initiative of then Director General of Irrigation Madhav Blebase, who is currently member of Public Service Commission, the project decided to use TBM for tunnel.
During his tenure as Director General, Belbase, who retired as a secretary of Drinking Water Vehemently argued to convince the policymakers. As Belbase has brought this technology, he is also known as father of TBM in Nepal which is now used by Sunkoshi-Marin Diversion Project as well.
One of the objective of BBDMP) is to achieve round the year irrigation for 51,000 ha agricultural land of Banke and Bardiya districts and generate 46 MW electricity by transferring 40 m3/sec of water from Bheri River to Babai River (water surplus basin to water deficit basin) by completing the project within FY 2079/80.
The project is firs to use TBM successfully for the construction of 12.2 Km long tunnel. Its other aim is to enhance the technical capacity of technical personnel working in water resources and irrigation sector for the development of multipurpose projects and use of TBM technology;
To implement infrastructure development and capacity building programs to enhance social and economic status of the communities in project affected area.
One of the missions is to successful usage of Tunnel Boring Machine (TBM) for fast construction of the tunnels and promotes use of such technologies in other infrastructure development.
The construction of a 14-meter-high dam in Bheriganga Municipality-5 Chiple of Surkhet is in full swing. Following the completion of the project, 48 MW electricity will be generated from a power house which is also now under construction in Ward No. 11 Hattikhal of the same municipality through a 12 km 210 meter long tunnel.
As Belbase argued that the work of tunnel has completed in time. Although the process of tender award delayed for few years, the work progress is gaining momentum.
As the tunnel construction has already completed, the construction of the dam, civil works and powerhouse of the national pride project has been expedited recently.
The Chinese company Guangdong and Nepal's Raman Construction JV are speeding up the second phase of construction of the dam site and power house. The project has stated that the construction work of headwork and powerhouse under the second phase is in full swing.
Information officer said that the construction of automatic gate, penstock, steel lining, power house, turbine, electrical equipment and substation at Chiple in Bheriganga of Surkhet is ongoing.
However, the distribution of compensation has been delayed as the government has not decided on the amount to be given to the settlers without land ownership certificates.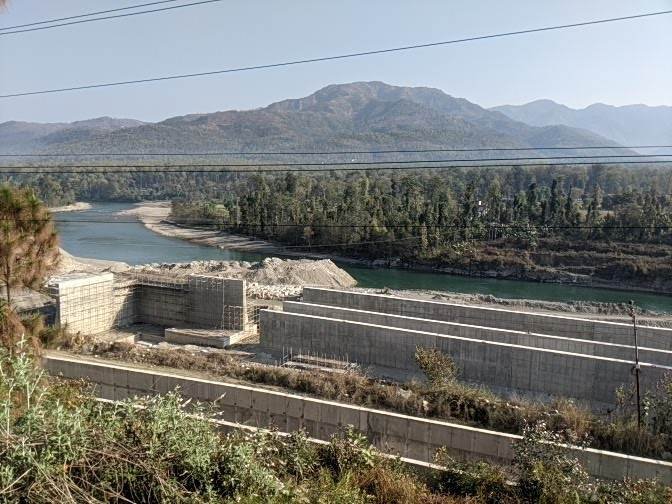 About 32 hectares of land in Bheriganga, Gurbhakot and Lekbensi municipalities will be drowned due to the construction of a dam at Chiple in Bheriganga municipality of Surkhet. So far, the project has distributed compensation to the affected people living in nine hectares of land who have land ownership certificates.
A project official said that the compensation of up to maximum of Rs. 500,000 have been distributed to people with land ownership certificates. According to him, out of the 32 hectares of projected land, people living in almost 23 hectares of land is do not have land ownership certificate.
According to the project office, no procedure has been formulated for the compensation of 22.81 hectares of uncertified land. He said that a file has been submitted to the federal government to determine the amount of compensation by collecting the details of the settlers of uncertified land but no decision has been taken yet.
"We have the money and there's no problem in distributing it," he said, "But, the government has not decided how much compensation to pay. We can distribute it once the decision is made by the cabinet."
According to him, six and a half hectares of uncertified land has been registered in the field book. But the landowners have not yet received certificates.
All the works of the second phase are targeted to be completed by fiscal year 2080 and it is estimated that Rs. 6.16 billion will be spent for the project. If the Bheri-Babai diversion multi-purpose project is constructed, the project will provide irrigation facilities to 51,000 hectares of land in Banke and Bardiya every day.
It is estimated that agricultural produce will increase in Banke and Bardiya and Rs 3.1 billion will be earned annually, besides Rs 2.1 billion that will be earned directly through electricity generation.
Strategic Plan of BBDMP
According to the project, the vision is to achieve sustainable economic growth of Nepal through enhanced agricultural production and productivity by providing year-round irrigation; and generating reliable electricity with focused development of inter-basin water transfer and multipurpose projects using modern technologies like TBM by the means of effective and efficient public sector.
The mission is the development of basin diversion multipurpose projects for optimum utilization of available water resources available in the country providing year-round irrigation, generating reliable electricity and also for other multipurpose benefits.