Nepal-Bangladesh Art and Culture Festival 2023, held from 14-18 March at Bangladesh Shilpakala Academy in Dhaka, concluded.
Speaking during the Closing Ceremony of the Festival, Ambassador Ghanshyam Bhandari highlighted the cultural and linguistic linkages between Nepal and Bangladesh and stressed the importance of art and culture in further consolidating people-to-people contacts between the two countries.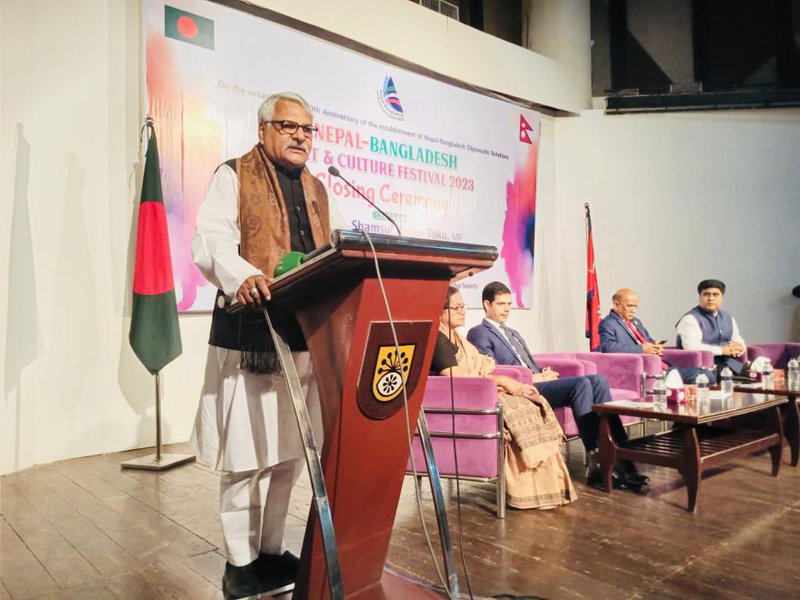 Chief Guest of the event, Shamsul Haque Tuku, MP, commended the efforts made by the organizers and artists from Nepal and Bangladesh and underscored the need for further artistic and cultural exchanges to promote friendship and mutual understanding.
Md. Abul Monsur, Secretary of the Ministry of Cultural Affairs of Bangladesh, emphasized the longstanding friendly relations between Nepal and Bangladesh and called for an enhanced level of collaboration in the field of art and culture.
Eminent artist of Bangladesh Dr. Farida Zamanand President of Bangladesh-Nepal Friendship Society Moshiur Ahmed also spoke on the occasion.
The Festival was jointly organized by the Embassy of Nepal and Bangladesh-Nepal Friendship Society with the support of Bangladesh Shilpakala Academy to mark the 50th anniversary of the establishment of diplomatic relations between Nepal and Bangladesh.
The Festival featured a five-day-long painting and photography exhibition wherein 52 artworks of 33 Nepali artists and over 80 artworks of 50 Bangladeshi artists were on display at the National Art Gallery of Bangladesh Shilpakala Academy.
A culture program held on 15 March showcased 16 cultural performances including traditional dances, folk songs, and musical performances by artists from both Nepal and Bangladesh. In addition, an art workshop was organized in Dhaka on 18 March with the participation of artists from both countries.