Deputy Prime Minister and Minister for Home Affairs Narayankaji Shrestha has directed the stakeholders for the earliest expansion of the Narayangadh-Butwal road section.
This section of road that lies along the East-West Highway is being expanded at present.
DPM Shrestha, inspecting the expansion work in various 13 sites of the 114-kilometres long road section on Monday, asked the construction company to deliver a quality road.
"We found the expansion related works satisfactory. But we should not be content with whatever progress achieved at present," remarked DPM Shrestha, directing the Project officials and workers to deliver within the stipulated time without leaving room for complaints.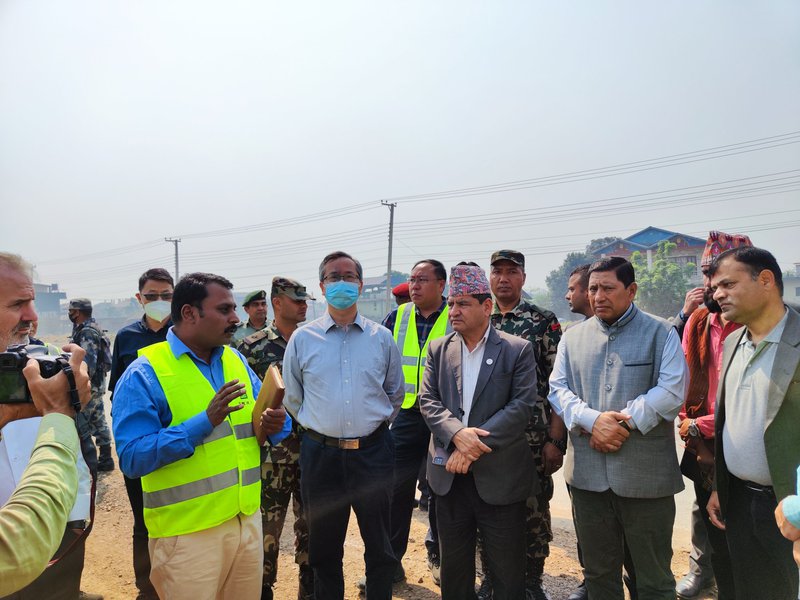 The deadline for the project has already been expanded once.
Commenting the road expansion was moving ahead in a positive direction, Shrestha shared that he had taken stock of the Project in person in the capacity of the Minister for Physical Infrastructure and Transport and had ordered the timely completion.
"Thereafter, the work was accelerated and it is the result of my inspection and direction," he claimed, divulging that he had held talks with the Chinese Ambassador to Nepal regarding the timely and quality delivery of the project.
According to him, his current on-site visit was due to a request placed by the Chinese Ambassador.
Chinese Ambassador Chen Song tweets," happy to inspect the Narayanghat-Butwal Road Improvement Project with DPM Shrestha and Minister Jwala. Thanks for all parties' joint efforts, especially the hard work by Chinese and Nepali staffs. I'm attracted by the beautiful scenery and enthusiastic peoples along this journey."
"The progress in the project has elated us. We will soon analyze the extent of physical progress of the project and will assess its quality," he said.