As famously said by Queen Elizabeth I, "I observe and remain silent." Bharat Raj Paudyal, the foreign secretary of Nepal, preferred to remain quiet despite having attended numerous meaningful high-level meetings in the capitals of the world.
Foreign Secretary Paudyal has demonstrated how senior bureaucrats should operate despite working quietly and in the background, assisting ministers in managing foreign relations and engaging with other nations.
Although he has maintained a low profile, foreign secretary Paudyal has demonstrated his ability to hold bilateral discussions with higher officials throughout his official visits to neighboring nations and other nations around the world.
While the Chinese government was busy welcoming the presidents of France, the European Union, Brazil, and other foreign dignitaries two weeks ago, Foreign Secretary Paudyal arrived in Beijing, China, for official bilateral consultations on April 6 and 7.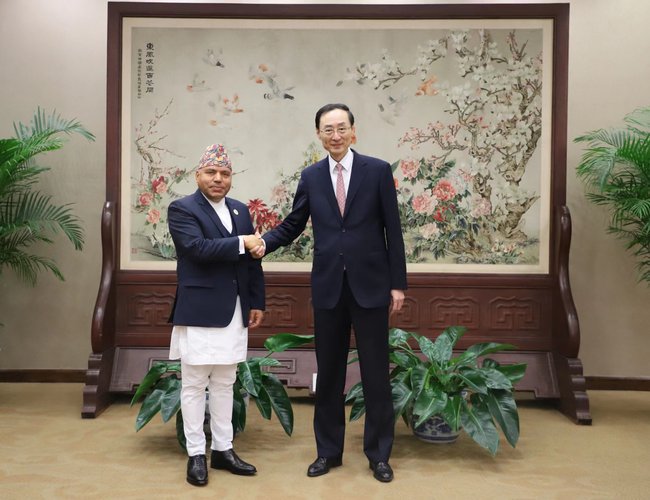 The visit of the delegation led by the Nepalese foreign secretary Paudyal, however, was accorded the attention and importance it deserved by the Chinese foreign minister and foreign ministry personnel.
The People's Republic of China's Foreign Minister, Qin Gang, received a visit from Foreign Secretary Paudyal on April 6 despite his busy schedule. Chinese State Councilor and Foreign Minister Gang met with a delegation led by the Nepalese foreign secretary Paudyal in addition to their official meeting.
Paudyal is the first Nepali foreign secretary to meet at the delegation level with a mission led by the Chinese foreign minister since diplomatic ties between Nepal and China were established.
According to a news release from the Nepalese Embassy in Beijing, issues relevant to enhancing the long-standing bilateral relations and collaboration in Nepal and China, including the exchange of visits, development cooperation, trade, investment, and tourism, were discussed during the discussion.
Given the prolonged political unrest in Nepal, the relevance of the country's foreign ministry has increased for both of its neighbors. Paudyal also paid Dr. Subrahmanyam Jaishankar, the Indian minister of external affairs, a courtesy call on his visit to New Delhi last year and spoke with him about bilateral matters. India demonstrated the importance of Nepal's foreign ministry in keeping bilateral relations in high spirits and warm tune.
Paudyal's China Visit
Foreign Secretary Paudyal arrived in Beijing on April 5th, leading a Nepali team to the 15th meeting of the Bilateral Diplomatic Consultation Mechanism between Nepal's and the People's Republic of China's Foreign Ministries.
The delegation-level meeting was attended by Bishnu Pukar Shrestha, Nepal's ambassador to the People's Republic of China, Lok Bahadur Thapa, joint secretary from Nepal's Ministry of Foreign Affairs, senior officials from both countries Ministries of Foreign Affairs, and officials from the Nepalese Embassy in Beijing.
Foreign Secretary Paudyal thanked the Chinese government for including Nepal as an outbound destination country for group tourism.
Similarly, foreign secretary Paudyal and the People's Republic of China Vice Minister of Foreign Affairs Sun Weidong headed their respective teams to the meeting.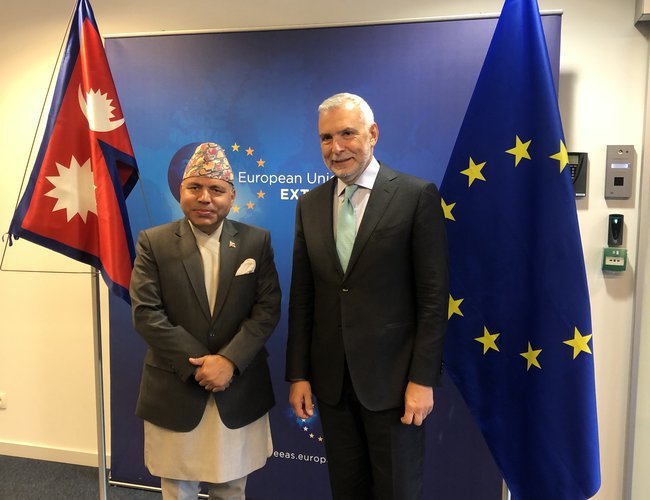 "The meeting was held in a cordial and friendly atmosphere." The Chinese Vice Minister praised Nepal for its unwavering adherence to the One China policy and respect for the five principles of peaceful coexistence. Foreign Secretary Paudyal praised China's stance of non-interference and respect for Nepal's sovereignty, territorial integrity, and political independence," according to a Ministry of Foreign Affairs press statement.
Both sides assessed Nepal-China bilateral relations and cooperation and deliberated on ways to expand and consolidate cooperation in a variety of areas, including the exchange of bilateral visits; economic cooperation; trade, investment, and tourism promotion; building connectivity; and strengthening cooperation in agriculture, education, culture, and people-to-people relations, among others.
The two sides talked about strengthening people-to-people contacts and cultural cooperation, increasing the number of scholarships for Nepali students and professionals, and developing technical specialists' capacity, among other things.
The summit also assessed the progress of several infrastructure development projects funded by China as well as Chinese-contracted projects and resolved to speed up project implementation in order to complete them on time.
Foreign Secretary Paudyal advocated preferential treatment for Nepali primary products including tea, coffee, herbal products, cooked buffalo meat, and other agricultural products in order to reduce the trade deficit. The Chinese side committed to encouraging Chinese investors to make mutually beneficial investments.
On this occasion, the two countries evaluated their collaboration in multilateral institutions, notably the United Nations, and expressed mutual support for each other's candidacies. They also talked on how important it is to implement the UN Sustainable Development Goals and how the GDI can help promote the SDG agenda.
Visit Of Indian Foreign Secretary
The visit of India's Foreign Secretary Vinay Mohan Kwatra was also notable. Indian Foreign Secretary Kwatra visited on the invitation of Foreign Secretary Bharat Raj Paudyal and held bilateral engagements. The meeting made some important decisions favoring Nepal, particularly in the power trade.
During the meeting, the two Foreign Secretaries discussed connectivity, trade and transit, power sector cooperation, agriculture, education, culture, health sector, and people-to-people connections, among other topics.
One of the meeting's significant agreements was that the two sides agreed to allow long-term power exports from Nepal to India using all products of the exchange market.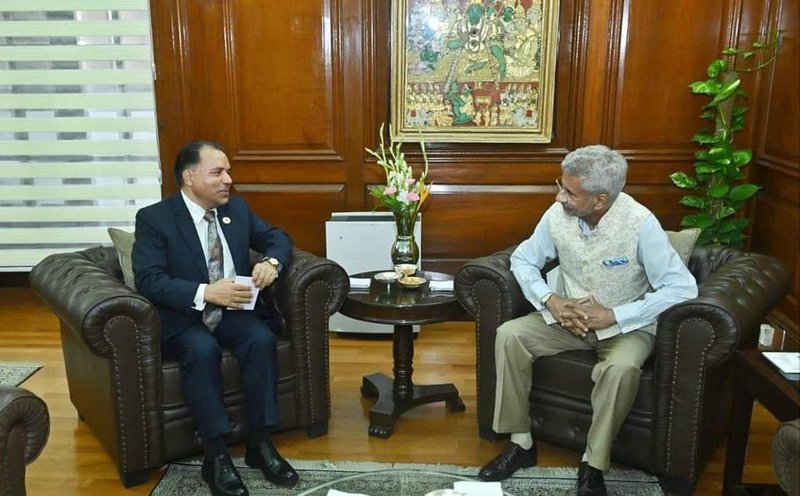 Secretary Paudyal's Role
Although Paudyal was appointed foreign secretary almost two and a half years ago, following the promotion of Shanker Dash Bairagi to the chief secretary, the Nepalese foreign ministry handled high-level visits from others, including Prime Minister of India Narendra Modi's visit to Lumbini and Chinese Foreign Minister's visit to Nepal.
In addition, Foreign Secretary Paudyal visited Australia, the European Union, the United Nations, and a number of other nations to hold bilateral consultative sessions. Paudyal, the foreign secretary, received a high-level answer.
Shanker Dash Bairagi, who served as foreign secretary for the longest time at the Ministry of Foreign Affairs, managed several complex situations while being low-key and was able to achieve some success.
In the six-decade history of Nepal's foreign ministry, Paudyal, however, obtained high-level diplomatic official treatment in both neighbors and countries around the world after Bariagi, who remained foreign secretary during a critical moment.
During his visit to the European Union last year, Paudyal met with Stefano Sannino, Secretary-General of the European External Action Service (EEAS).
The official level meeting, with specific emphasis on Nepal, was held by the Secretary-General of the European Union. In the afternoon, the Foreign Secretary attended a lunch meeting hosted by the Managing Director for Asia and Pacific at the EEAS. During the event, they discussed all important sectors of Nepal-EU ties as well as avenues of cooperation.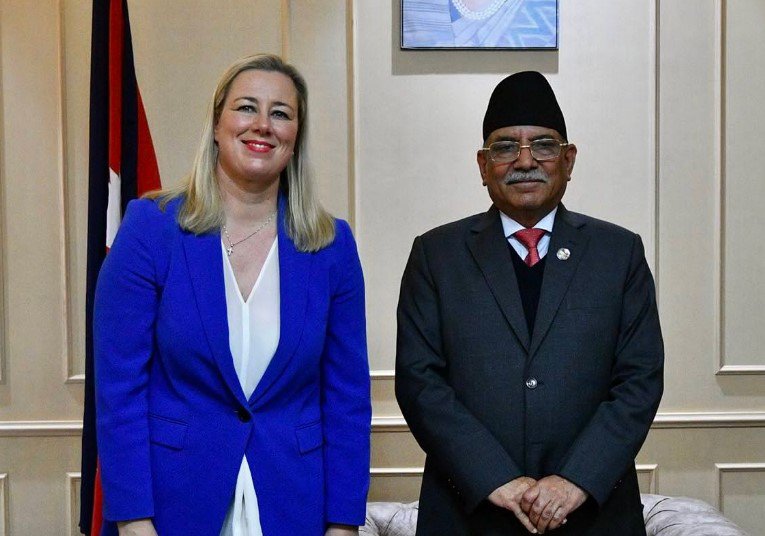 Following Paudyal's visit, a high-level team led by Commissioner for International Partnerships Jutta Urpilainen visited Nepal. This is the first European Commissioner to reaffirm the EU's strong engagement with Nepal since 2015.
Foreign Secretary Paudyal's delegation-level meeting in Canberra with Jan Adams, Secretary of Australia's Department of Foreign Affairs and Trade, helped to deepen bilateral relations between the two countries. Foreign Secretary Paudyal was in Canberra from August 28 to August 30.
According to a statement published by the Nepalese Embassy in Canberra, the discussion focused on various areas of Nepal-Australia bilateral ties, as well as establishing and enhancing collaboration in several mutually beneficial sectors
USAID Administrator's Visit
The visit of Samantha Power, Administrator of the United States Agency for International Development (USAID), and her meeting with Foreign Secretary Paudyal were equally significant. During the conference, perspectives on many elements of Nepal-US ties and cooperation were discussed.
Secretary Paudyal thanked the United States for its ongoing support for Nepal's socio-economic development, including the USAID cooperation package last year, which helped Nepal in areas such as health and education, transportation and communication, agriculture, and the environment.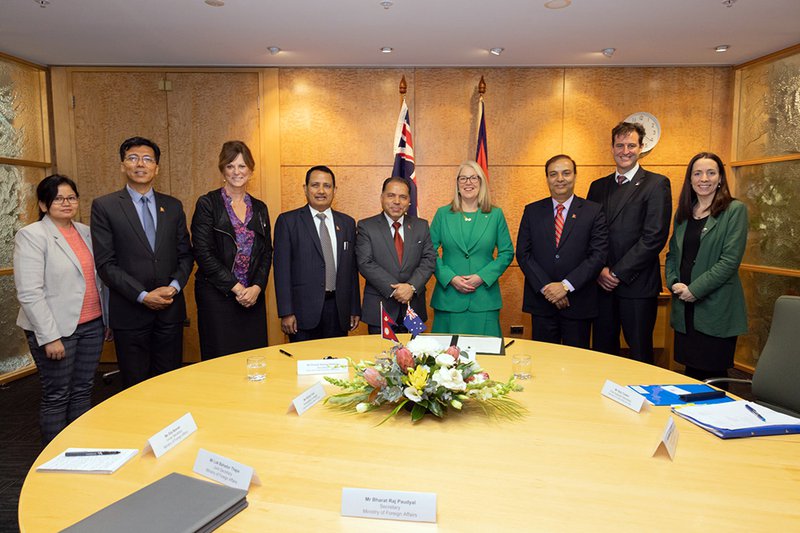 In addition to emphasizing Nepal's strong commitments to climate change, the foreign secretary discussed the importance of a clear roadmap and ambitious goals for climate finance.
Ms. Power, the Administrator of USAID, praised Nepal's democratic growth and stated that the US will continue to support Nepal's socioeconomic development initiatives.
Utilizing his diplomatic skills, expertise, and Ministry of Foreign Affairs capacity, Foreign Secretary Paudyal has handled foreign relations preserving and promoting Nepal's key interests.