One of President John F. Kennedy's most well-known quotes is that "One person can make a difference." Everyone should strive to live up to this maxim. As the president pointed out, Foreign Secretary Paudyal has shown how a seemingly modest decision to observe Foreign Service Day and celebrate the efforts of legends can have a big impact on the field.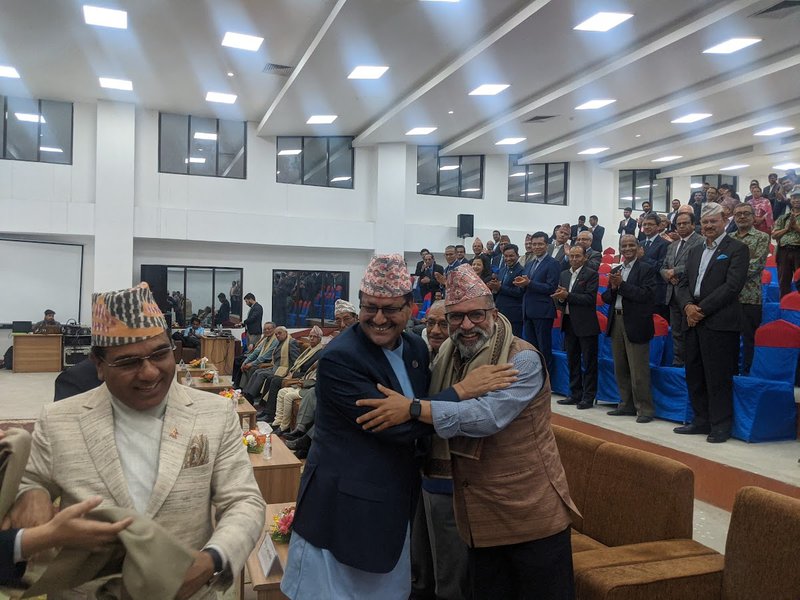 Secretary Paudyal has the cooperation and assistance of both active and retired members of his ministry to make the initiative a huge success. Former secretary Dr. Madan Kumar Bhattarai has supported the initiative of secretary Pauddyal colleting historical information.
Although Nepal has had a structure and people devoted to managing its international relations since its unification 250 years ago, the tradition of recognizing retired elders has just been discontinued for the past two years.
The institution's specialized nature and the distinctive qualities required of the individual working on it have not altered despite different names and positrons being used for its staff.
Many people have given up their careers to serve in the foreign service, numbering in the hundreds. However, a year ago, Paudyal was appointed secretary of the Ministry, and that was when the process of commemorating and appreciating their sacrifice and service began.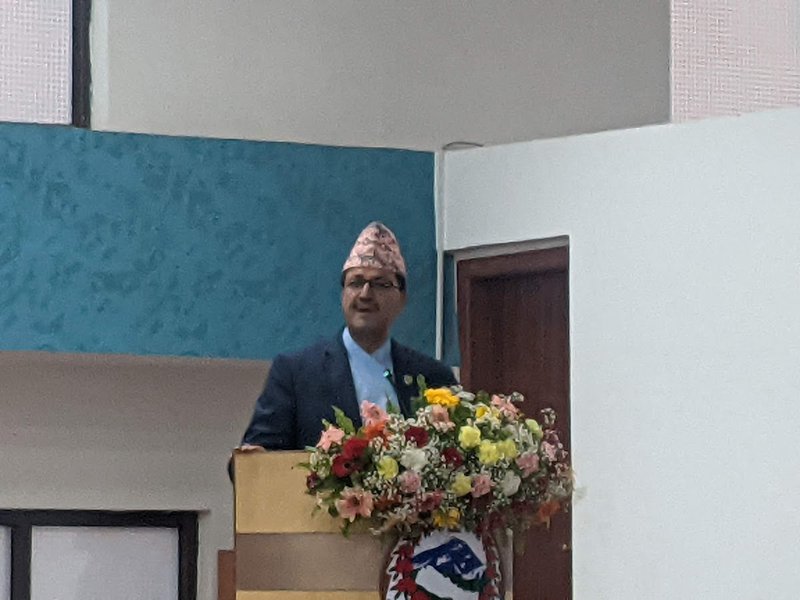 With his predecessor Shanker Das Bairagi as chief secretary and ministers with well read and seniors and enthusiastic younger generation, secretary Paudyal found most favorable time to take two small but significant decision to uphold and establish Nepal's Foreign Ministry and Foreign Service.
Dr. Narayan Khadka, a prominent NC politician and international relations expert, served as foreign minister during the first year. NP Saud, a second generation leader in the Nepali Congress, is the ministry's as foreign minister this year. They are both positive to secretary Paudyal's idea.
Remembering the past and interacting with those who once worked there gives every newcomer a sense of pride. The older generation receives several kind of enjoyment through sharing experiences with the younger generation. In the end, these kinds of activities build the institution and foster a positive work atmosphere.
As it did the year before, the Ministry of Foreign Affairs commemorated Foreign Service Day 2080 while honoring senior who have retired. Both present and retired employees of the Ministry of Foreign Affairs were in attendance.
The retired employees were honored by the foreign minister, NP Saund, and the chief secretary, Shanker Das Bairagi. In their addresses, both speakers applauded Secretary Paudyal's initiative in creating Foreign Service Day and starting a tradition to honor seniors.
The debut of the Yadunath Khanal Lecture Series was Secretary Paudyal's second significant accomplishment.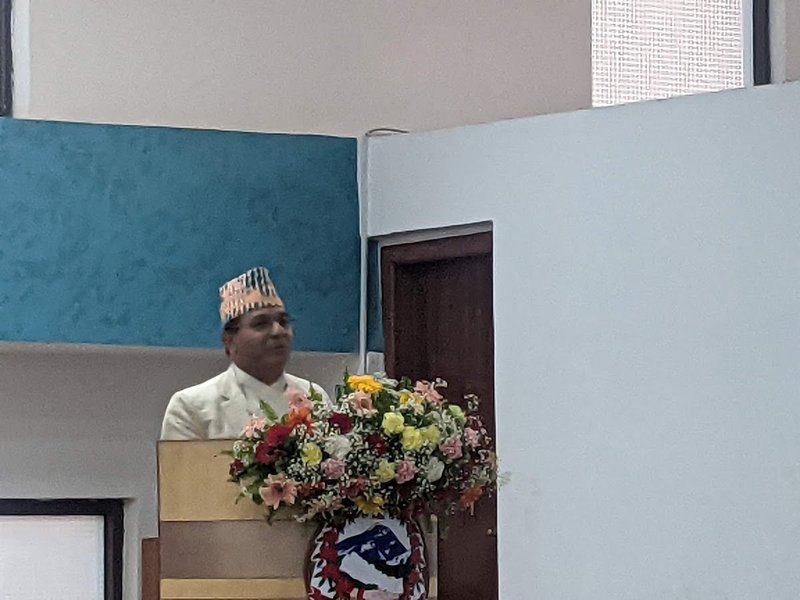 "This is an important day to think on the sacrifices, contributions, and work made by individuals who work for the Foreign Service," said Foreign Minister NP Saud. He noted that extending congratulations to retired ministry staff members is a part of expressing gratitude and respect for their contributions and efforts. "This day also reminds us of Nepal's long history living as an independence and sovereign country."
"Two essential components of independence and sovereignty are the ministry and service. The Foreign Service personnel represent Nepal and Nepalese citizens after they are sent abroad. The foreign ministry and Nepalese mission overseas must examine the sizable Nepalese Diaspora and deal with their issues in light of the present global migration trend," said minister Saud.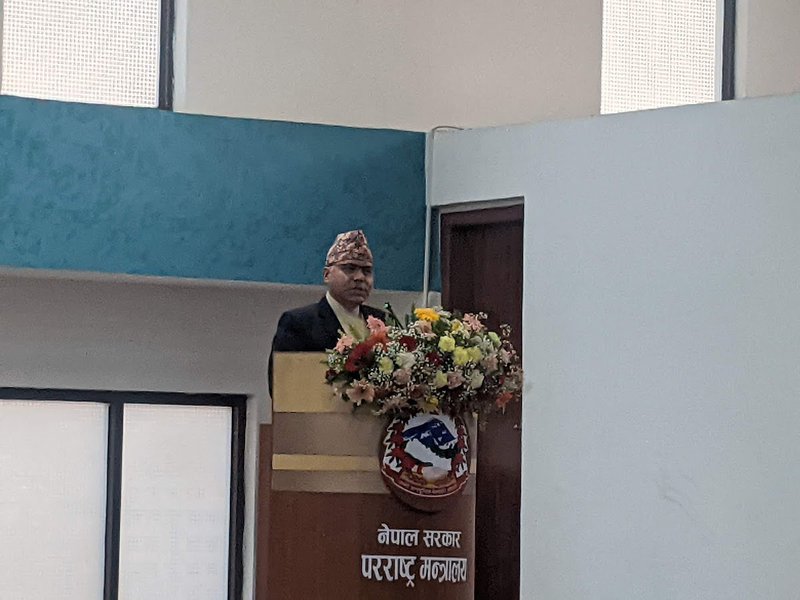 Foreign Minister Saud, who attended as the chief guest, honored 14 retired employees of the Ministry of Foreign Affairs for their services while they were a part of the MoFA's cadre between 2018 and 2023. Because the first Foreign Service Regulation was published on Jestha 10 of 2018 (23 May 1961), five years after the Civil Service Act of 2013, it was chosen as the date to mark Foreign Service Day.
The longest serving foreign secretary, Shanker Das Bairagi, who spent his whole career in the Foreign Service before being elevated to chief secretary of Nepal's civil service, supported Paudyal's idea to commemorate Foreign Service Day annually.
NP Saud, the minister of foreign affairs, honored 14 people who worked in the ministry for various lengths of time and protected Nepal's interests overseas on Nepal Foreign Service Day 2080.
Minister Saud conferred the Saul and Buckeye to individuals who worked in the ministry of foreign affairs from 2018 to 2023. Those who retired the previous year were also honored.
Those included Sunder Nath Bhattarai, Kedar Bhakta Shrestha, Narsingman Man Singh Pradhan, Purushotam Lal Shrestha, Shashi Pratap Bam Malla, Badri Prasad Khanal, Govinda Dev Panta, Ramhari Khadka, Krishna Prasad Subedi, and Sri Krishna Gopal Shalike are among the fourteen individuals.
Similarly, Ram Singh Thapa and Prakash Kumar Suvedi, who retired last year, also were also felicitated.
Last year, the Ministry honored 11 living retired public officers who had previously served in Nepal's Foreign Service. Those were Hari Prasad Pokharel, Yogendra Nath Ojha, Narayan Prasad Rajbhandary, and Narsingh Man Sigh Pradhan as civil servants.
Five people were honored out of the 36 people who joined the Foreign Service at its commencement. They were Ganesh Man Shrestha, Shiva Ram Shrestha, Bhinda S. Shah, Yadav Kanta Silwal, Narayan Prasad Arjyal, and Bishwo Pradhan.
Secretary Paudyal described the development of the foreign service in Nepal during the previous 250 years in his welcome speech. He mentions that Shaker Das Bairagi's appointment as chief secretary, who will oversee the civil service of Nepal, is another significant gift to the nation. The Foreign Service Regulation 2018 acknowledged the Foreign Service as a specialized service within the civil service, even though Nepal has had a foreign-related division since its integration 259 years ago, according to Paudyal.
According to Chief Secretary Bairagi, the practice of hiring highly qualified and competent people from the selection process has persisted in the Nepalese Foreign Service.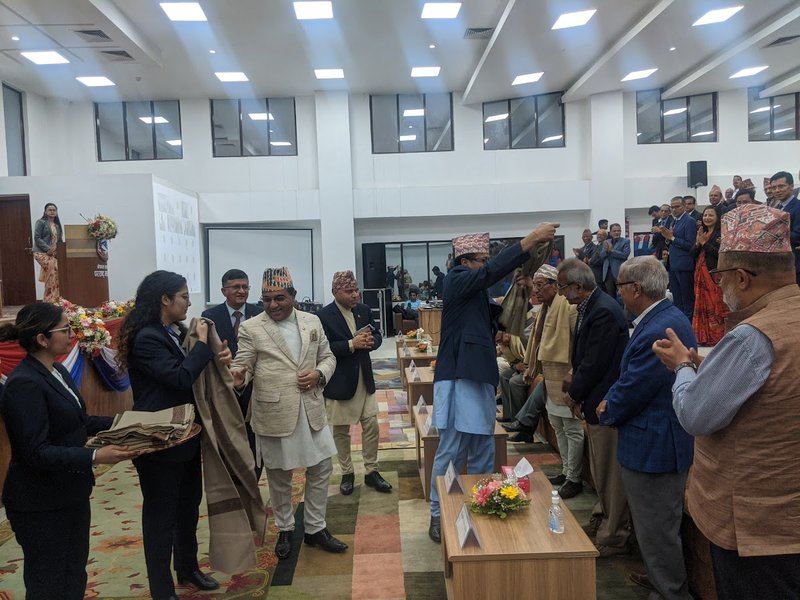 He advised the new workers to take advantage of the ministry's funding for advanced education and specialized training. The Chief Secretary Bairagi warned against the growing trend among employees to forgo training in favor of promotions.
"A person participating in the foreign service needed specialized abilities and high standards to carry out their responsibilities. Today is the day we honor our seniors who gave their lives and dedicated their careers to serving in our military, according to Chief Secretary Bairagi.
The Public Service Commission makes recommendations to the Government of Nepal for the recruitment of officers for the Nepal Foreign Service. Following the adoption of norms, the Public Service Commission's Civil Services Examination was used to select the initial class of Nepal Foreign Service officers.
The Ministry of Foreign Affairs oversees the Nepalese Foreign Service, which is the country's diplomatic and central civil service. The service, which is made up of public servants, is in charge of managing Nepal's foreign relations, offering consular services, and indicating Nepal's participation in international organizations.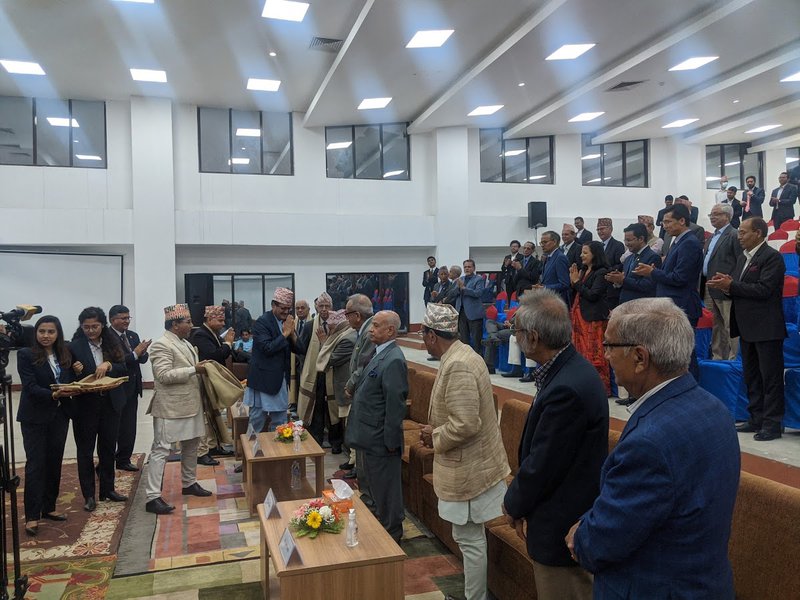 More than 30 diplomatic missions and international organizations throughout the world are staffed by career diplomats from Nepal. It is subsumed by the Department of Passport and the Department of Counselor Service.
Exercises in negotiation are a regular and essential element of the work descriptions for Nepali diplomats. A distinction was upheld early on, and people with high levels of competence and qualification are hired.
As part of their duties, diplomats must first comprehend the situation in the nation they are in before relaying it. This demands good abilities and qualities. Diplomats can do their duties more quickly and efficiently if they use their senses in proportion to the number of sensory organs they have.
The obligations and responsibilities of Nepalese diplomats have grown as Nepalese Diasporas are expanding over the globe. Diplomats now have to consider Nepalese issues in addition to maintaining the relationships.
"The journey of a thousand miles begins with one step," as the Chinese philosopher Lao Tzu once stated. Secretary Paudyal initiated this move by the Ministry of Foreign Affairs to commemorate Foreign Service Day honoring and remembering the sacrifice and commitment of retired members of the Foreign Service. In the future, others will be tasked with carrying it out.