In the domestic politics of a small country, international issues often play a deciding role - Nepal is no exception. Foreign influences on domestic politics have always been a major factor, regardless of the topics of discussion and debates - be it foreign relations or policy.
The perspectives and viewpoints presented at Professor Yadu Nath Khanal Lecture Series on "Safeguarding Nepal's National Interests: Foreign Policy Choices in the changing International Environment predominated Nepal's relations with two neighbors particularly with India.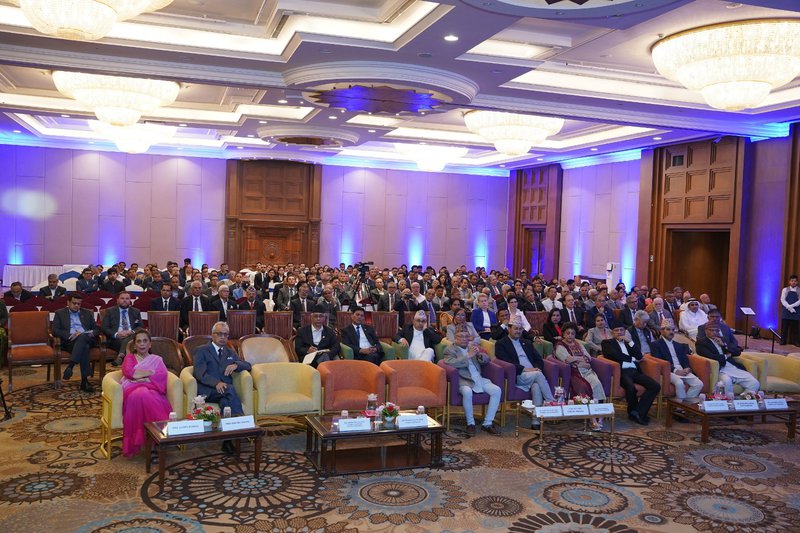 Although the keynote speaker Acharya, a former Foreign Secretary and Nepal's permanent representative to the UN, elaborated broadly on choices and challenges to safeguard Nepal's national interest in the changing international order, most commentators, including those on the extreme left, right, and center, limited their views to India and China.
As Nepal is a nation with a wealth of natural riches and strong spiritual foundations, the country should use the issues such as religion, civilization, culture, and nature.
Santatan (Hinduism and Buddhism)-based civilization has regional and international significance due to the existence of revered Hindu and Buddhist religious sites, as well as natural resources like water and the Himalayas. These are the elements that can support and protect Nepal's interest.
Nepal cannot safeguard its interests by merely expressing sentiments and wishes; rather, the reality that Nepal is currently experiencing. This is what matters most when dealing with other nations and defending national interests.
Nepal needs to develop its capabilities in a number of areas, including the institutionalization of political and bureaucratic institutions, strengthening of foreign ministry, and the utilization of its own cultural, religious, and natural resources to support its foreign affairs.
The lecture series, which was attended by young Mandarins from the Ministry of Foreign Affairs and foreign policy specialists, as well as retired officials and politicians from an older generation, was an excellent learning environment.
Speaking on the occasion, Minister of Foreign Affairs N.P. Saud, properly highlighted Nepal's cultural and religious components, proposed the use of Eastern philosophy in foreign policy practice.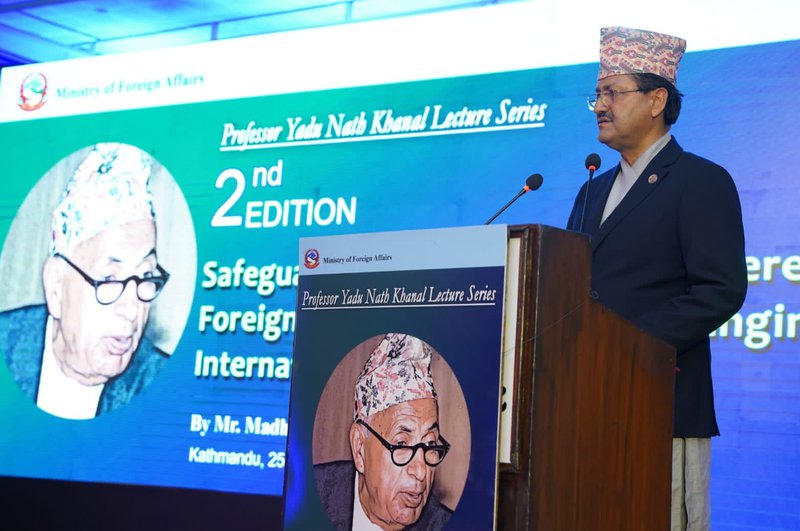 In his remarks, he stressed the importance of Nepal's traditions, religion, and civilization. "Safeguarding national interests is paramount for every country. This is something that cannot be compromised under any circumstances. The Constitution of Nepal has broadly defined our national interests. Foreign policy is the tool in pursuit of these interests. In our part of the world, we grew up listening to the stories from the Ramayan, the Mahabharat, teachings of the Buddha and the tenets of Chanakya niti. These treasures are full of knowledge, wisdom and insights on statecraft and diplomacy. The worldview presented therein is a fine blending of values and pragmatism," said foreign Minister Saud.
"Nepal is situated between two big, powerful and fast-growing economies of the world, India and China. We seek to maintain friendly relations with both of them, based on the principles of sovereign equality, mutual respect, cooperation and mutual benefit. We seek to prosper by being better connected to both sides of our neighborhood--in economic terms-," said Foreign Minister Saud.
The lecture series launched in the second year of Bharat Raj Paudyal's tenure as Foreign Secretary is meant to become the Ministry of Foreign Affairs' signature yearly event for exploring Nepal's foreign policy topics. Secretary Paudyal has demonstrated how a senior official can make a difference by launching a few new programs to strengthen institutional capacity.
"The overarching objective of this lecture series is to bring knowledge, expertise and experience from renowned diplomats, policy makers, professors, and researchers on a diverse range of themes of international relations and foreign policy," said Foreign Secretary Paudyal in his welcome remarks.
"This flagship annual lecture series hosted by the Ministry of Foreign Affairs aims to stimulate enlightened deliberations on the issues of national, regional, and global importance that have direct bearing on Nepal's national interest and the conduct of foreign policy and diplomacy. We hope the lecture will help us better understand the dynamics of contemporary international relations and provide insights to navigate through these challenging time."
"We also hope that the lecture will inspire current and future practitioners of foreign policy and diplomacy to internalize the values, ideas, and ideals that Prof. Khanal epitomized in Nepal's foreign policy process," said Foreign Secretary Paudyal.
The name chosen for the lecture series is very valid in the present context. Professor Khanal illustrated his abilities as a diplomat with talents, wisdom, and the aptitude to deal with all three main powers—India, China, and the United States—when he was appointed by King Mahendra to advance its foreign policy and preserve Nepal's national interest.
He was appointed as Foreign Secretary twice in 1961 and 1967; Ambassador of Nepal to India in 1963; Ambassador to the United States and Canada in 1973; and Ambassador to China in 1978. Even after his retirement from active diplomatic service, Professor Khanal continued to advise the government on matters of international affairs and foreign policy. He had a diverse career as a teacher, scholar, civil servant, and diplomat. He embarked on his career in foreign policy and diplomacy as a member of the Nepali delegation to the Afro-Asian Conference in Bandung, Indonesia in 1955.
Despite the fact that billions of cubic meters of water flow from the Bagmati, the narrow mindset of Kathmandu's elites has not changed. Leftist academic Hiranya Lal Shrestha, revolutionary communist leader and Member of Parliament Prem Suwal, and some other retired Nepali diplomats discussed how the cancellation of the 1950s treaty, the Gurkha Recruitment Agreement, and the release of the EPG report are key elements in advancing Nepal's national interest.
Sujata Koirala, a former foreign minister, and Dr. Sambhuram Simkhada, a specialist in international relations, have stated slightly different opinions, though they are unable to be more specific.
"Thanks to the wisdom, vision and pragmatism of our predecessors, Nepal has maintained its independence throughout history and continued its engagement with the wider world. Foreign Minister Saud praised late Yadu Nath Khanal as a towering figure unmatched in the magnitude of wisdom and the level of judgment."
Regime and system have changed yet; internal political instability and international factors still receive greater attention in the conversation. Professor late Leo E. Rose wrote in his book Nepal Profile Of A Himalayan Kingdom published in 1980:"It is a normal phenomenon for the foreign policy of any society to be strongly affected by domestic political and economic factors, and this is certainly the case in Nepal. But, the reverse principle-namely, that international factors have a strong and often decisive impact on Kathmandu's domestic politics – is even more apparent."
What Professor Rose wrote in his book remains pertinent in the Nepalese environment. The bulk of Kathmandu intellectuals, professors, and even retired bureaucrats are victims of petty fear psychology, ranging from extremist to centrists.
In the current complex international order, the name of Professor Yadu Nath Khanal's annual lecture series, chosen by the Ministry of Foreign Affairs, is most fitting considering his position and competence in safeguarding Nepal's interests.
Professor Khanal demonstrated how to live with global power in the context of a changing international order while serving as Foreign Secretary and Nepalese Ambassador to India, China, and the United States of America.
Nepal's diplomats and political leadership in the past demonstrated that preserving national interests has no bounds by establishing diplomatic relations and permitting the State of Israel to open an embassy in Kathmandu. Despite being a member of non-aligned groups, Nepal had supported Israel's independence and sovereignty, displaying solidarity as a small nation. During the Cold War, when neither of Nepal's neighbors had diplomatic relations with Israel, scholar diplomats like Khanal devised and formulated these plans.
Nepal also increased its contacts with Japan during Khanal's tenure as Foreign Secretary in order to solicit Japanese financial and technical aid for Nepal's overall development.
"Prof. Khanal demonstrated, in diplomatic practice and through his writings, the wisdom on how Nepal could pursue its vital interests against the constraints of the time. He took a lead to diversify and expand Nepal's diplomatic contacts and engagements. His counsels derived from his vast experience and incisive observation of international politics of his time continues to inspire and guide succeeding generations of Nepali intellectuals and foreign policy practitioners," said Secretary Paudyal.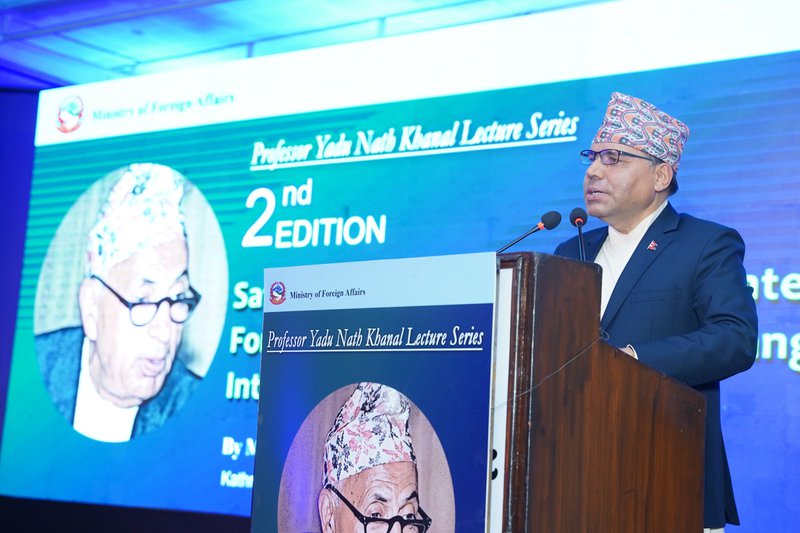 "His wisdom that a country like Nepal needs to maintain clarity, consistency, credibility and coherence in foreign policy stands as relevant today as it was in the time of Prof. Khanal."
Acharaya's Views
While former Foreign Secretary Acharya has written several books on Nepal's fundamental foreign policy decisions. Acharya comes in second place behind former Foreign Secretary Bishwa Pradhan, who detailed Nepal's strengths and weaknesses in defending the interests of the country in a number of books. Foreign Secretary Madan Kumar Bhattarai has also authored a number of books on the individual contributions of the country's diplomats.
Former Foreign Secretary Acharya was well described by the Foreign Secretary Paudyal in his welcome speech. "Ambassador Acharya does not need any introduction. He is well known among us as a diplomat, a scholar and an analyst. He joined the Ministry of Foreign Affairs as Joint Secretary in 1996 bringing vast experience and knowledge of working in different key Ministries of the Government of Nepal. He then rose to become the Foreign Secretary of Nepal from 2002 to 2005, Ambassador of Nepal to Bangladesh from 1998 to 2001, and Permanent Representative of Nepal to the United Nations from 2005 to 2009," said Paudyal.
In his lecture, former Foreign Secretary Acharya suggested that Nepal should develop a full-fledged neighborhood policy so that there are no political differences among the parties and national stakeholders, and 'national interest' takes precedence in bilateral and multilateral dealings.
Speaking at the Professor Yadu Nath Khanal Lecture Series 2, Acharya said that all diplomatic affairs should be managed or practiced only by or through the foreign ministry.
"While maintaining the best relations with our "land neighbors'-India and China, we should also continue balanced relations with our "sky neighbors"- including the United States and the European Union – as they are partners in our progress," said Acharya.
He further noted that to maintain the best diplomatic and friendly relations with neighbors, the country needs to resolve outstanding issues with India such as the Treaty of 1950, boundary issues, and Report of the Eminent Persons Group (EPG) on Nepal and India Relations.
Acharya also proposed the implementation of innovations in foreign affairs, such as the third neighborhood policy practiced by Magnolia. Former Foreign Secretary Acharya also suggested the Mongolian model as a choice for Nepal. "Mongolia seeks to diversify its relations with countries beyond its immediate neighbors Russia and China, through its Third Neighbor Policy which include the United States, the EU and Japan," said Acharya. He said that Nepal can also weigh such options in foreign policy to safeguard our national interest.
He stressed the need for the resurrection of the South Asian Association of Regional Cooperation (SAARC), nothing that the current deadlock should be ended at the earliest. He suggested that Nepal should start consultations at the foreign minister or foreign secretary level to further the SAARC process and that the prime minister should take initiative to revive the regional mechanism given the Nepal is its current chair.
Acharya further suggested taking into account the emerging alliances and partnership in the region, without being dragged into their competition. He mentioned the Indo-Pacific Strategy, Quadrilateral Security Dialogue, Regional Comprehensive Economic Partnership, and multilateral partnership between Australia, the United Kingdom, and the United States staring, "We need not fear them but rather be vigilant without taking sides while not missing opportunities arising from them for our economic development."
Finally, Acharya asserted that the foremost priority of the country should be to strengthen relations with its immediate neighbors and benefit from their economic advancement.
According to him, Nepal has mostly failed to transform into a transit economy and that goal has remained a catchphrase. Our integration into the value chains of China and India is what the transit economy is all about and when an opportunity arises, we must take it, he remarked.
Acharya, who has worked for numerous UN missions across the world, said it is regrettable that Nepali leaders frequently take sides and form opinions based on conspiracies that circulate on social media. He claimed, "They externalize our political issues and permit others to meddle in domestic affairs."
Foreign Minister Saud aptly described the current global order and complex situation. "The world is witnessing rapid change, which has made the formulation and conduct of foreign policy more dynamic and complex. Identifying the global trends which may shape the global geo-political, economic and social systems in the coming decades is a strong imperative. "We need to analyze and understand these changes, assess their implications for us and fine-tune our response keeping the national interest and welfare of the people at the center,"
With changing old order and new contexts in the neighborhood, Nepal needs to adjust its foreign policy to safeguard national interest and promote economic prosperity. To do this, Nepal must treat its neighbor as a partner and conduct foreign affairs weighing its historical, cultural and civilization ties and closeness.
However, the old way of thinking cannot be changed by one or two of these discussions alone. In order to safeguard Nepal's national interest, Nepalese must engage in vigorous discussions and debate regarding these issues. The Ministry of Foreign Affairs' endeavor is a wise move made at the appropriate time.