At a send-off party for Nepal's government officials set to study in Japan under the Project for Human Resource Development Scholarship (JDS) at his official residence, Japanese Ambassador to Nepal, Kikuta Yutaka, commenced the deliberations by citing the famous quote of American President John F. Kennedy, "Ask not what your country can do for you but what you can do for your country."
In his ten-minute address, Ambassador Kikuta, an experienced and distinguished Japanese diplomat, provided valuable advice and insightful tips to the Nepalese civil servants embarking on their higher education journey in Japan.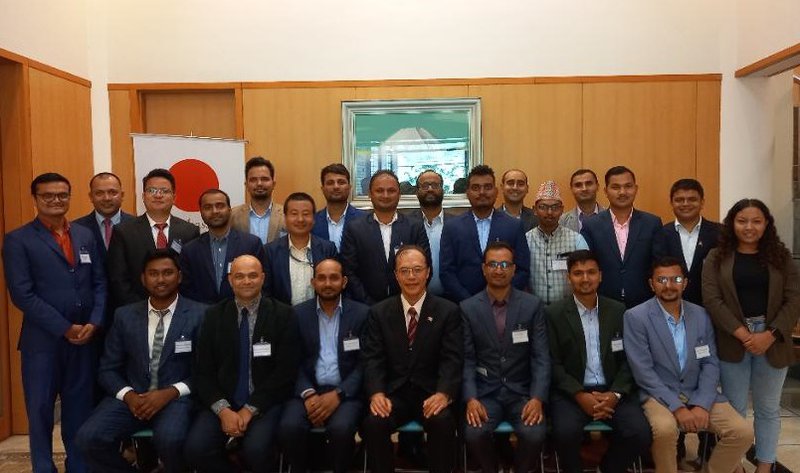 Drawing from President Kennedy's words, Ambassador Kikuta encouraged his fellow Nepalese civil servants to reflect on how they could contribute positively to society instead of solely seeking personal gain from every opportunity.
Ambassador Kikuta advises that civil servants pursuing world-class education in Japanese universities should actively contribute to the betterment of their nation through their participation, rather than passively expecting the government to solve everything. As civil servants, they ought to be proactive and involved in giving back to society, rather than solely being on the receiving end.
The JDS (Japanese Grant Aid for Human Resource Development Scholarship) offers young government officials in Nepal the opportunity to pursue Master's and Doctoral level courses in reputable Japanese universities. This year, a total of 22 government officials, with 20 studying for a master's degree and two for a PhD, will depart for Japan next month to further their education.
Upon completing their studies, the JDS fellows are expected to actively engage in formulating and implementing socioeconomic development plans, becoming leaders in Nepal, and contributing to strengthening the friendly relations between Japan and Nepal. This information was provided in a press release issued by the Embassy of Japan.
Ambassador Kikuta extended his congratulations to the successfully selected JDS fellows and expressed his hope that they would have a fulfilling learning experience in Japan, which has increasingly become a popular destination for Nepali students seeking to study abroad.
He also encouraged the JDS fellows to actively seek knowledge and gain valuable experiences during their time in Japan, while deepening their understanding of the country. The Ambassador expressed his best wishes for their success and anticipated their significant contributions to the bilateral relations between Japan and Nepal upon their return.
Given Nepal's transition from unitary forms to federal structures, there is a pressing need for highly capable civil servants with international education. Japan has been fulfilling this requirement through its JDS scholarship program, providing Nepali civil servants with invaluable exposure and opportunities.
Japan's scholarship programs have played an instrumental role in nurturing the development of Nepal's civil service, making it more proficient and effective.
Under a recently signed grand agreement between the Governments of Nepal and Japan, the Japanese Government has extended its support by providing assistance equivalent to NPR 385 million (Japanese Yen 424,000,000) to Nepal for the Project for Human Resource Development Scholarship (JDS) for the Fiscal Year 2024. This generous support will enable government officials to pursue higher education at reputable Japanese Universities. It marks an increase from the grant aid of 376 million Japanese Yen provided in the Fiscal Year 2022/2023. The Japan International Cooperation Agency (JICA) will be responsible for facilitating this aid project.
JDS Objective:
The primary objective of the JDS program is to strengthen the knowledge, skills, and capacities of young, competent, and dynamic Nepalese government professionals. The aim is to prepare them to take on leadership roles in their respective areas of duty and contribute to the country's development. Upon completion of their studies, these officials are expected to play a vital role in the social and economic transformation of Nepal. It is essential for the Nepalese fellows to demonstrate leadership by actively and effectively participating in the formulation and implementation of the country's development plans and programs. Additionally, the JDS program fosters a partnership between Nepal and Japan to address future issues and needs collaboratively.
The JDS program offers opportunities for Nepali civil servants to pursue master's and PhD degrees in prestigious Japanese universities. Its main objective is to enhance the abilities and skills of Nepali civil servants, enabling them to become effective leaders and professionals in their respective fields.
The Government of Japan has revised its Development Cooperation Charter, emphasizing the significance of investing in people. The JDS program is seen as a means to achieve Nepal's development goals. H.E. Mr. KIKUTA Yutaka, Ambassador of Japan to Nepal, hosted a send-off party for Nepal's government officials who will be studying in Japan under the JDS Scholarship at his official residence in Tahachal on July 28, 2023.
"The JDS program is not a charity but an investment made by the Japanese taxpayers. The Japanese people understand that the development of human resources is the foundation of the country, so they invest in you," said Ambassador Kikuta.
JDS for Nepal
Nepalese political leadership and officials have a long-standing tradition of studying in Japan. Rana Prime Minister Deb Sumsher chose Japan for higher studies for Nepali 123 years ago over Europe or England. JDS aims to continue and support that tradition.
The Government of Japan has been providing this scholarship since 2016. The selection process started in 2015, and the first batch went to Japan in 2016 after signing the grant aid. To date, 105 civil servants have graduated from Japanese universities and are now dispersed across Nepal, building a strong alumni network. Currently, 38 JDS fellows are pursuing academic degrees in prestigious Japanese universities, with 35 studying for masters and 3 for PhD courses.
Students are encouraged to focus on fields such as business administration, public policy, economic policy, law, public management, disaster management, international relations, and other areas crucial to the nation's sustainable growth. This tailored approach ensures that scholars are equipped with knowledge directly relevant to Nepal's unique challenges and priorities.
Shree Krishna Nepal, head of the International Economic Cooperation Coordination Division at the Ministry of Finance, similarly motivated the scholars by encouraging them to gain insights into Japan's development methodologies. These include understanding their service delivery systems, efficient management practices, cultural norms of politeness and honorifics, and much more.
Nepal emphasized the importance of not only showcasing their individual abilities but also representing Nepal's identity. He further urged the scholars to apply the skills and knowledge they have gained through their life experiences and civil service to contribute to the development and progress of Nepal.
Ambassador Kikuta concluded by reminding the scholars not to forget their mission and offered some advice. He encouraged them to study diligently, engage socially, travel, experience the culture, try local cuisine, and learn about the history.
As Ambassador Kikuta highlighted, Nepalese officials will have opportunities to interact with Japanese students, who are widely regarded as some of the world's most polite people.
The Japanese way of life encompasses various aspects, including their customs, culture, skills such as packing food items and folding paper, the art of arranging flowers, kindness towards strangers, respect for elders, conscientiousness in picking up rubbish and not being a nuisance to others. Moreover, it includes prioritizing pedestrian safety while crossing roads, refraining from spitting or throwing wrappers, papers, chocolate covers, and waste on roadsides and public places. They also emphasize on being cautious and considerate towards their neighbors, conserving energy and water, and actively contributing to maintaining a clean and green environment in their locality.
Fellows' observations
Ms. Deepa Pariyar, one of the selected fellows for the 2023 JDS scholarship, stressed the importance of the opportunities they were being given. She highlighted the various benefits of the scholarship, including assistance from the committee, such as language classes and guidance, all provided within a well-structured framework.
It's noteworthy that Ms. Pariyar is the only female employee who received this opportunity in her batch. This gender imbalance in government services indicates the need for the Government of Nepal to hire more female employees, thereby ensuring that female students also have increased access to such opportunities in the future.
The scholars returning from the JDS scholarship program come back to Nepal equipped with advanced knowledge, skills, and fresh perspectives. Shreedhar Gautam, a reselected scholar for the JDS scholarship, shared his experience and learning.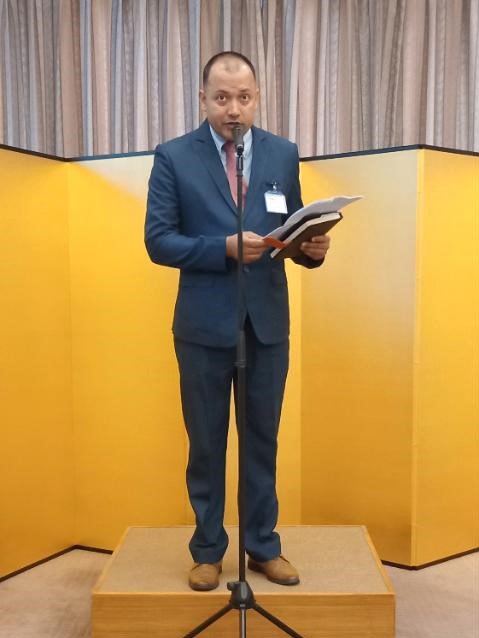 In 2016, during his time in Japan, Shreedhar Gautam witnessed a Paddy Plantation Program that had been ongoing since 2001. This experience taught him the significance of evidence-based policy and decision-making as a Government Official.
Upon their return to Nepal, these scholars are actively addressing various issues, starting with initiatives to increase exports, which can significantly contribute to resolving unemployment. They are making valuable contributions by raising awareness through articles, proposing policy changes, and critically evaluating existing ones.
Furthermore, it's important to note that the government places high hopes in the JDS scholars, expecting them to make a visible difference by enhancing their work ethics, discipline, and professionalism so that they can be identified as JDS scholars.
In the past, Nepal has experienced brain drain, with skilled professionals seeking opportunities abroad due to limited prospects at home. Japan's scholarship programs, like JDS, play a crucial role in addressing this issue by encouraging scholars to return to Nepal after completing their studies. This return of educated and skilled individuals not only enriches the country's workforce but also contributes to a brighter future for generations to come.
Among the numerous Nepal-Japan bilateral cooperation efforts, the JDS program stands out as a key partnership that has significantly strengthened Nepal-Japan relations and fostered a network of young and dynamic Nepalese scholars and officials who graduated from Japan. This network fosters cultural and traditional ties between the people of Nepal and Japan, given their leadership roles and responsibilities in government offices and ministries.
Considering the considerable number of Nepalese officials who have already returned from Japan, it would be highly beneficial if these officials could explore opportunities for Japanese students and researchers to come to Nepal for their academic activities. Such an exchange would further strengthen the already established sound relationship between the two countries.
Over the years, Japan has supported Nepal in various aspects, ranging from infrastructure development like roads, electricity, and telecommunications to agriculture. Now, with human capacity development through the JDS program, Japan's contribution will be immense in modernizing Nepal's civil service and enhancing its overall capabilities.
Parmita Shrestha is an Intern with New Spotlight.