As the British Prime Minister and statesman, Winston Churchill famously stated, "It is not enough that we do our best; sometimes we must do what is required." This quote emphasizes the importance of going beyond our best efforts and doing what is necessary to achieve success.
Similar to Churchill's approach, FNCCI President Dhakal follows three principles to complete tasks as per the requirements of the government and people, ensuring professionalism and sustainability.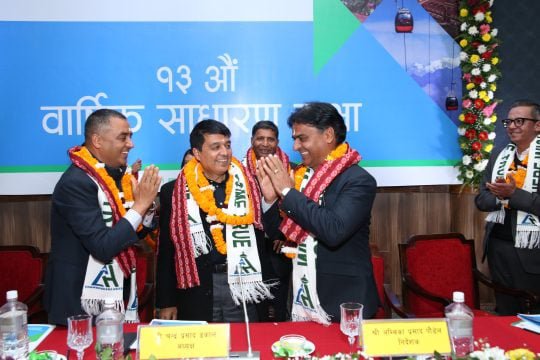 President Dhakal has exemplified this principle by taking decisive actions according to the demands of the situation, earning him the position of a respected leader.
Just as Churchill led the United Kingdom during World War II with global unity, Dhakal is leading FNCCI amid major economic crises following the Russian war in Ukraine and the COVID-19 pandemic. With his soft and reconciliatory approach, he is leading a unified team.
Thanks to President Dhakal's efforts, the Federation of Nepalese Chamber of Commerce and Industry (FNCCI), Confederation of Nepalese Industry (CNI), and Nepal Chamber of Commerce (NCC) - Nepal's three main business and industrial organizations - have issued a joint statement, taking a common stand against the recently published Monetary Policy.
Furthermore, FNCCI also successfully organized a joint business summit in New Delhi during the official visit of Prime Minister Pushpa Kamal Dahal Prachanda. The summit, jointly organized by FNCCI and the Confederation of Indian Industries (CII), was attended by Prime Minister Pushpa Kamal Dahal Prachanda, ministers from Nepal and India, as well as businessmen from both countries. Credit for making this landmark event a success goes to President Dhakal.
During his first 100 days as president, Dhakal achieved remarkable success in addressing numerous challenges faced by Nepal's business communities, akin to scoring a maiden century in cricket. As he assumed the position of FNCCI president, Dhakal adeptly handled the prevailing crisis in the Nepalese economy and the various troubles plaguing the business communities, drawing from his experience as the senior vice president alongside the outgoing president, Shekhar Golcha.
With a thorough understanding of the overall situation, Dhakal commenced his tenure by setting five primary targets aimed at resolving the issues encountered by the private sector in the country.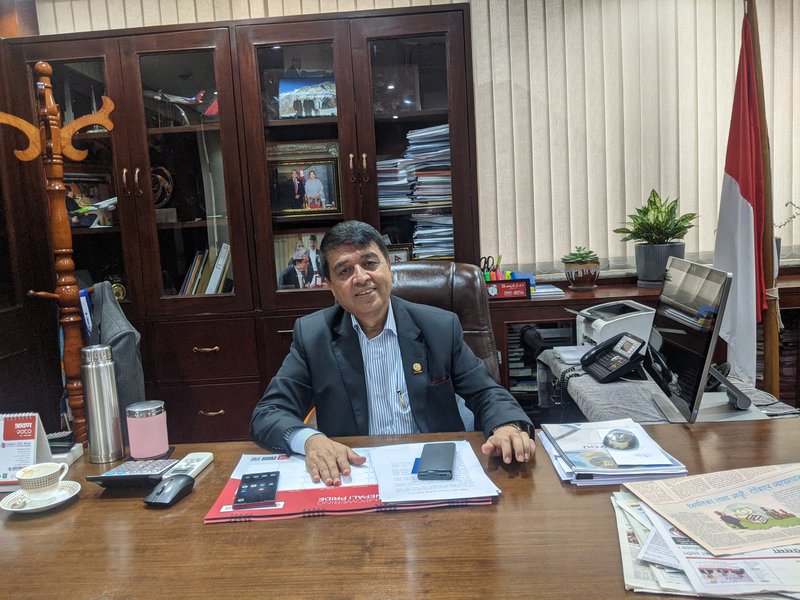 President Dhakal holds the view that FNCCI will remain strong through a robust network and unity among its members. He called for professional cooperation and unity, stating, "At times, lone efforts don't yield success. Our unity could be further robust if FNCCI joins hands together with the members."
Soft-spoken and self-disciplined, President Dhakal used his two major powers to win over his rivals. His actions during the first hundred days were highly impactful and marked by significant achievements, including the amendment of the CIAA Act. After taking oath, he started a campaign to amend the provision included in the Commission of Abuse of Authority Act to bring the private sector under CIAA jurisdiction.
The amendment proposal was registered by lawmakers following his business delegation's meetings with the speaker, prime minister, main opposition leader, and others.
With support from all political parties and his business communities, Dhakal successfully removed the clause when it was tabled in the Lower House. During these meetings, he argued that the private sector should not be under the jurisdiction of CIAA, as there are several regulatory bodies overseeing the sector already, making the provision unnecessary and hindering private sector investment.
Issues and Concerns
Following this, Nepal Central Bank announced the Monetary Policy. In response, Dhakal proposed several amendments and new provisions aimed at facilitating the business and industrial sectors to revive the economy.
"Regrettably, the monetary policy accepted only a few of our suggestions. Nevertheless, we took initiative alongside CNI, Nepal Chamber of Commerce, and Federation of Nepalese Chamber, Commerce and Industry to develop a common stand, which we then submitted to the NRB governor. Although some of our common suggestions were accepted by the Central Bank, some were discarded. Particularly, the recommendation for a flexible monetary policy was not accepted, and as a result, the monetary policy remains rigid despite our efforts to influence it."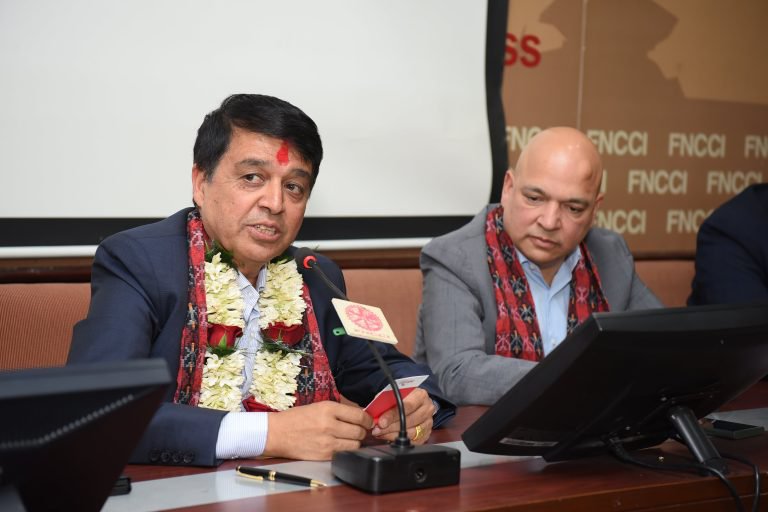 ". Notably, the government accepted our recommendations to suspend certain processes related to Environmental Impact Assessment (EIA), land acquisition issues, and land ceiling issues to promote the development of tourism infrastructures. However, the budget also introduced unexpected provisions, including taxes for mergers, among others. We shared our views on the budget," said Dhakal.
Visit to India and Business Summit
During my 100-day tenure, one of the most significant events was my visit to India accompanied by Prime Minister Pushpa Kamal Dahal Prachanda. Together, we organized a large business conclave in New Delhi, partnering with the Confederation of Indian Industry (CII). The summit was graced by the presence of India's Minister of Industry, Pius Goel, and Prime Minister Dahal. As part of the coordination efforts, a substantial industrial delegation from Nepal visited India during Prime Minister Dahal's trip. The business summit in New Delhi, jointly organized with CII, witnessed the enthusiastic participation of numerous Indian industrialists, making it a historic event during the prime minister's visit.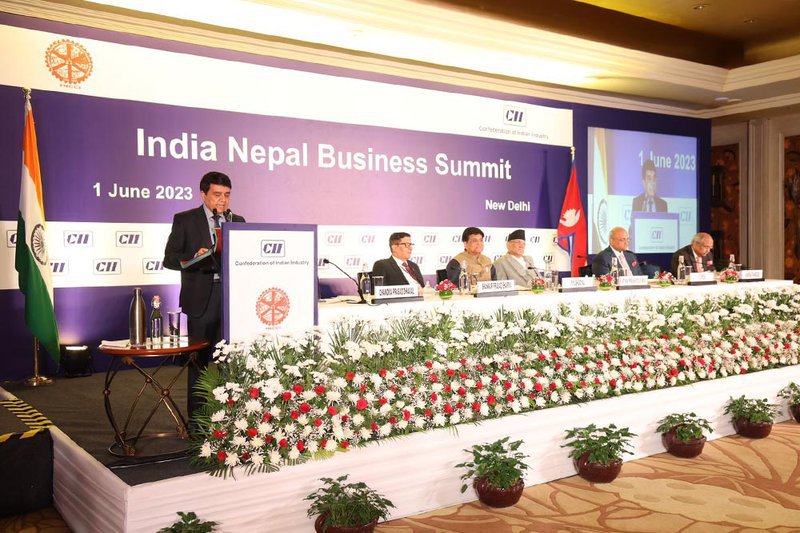 With the active involvement of our counterpart, CII, which is one of the largest industrialist groups in India, all major business houses were invited to the summit. The success of this event demonstrated the ample opportunities for business collaboration between Nepal and India. During the summit, I played a leading role in fostering fruitful interactions and discussions.
One of the key achievements during the visit was the agreement between Nepal and India to export 10,000 MW of electricity from Nepal. Additionally, we also secured an agreement that allowed Nepal to export electricity to Bangladesh via Indian territory. These agreements marked significant strides in strengthening regional cooperation and energy trade.
Furthermore, I highlighted the attractive incentives provided to Indian invested industries, financial institutions, and service providers in Nepal. Prominent companies such as Dabur India, Surya Nepal, Hindustan Labor, and banks have been offering high dividends, and Indian joint ventures have emerged as top taxpayers in Nepal. These examples underscored the ample opportunities for investment and growth in Nepal.
Personal Lifestyle
His chorus begins with a morning walk inside his home compound. Dhakal has a profound attachment to his family. He starts his day by leaving with his mother and returns home early, except during official functions.
"I have developed a consistent routine that starts at 5 in the morning. Each day begins with a refreshing morning walk within the comfort of my own compound. It has become an integral part of my lifestyle, one that I cherish and maintain regularly."
Spending quality time with my family is crucial to me, so, aside from outdoor activities, I prefer staying at home with my mother and loved ones. After my morning walk, I gather with my family to enjoy a cup of tea and share some pleasant moments together.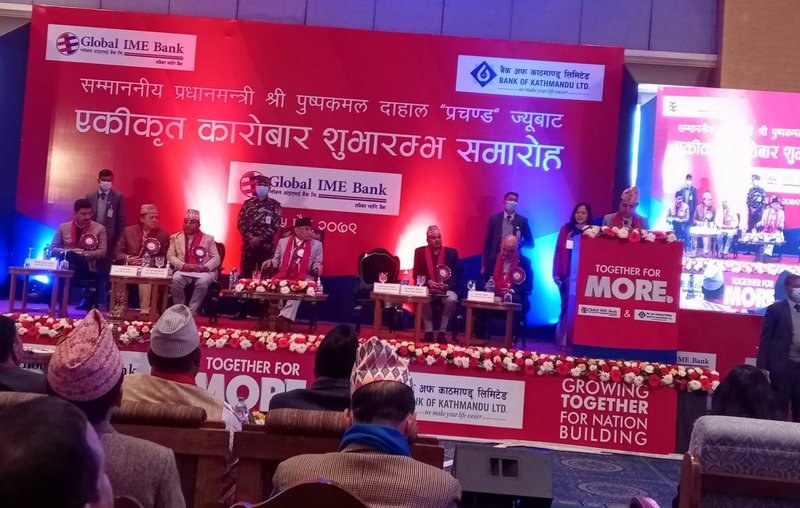 Weekends and official holidays are precious to me, and I usually opt to spend them at home. My mornings remain consistent, starting at 5 with a refreshing walk, followed by tea and a glance at the newspaper. By 7:30, I am usually ready to start my day, and I try to maintain a healthy habit of sleeping early, often retiring before 9.
My daughter, son-in-law, and son are all in Kathmandu, and I am grateful for the support I receive from my brother Hem Raj Dahal, who looks after operational matters. This invaluable assistance allows me to dedicate my time freely to FNCCI (Federation of Nepalese Chambers of Commerce and Industry).
IME Group
Despite being the president of FNCCI, he begins his day by arriving at IME's Corporate Office around 8:30 AM. Once he finishes his business tasks there, he shifts his focus to his presidential responsibilities.
Chandra Dhakal is a prominent figure within the IME group, while his brother Hem Raj Dhakal oversees internal affairs. "Alongside my brother, we form a highly effective team within the IME group, and each member is dedicated and professional in their respective roles. As the president, I hold additional responsibilities and make crucial decisions during pivotal moments," said Dhakal.
With his brother supporting him in the operational affairs of IME Group's business, President Dhakal normally has adequate time to spare in FNCCI.
Each of our companies has its own CEO and board members, alleviating much of my burden. With extensive experience leading the IME group, Dhakal understands how to optimize organizational efficiency. Moreover, having served as vice president and senior vice president of FNCCI, he gained valuable insights into organizational behavior.
"IME has become synonymous with money transfer, reflecting its strong brand presence. In recent years, numerous new banks and financial institutions have emerged, and Nepal Rastra Bank has encouraged mergers and capital increase. Under Dhakal's leadership, IME successfully merged with five commercial banks, ten development banks, and six finance companies, and later, Global IME Bank merged with a total of 21 banks and financial institutions. This aligns with the government's vision for a more beneficial, sustainable, and professional financial landscape," Dhakal remarked.
FNCCI's Team
Possessing a key personality trait that fosters teamwork, President Dhakal has consistently relied on his entire team at FNCCI.
"I am fortunate to lead a highly harmonized and strong team. My colleagues are individuals who understand each other well, and they have been wholeheartedly cooperating with me as we work together to address common issues. As the president, I hold a higher level of responsibility, but I am confident in the capabilities of our diverse team representing various sectors."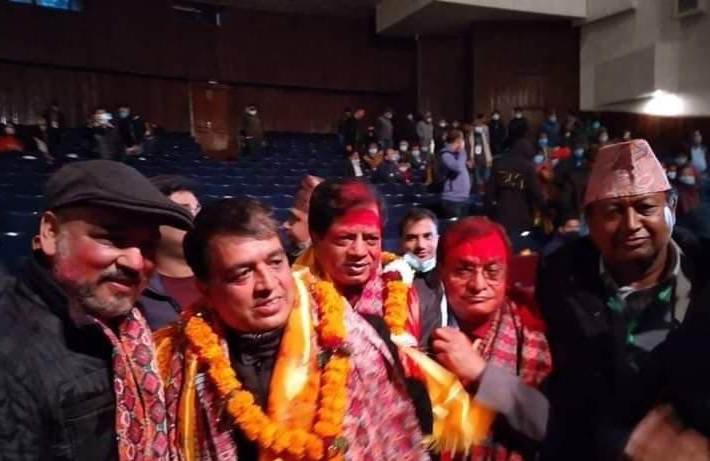 Within the organization, we have vice presidents assigned to specific sectors. Additionally, there is a senior vice president who steps in when the president cannot attend certain programs. Ultimately, it is the president's responsibility to oversee matters and make crucial decisions.
Five Point Agenda
After taking the oath, I have laid out a comprehensive five-point agenda for my tenure as follows:
Addressing the Economic Crisis: My foremost priority is to overcome the prevailing economic crisis and restore business growth and stability in our nation.
Creating a conducive environment for both foreign and domestic investment is my second agenda. Despite ample opportunities, Nepal has struggled to attract the necessary investments, and I aim to rectify this situation.
Strengthening Public-Private Collaboration: Harmonizing and strengthening the collaboration between the public and private sectors is my third agenda. By fostering a mutually beneficial partnership, we can achieve greater progress and development.
Human Resource Development: In light of the rising unemployment rate, I recognize the urgent need to bridge the gap in skilled manpower. To address this, I am diligently working with various organizations to provide the necessary training to produce a skilled workforce that meets the country's requirements. This will not only reduce unemployment but also enable us to send qualified manpower abroad, thereby doubling annual remittance inflows.
Enhancing the Prestige of the Private Sector: Despite the private sector's significant contributions, it has faced undeserved criticism. My fifth agenda is to enhance the reputation of the private sector by highlighting its crucial role in providing 85 percent of employment opportunities. Efforts to change the outdated perception of the private sector are already underway.
Furthermore, I am committed to collaborating closely with bilateral, multilateral agencies, and the government to expand infrastructure and development activities. Ensuring state protocol and addressing the concerns of all stakeholders will also be a priority during my tenure.
"I am dedicated to achieving these five goals during my tenure, working diligently with government bodies and various agencies. My focus will be on increasing employment opportunities, revenue generation, and infrastructure development," said Dhakal, expressing his determination to make a positive impact on the nation.
Three Priorities
As an individual, I prioritize three key aspects whenever I begin any work. Firstly, the work should benefit the common people. Secondly, it should align with the government's objectives and be conducted in a professional and sustainable manner. These three principles form the core of my approach.
In the past, remittances used to flow through informal channels, causing difficulties for the common people as money was sometimes stolen. The central bank's wish to formalize remittances was not being fulfilled. To address this issue, I initiated the IME money transfer mechanism to ensure public benefits, government compliance, and sustainability.
Nepal holds enormous potential for tourism due to its beautiful natural scenery and diverse climate, attracting both domestic and foreign tourists. However, the lack of adequate infrastructure hinders its growth.
"We have introduced Chandragiri Cable Cars, equipped with necessary facilities such as a Fun Park for children, temples, resorts, and hiking options. This development has proven successful, prompting us to plan similar infrastructures in all seven provinces. Currently, Chandragiri, Maula Kali, and Gandaki, as well as Butwal cable cars, are operational, and we aim to gradually build more."
FNCCI boasts around 500,000 members across Nepal. In the hydropower sector, the Dordi and Mistry projects, along with others in Myagadi, are already operational. The IME group is currently involved in constructing two hydropower projects in the Kaligandaki River.
As Bhagavad Gita suggests, "Karma pays." President Dhakal continues on his journey, unwavering in his beliefs, and places trust in his work and colleagues.
Success comes when one genuinely believes in and enjoys their work, which is the essence of what he embodies. Dhakal's first hundred days as president of FNCCI demonstrated his unwavering commitment and trust in his role, making it evident that he is the right person for the job. He fulfills his duties with utmost dedication and conviction, setting an inspiring example for others.
Through his actions and leadership, President Dhakal has shown the significance of karma, wherein one's actions determine the outcomes they experience. By embodying the principles of the Bhagavad Gita, he is reaping the rewards of his positive contributions to society and business.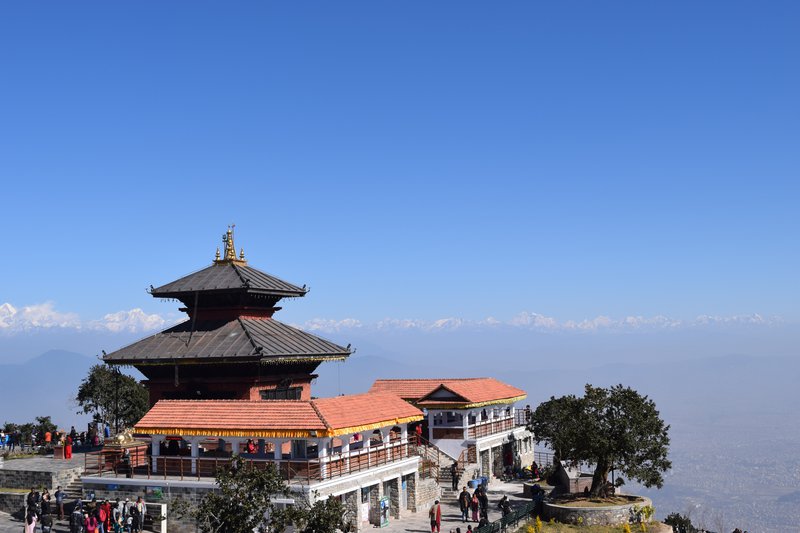 As he continues on his path, guided by the wisdom of the Bhagavad Gita, President Dhakal is poised to lead FNCCI and the nation towards a prosperous and harmonious future. His journey serves as an inspiring testament to the power of belief, dedication, and conviction in achieving one's goals and making a positive impact on the world.