Mental Hospital Lagankhel marked a significant milestone today by Starting its partnership with Lalitpur-based NGO, Unity in Health Nepal. This collaboration, formalized in an agreement signed earlier this week, aims to enhance training programs and workshops for the hospital's nursing staff, health assistants, and other personnel. With a capacity of 50 beds, the hospital focuses on providing care to individuals with severe mental health conditions.
As stated in the press release distributed today, Unity in Health, known for its innovative approach in the field, will deploy a team of mental health specialists to spearhead the training sessions. Their focus will range from mental healthcare skills, such as risk assessment, care planning, treatment techniques, to safeguarding and de-escalation techniques. A highlight of this partnership will be the initiation of a mentorship program, ensuring that newly registered nurses receive guidance and support from their seasoned counterparts.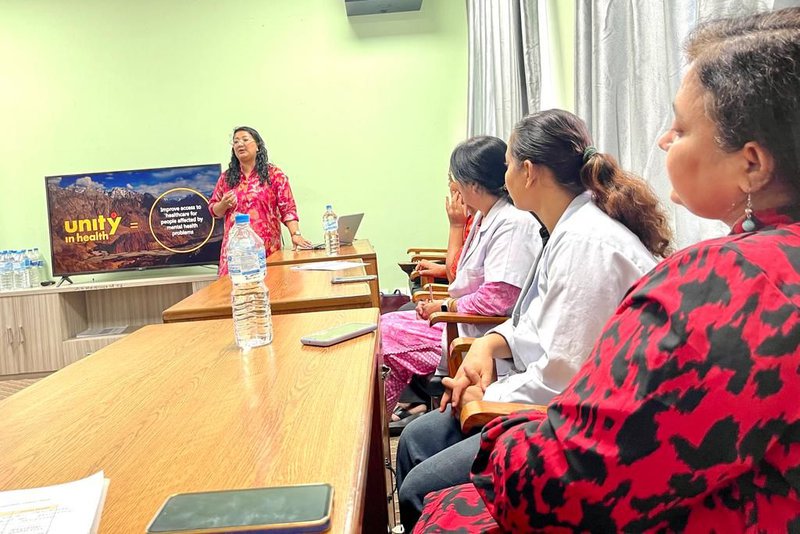 Dr. Ananta P Adhikari, Director at Mental Hospital Lagankhel, expressed his enthusiasm for the project, saying, "This programme is a testament to our commitment to uplifting the standard of care we provide. By merging our efforts with Unity in Health, we aim to establish a blueprint for improving mental health services throughout Nepal."
Anticipation is high for the outcome of this three-year project. The overarching goal is to transform Mental Hospital Lagankhel into a benchmark for mental healthcare not only within Lalitpur but across the entire nation.
Luvana Shrestha, Executive Director at Unity in Health, echoed this sentiment. "Our core mission has always been to create tangible improvements in the lives of those grappling with mental health issues. The collaboration with Mental Hospital Lagankhel aligns perfectly with our values, and we are confident that together, we can bring about meaningful change," she remarked.
Unity in Health's reputation in Nepal stems from its relentless drive to pioneer projects focusing on mental health. Their endeavors encompass the establishment of mental health services in remote areas, often reaching communities that have previously been underserved. Central to their mission is the empowerment of healthcare professionals, ensuring they possess the necessary tools and knowledge to treat and support individuals facing mental health challenges effectively.