Prime Minister Pushpa Kamal Dhal Prachanda held a bilateral meeting with Wang Junzheng, Secretary of the CPC Tibet Autonomous Regional Committee of the People's Republic of China in Lhasa.
During the meeting, the Prime Minister expressed satisfaction over the excellent state of bilateral relations between Nepal and China, particularly highlighting the traditional socio-economic and cultural connection with China's TAR.
The two sides discussed matters relating to furthering socio-economic cooperation, enhancing understanding and goodwill through high level of exchanges, consolidating the ongoing cooperation activities and exploring new areas of cooperation.
The Prime Minister expressed gratitude to the Government and people of China's TAR for providing generous and spontaneous support to Nepal during massive earthquake of 2015 and the Covid-19 pandemic.
While Prime Minister thanked for the cooperation in reopening of three international border points, he stressed on the need of reopening of traditional border points for the movement of local people as well as promoting trade and commerce.
He also underscored the importance of promoting exportable products of Nepal in order to reduce trade deficit incurred on Nepal. The Prime Minister emphasized on air connectivity particularly the resumption of Kathmandu-Lhasa direct flights, along with the cooperation in the areas of agriculture, tourism, socio-cultural relations and people-to-people connection.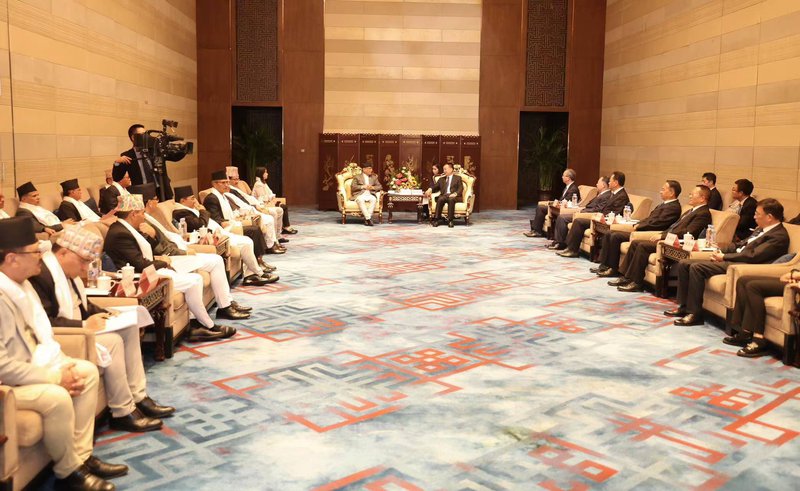 The both sides exchanged views on effective implementation of the agreements and understandings reached between Nepal and China. Prime Minister attended the banquet hosted by H.E. Wang Junzheng, Party Secretary of the China's TAR.
Earlier in the afternoon, the visiting Nepali delegation led by the Prime Minister visited the Consulate General of Nepal in Lhasa. On the occasion, the Prime Minister instructed the office of the Consulate General to work even harder to enhance Nepal-China relations.
The members of the Nepali delegation as well as senior officials of the China's TAR were present in the meeting.
Prime Minister Pushpa Kamal Dahal 'Prachanda', who is presently on an official visit to China since September 23, is scheduled to visit Mount Kailash and Manasarovar Lake today. He arrived Lhasa of Tibet on Wednesday.
The Prime Minister will depart from Lhasa to the Mount Kailash from Gonggar Airport on a Tibet Airlines flight. He will be accompanied by members in his entourage during his pilgrimage to these sites.
During his stay in Lhasa, Prime Minister Dahal engaged in various bilateral meetings and inspection visits as part of his official trip to the northern neighbour.
'Prachanda' arrived in Lhasa, Tibet Autonomous Region (TAR) of China last night.