Prime Minister Pushpa Kamal Dahal is the first Nepali leader to travel to China on official business after almost four years. Sher Bahadur Deuba, the president of the Nepali Congress, held office for two years but shied away from traveling to China.
Prime Minister Prachanda gave China importance and departed for China after delivering his speech to the 78th United Nations General Assembly. It remains to be seen how his week-long visit would contribute to improving bilateral ties.
Nepal, which has a border with Tibet spanning more than 1500 km, continues to be monitored closely by the People's Republic of China in terms of security. This is the rationale behind China's continued relations with Nepal on several levels.
China extended an invitation to a high-level delegation from the main opposition party CPN-UML just two weeks prior to Prime Minister Prachanda's arrival. In a similar manner, China reestablished contact by sending a high-level delegation headed by a member of the Standing Committee.
Following their discussion, Chinese President Xi and Nepalese Prime Minister Prachanda issued a statement, which revealed China's top priorities for Nepal and its main worries.
Lessons from President Xi
During a meeting with Nepalese Prime Minister Pushpa Kamal Dahal "Prachanda" on Saturday in Hangzhou, the provincial capital of East China's Zhejiang Province, Chinese President Xi Jinping stressed the importance of maintaining mutual understanding and support on matters pertaining to each other's core interests and major concerns.
According to China Global Television Network, Xi stated that China places great emphasis on relations with Nepal and that China is eager to strengthen the coordination of development strategies with the Nepalese side and advance new developments in the two countries' bilateral relations.
In their Belt and Road partnership, China and Nepal have seen success, and the trans-Himalayan multimodal connectivity network is starting to take shape, he said.
The Chinese President exhorted the two parties to concentrate on advancing infrastructure connection, increasing transit transport cooperation, and assisting Nepal in quickly transitioning from a "land-locked country" to a "land-linked country."
According to him, China supports Nepal's exports to China, encourages Chinese businesses to invest there, is eager to increase the two countries' exchange of governance expertise, and helps Nepal develop economically and socially to the best of its ability.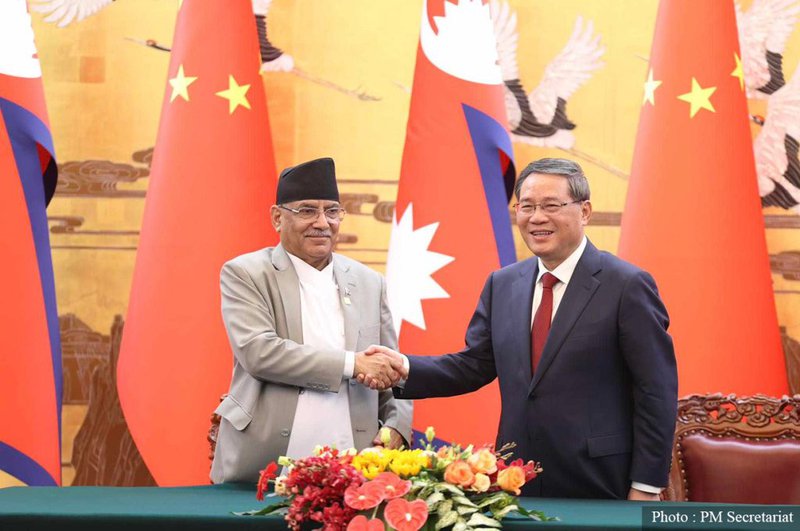 He added that China is willing to strengthen multilateral cooperation with Nepal, protect the interests of the two countries and developing countries, and promote the creation of a community with a shared future for humanity. He claimed that China and Nepal share a wide range of common interests in international and regional affairs.
Position of Prime Minister Prachanda
Given his rising proclivity towards his southern neighbor, China, the second-largest economy in the world and one of the strongest nations, dealing with China is not an easy issue for Nepal's Prime Minister Prachanda.
Prime Minister Prachanda has chosen a middle ground approach rather than discussing intricate geopolitical concerns, focusing mostly on economic development and trade ties while assuring the Chinese leadership of Nepal's firm stance not to let any anti-Chinese activities.
The Nepalese Prime Minister expressed appreciation for China's assistance in building Nepal's economy, reducing poverty, and responding to COVID-19. He declared that Nepal steadfastly upholds the one-China policy and will not permit any force to exploit its territory to carry out actions that jeopardize China's security and sovereignty.
Nepal deeply appreciates the Belt and Road Initiative and will actively engage in its construction, as well as advance the building of the trans-Himalayan multi-dimensional connectivity network, which will significantly aid Nepal's national economic development, he said.
Nepal is ready to collaborate with China to advance the growth of the international order in a fair and more rational direction, protect the shared interests of developing nations, and advance the creation of a community with a shared future for mankind, he added. Nepal supports many of the significant ideas and initiatives put forth by Xi.
What a coincidence that Prachanda attended the Beijing Olympics in 2008 on his first trip as prime minister. He recently traveled to Hangzhou City to attend the 19th Asian Games.
His first trip to China received a lot of criticism in the southern neighbor, which shook his first revolutionary government. It remains to be seen, though, how this visit will affect the stability of his government.