For Prime Minister Pushpa Kamal Dahal Prachanda, the past two weeks have held immense significance. His recent journeys to both China and the United Nations General Assembly carry great historical importance.
The Ministry of Foreign Affairs has showcased its institutional and human capacity to conduct foreign relations effectively and productively. Despite Foreign Minister Saud being relatively new to foreign relations, Foreign Secretary Paudyal and his ministry team have put in considerable effort to ensure the success of the UN and China visit. Newly appointed Permanent Representative of Nepal, Lok Bahadur Thapa, has also made all effort to guarantee the visit's success.
As a member of the Prime Minister's delegation during their visit to China, National Security Advisor Shaker Dash Bairagi, a seasoned and highly experienced diplomat, made invaluable contributions to the trip's success. Foreign Secretary Paudyal deserves recognition for his impressive achievements, given his long-standing tenure in the Ministry of Foreign Affairs.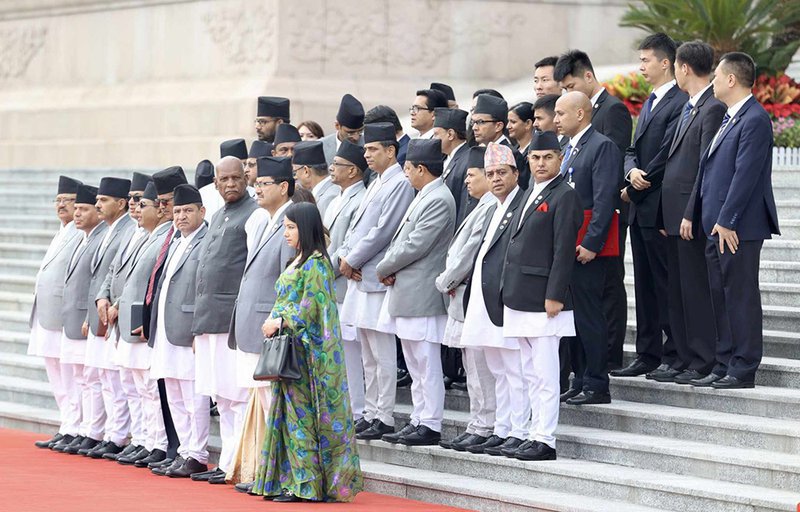 During the Nepalese Prime Minister's week-long visit to China, the delegation signed a 13-point agreement, which included bilateral and one-on-one meetings with Chinese President Xi Jinping and Premier Li Qiang. Nevertheless, PM Prachanda has been cautious in avoiding controversy and proceeding with care, recognizing that China remains Nepal's northern neighbor.
During his visit to the United Nations General Assembly, the Prime Minister actively engaged in the global forum for Sustainable Development Goals (SDGs) and Least Developed Countries (LDCs). He also held meetings with several world leaders, including US President Joe Biden, President of the Republic of Korea Yoon Suk Yeol, President of Sri Lanka Ranil Wickremesinghe, Prime Minister of Norway Jonas Gahr Støre, US Secretary of State Antony Blinken, and the UN Secretary-General. The foreign policy team of Prime Minister Prachanda refrained from making controversial statements or signing sensitive security agreements.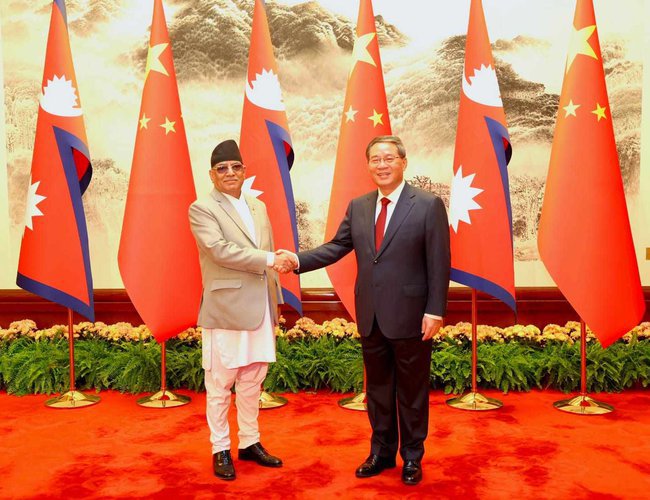 Despite the high-level meetings at the UNGA, the visit to China eclipsed the UN visit in terms of importance. Some foreign media outlets portrayed Prachanda's visit to China as a potential recalibration of Nepalese foreign policy. Indian foreign policy experts, who have frequently criticized Nepalese leaders' visits to China in the past, have yet to identify any faults in the current visit to criticize the Prime Minister.
Given India's strong ties and interests in Nepal, the visits of Nepali leaders to China are always a matter of concern. In his book, "Resetting India-Nepal Relations: The Kathmandu Dilemma," former Indian ambassador to Nepal, Ranjit Ray, provides an objective analysis of the differing perspectives on mutual security between India and Nepal. India perceives China as a significant threat, as evidenced by the ongoing crisis in Ladakh, while Nepal views China primarily as an opportunity to be harnessed.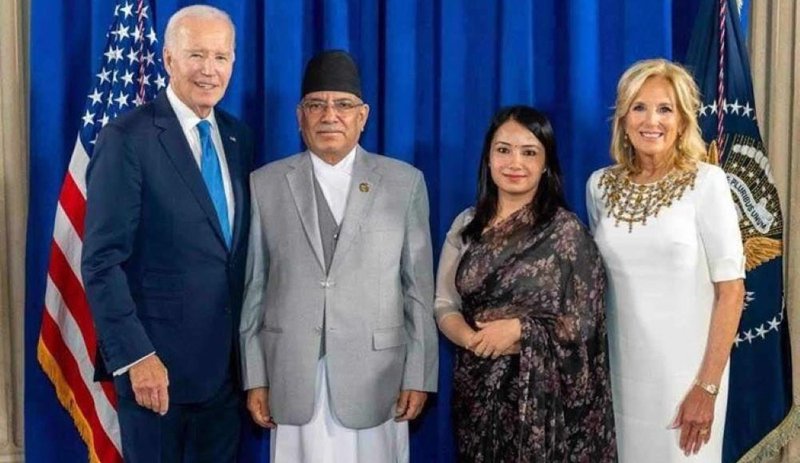 Taking into account Nepal's own geo-strategic limitations, Prime Minister Prachanda declined to participate in a security alliance with China during his visit. However, he did express support for China's stance on the One China policy and Tibet as an integral part of China, and he also sought an economic package for Nepal. While Prachanda's actions may not fully align with India's expectations for Nepal's security, they do help alleviate India's concerns and sensitivities regarding Nepal.
According to Rai, China will continue to play a significant role as a third-party actor in the relationship for the foreseeable future. Changes in our relationship with China will inevitably impact our relationships with neighboring countries. The utilization and efficacy of the China card will be contingent on the state of the India-China relationship. Although our relationship with China encompasses elements of cooperation, competition, and confrontation, it is imperative to prevent it from escalating into a state of conflict.
In his book, the highly regarded Indian diplomat Rae has delineated the constraints that India's neighbors, including Nepal, must consider when dealing and engaging with China.
Prime Minister Prachanda's recent decision to abstain from endorsing China's security doctrine during his visit to China has been perceived by many as a bold move. The joint statement issued after Prachanda's meetings with Chinese Premier Li Qiang and President Xi Jinping only touched upon Nepal's approval of China's proposed Global Development Initiative. The absence of any reference to the Global Security Initiative or Global Cultural Initiative was conspicuous.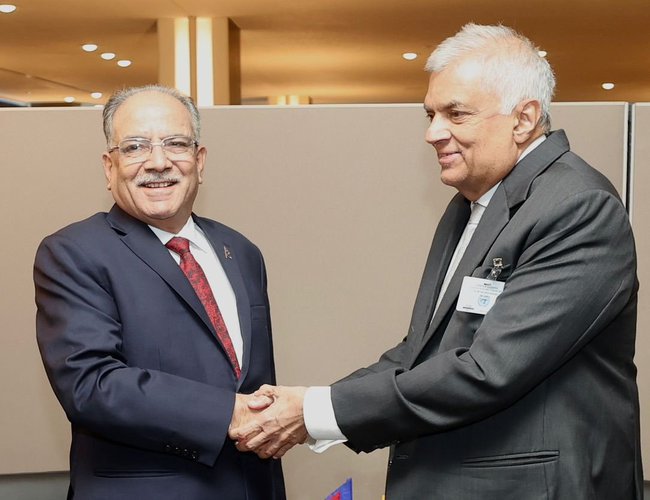 Nepal maintains a stance of non-involvement in security-related matters and adheres to a non-aligned foreign policy, as articulated in their official policy. In contrast, the American Indo-Pacific Strategy and State Partnership Program are classified as security initiatives. This implies that if Nepal does not participate in one initiative, be it IPS or SPP, they may be precluded from engaging in others, as per Prime Minister Prachanda's statements.
The Indian media has portrayed Prachanda's position in a favorable light, noting that Nepal is strengthening its ties with China while also avoiding security alliances. During Nepalese Prime Minister Pushpa Kamal Dahal's visit to China, both nations expressed their commitment to boost trade. However, Dahal emphasized that Nepal would not engage in any security alliances, as reported by a commentator from the Press Trust of India in China.
Nepal is currently deepening its relationship with China. Prime Minister Prachanda has agreed to collaborate with Beijing on various fronts, including tourism, trade, energy, transportation, and infrastructure, during his visit to China. Being geographically situated between China and India in the Himalayas, Nepal is economically dependent on both Asian giants. For decades, this has required Kathmandu to navigate a complex balancing act, as noted in a BBC World service article.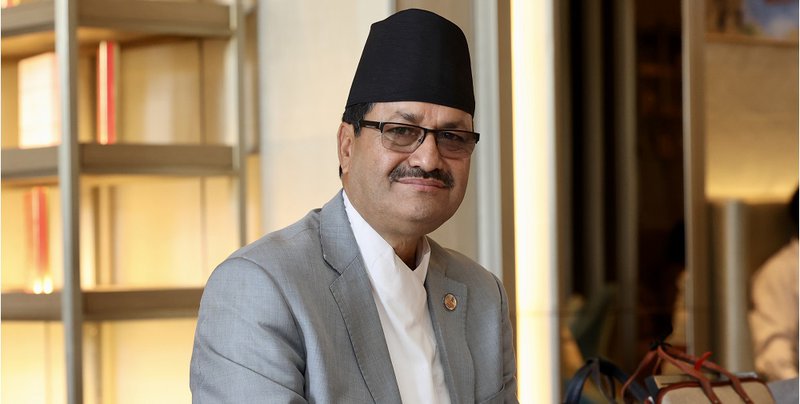 Presently, India is Nepal's primary trade partner, with China as the second. However, this dynamic may shift in the future, given China's efforts to integrate Nepal into its global Belt and Road Initiative (BRI). This initiative aims to establish a network of transportation connections to enable Chinese goods to reach Western consumers.
During Dahal's recent visit, efforts to implement the BRI did not meet expectations. Despite Prachanda's meetings with President Xi Jinping and Premier Li Qiang of China, as well as his commitment to enhance cross-border connectivity by developing new ports, roads, railways, and air routes, he hesitated to approve a Chinese draft plan for BRI implementation due to concerns about security and legal cooperation. The BBC also reported that President Xi's security-related perspective was another point of concern for Prachanda.
In a statement by an anonymous Nepalese official, it was mentioned that there was a proposal to enhance legal, law enforcement, and security cooperation to facilitate collaboration on the Belt and Road Initiative, which Prachanda was not willing to approve.
"China and Nepal have pledged to expedite consultations in order to finalize the implementation plan for the Belt and Road Initiative (BRI) in the near future, as stated in a joint announcement.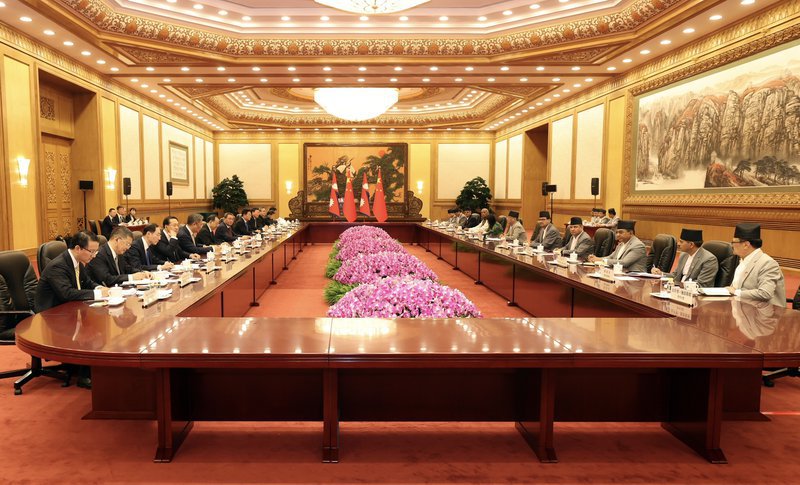 This commitment was made during a diplomatic mission led by Minister of Foreign Affairs Saud and Foreign Secretary Paudyal. Their adept handling of Nepal's intricate diplomacy, along with the participation of senior officials from the Ministry, has ensured that Nepal is well-prepared this time around. Notably, the inclusion of National Security Advisor and seasoned career diplomat Shankar Dash Bairagi, who previously held the position of Foreign Secretary and served as Chief Secretary for three years, provided Prime Minister Prachanda with a knowledgeable advisory team.
During their meeting, Prime Minister Prachanda expressed Nepal's support for the China-led Global Development Initiative (GDI) and indicated a willingness to consider joining it in the future. However, this stance also underscores Kathmandu's reservations concerning its powerful neighbor. Dahal did not explicitly state that Nepal would abstain from participating in other Beijing-led initiatives, including the still unclear Global Security Initiative. Instead, he emphasized that Nepal cannot be a part of any security alliances.
In his book titled 'Non-Alignment: Quest for Independent Foreign Policy,' former career diplomat Dr. Dinesh Bhattarai asserts that Nepal must pursue a non-aligned foreign policy for its continued sovereignty.
Prime Minister Prachanda unequivocally expressed Nepal's opposition to "Taiwan independence" and declared that all Tibet-related issues are considered internal affairs of China. Furthermore, Prachanda affirmed Nepal's commitment to preventing any separatist activities against China on its territory.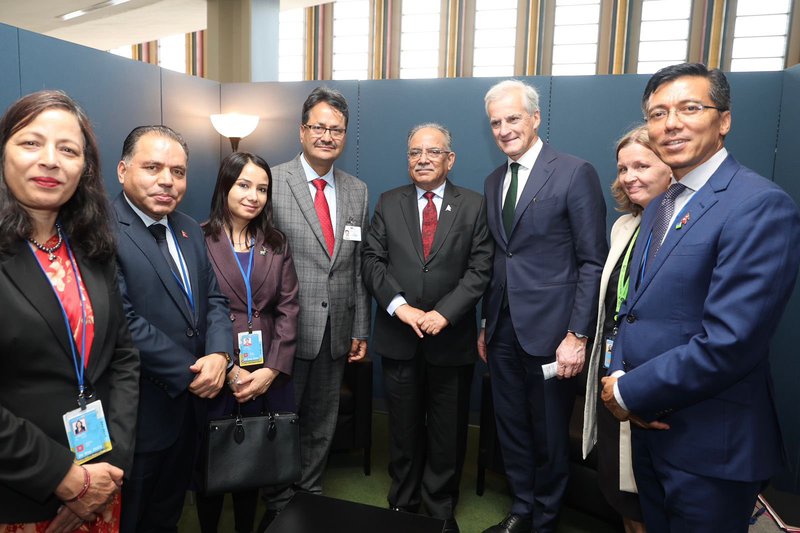 Prime Minister Prachanda holds the distinction of being the first Nepali leader to officially visit China in the past three years. Following his address to the 78th General Assembly of the United Nations, he prioritized his visit to China. During his week-long trip, Prime Minister Prachanda engaged in bilateral meetings with President Xi Jinping, Premier Li Qiang, and other high-ranking officials. China extended a warm welcome to Prime Minister Prachanda and his delegation."
China and Nepal should consistently maintain a strong mutual understanding and support each other on matters related to their core interests and significant concerns. During a meeting in Hangzhou, the capital city of East China's Zhejiang Province, with Nepalese Prime Minister Pushpa Kamal Dahal "Prachanda," Chinese President Xi Jinping underscored the importance of this principle.
China places immense value on its relationship with Nepal and is eager to further align their development strategies to reach new milestones in their bilateral relations, as reported by the Chinese Global Television Network.
Prime Minister Prachanda, facing the challenge of managing relations with China, the world's second-largest economy and a major global power, opted to prioritize economic development and connectivity as his primary objectives instead of delving into complex geopolitical and security issues. He offered reassurances to the Chinese leadership that Nepal firmly opposes any activities that are detrimental to China's interests.
"As close neighbors, it is only natural for Nepal to aspire to enhance its economic partnership with China for mutual benefit," Prime Minister Prachanda emphasized. He pointed out the numerous factors, including their geographical proximity and shared affinity, that can be leveraged to promote cooperation that benefits both nations.
Growing 'anxiety'
As in the past, Nepali media extensively covered the political discussions between Prime Minister Prachanda and Xi Jinping, as well as the geopolitical connections involving Delhi and Washington. These discussions have been making headlines, drawing attention to both mutual interests and suspicions.
Chinese experts have pointed out that Chinese media and the general public have shown little interest in issues related to Nepal's relations with India or Washington, and Nepal does not come across as broadly visible at the public level. However, Chinese officials are well aware of India's significant influence in Nepal, spanning cultural, economic, and political aspects. Professor Gao Liang, deputy director of the Nepal Center at Sichuan University, mentioned in a recent interview, "China welcomes the strengthening ties between Nepal and India." He believes that China's vast cultural diversity contributes to the limited knowledge and interest in Nepal.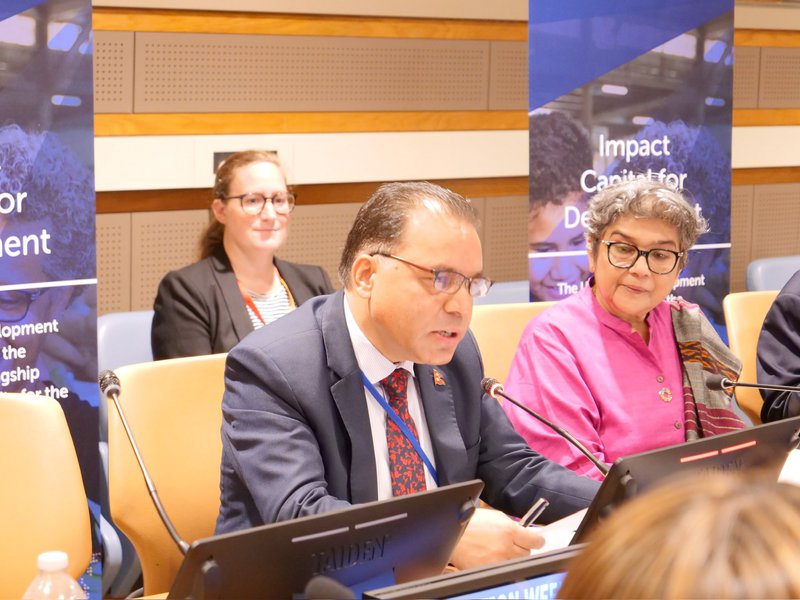 The approximately 1,400-kilometer border between Nepal and China is connected to the entire Tibetan region, which Professor Liang considers a long-standing security concern. He stated, "Nepal's instability raises concerns not only for Tibet but also for the western regions of China." Professor Liang, who has visited Nepal multiple times and authored a book on the country, highlights the importance of stability in the region.
On the other hand, Professor Dai Yonghong of Shenzhen University emphasizes that Tibet's significance to China's national and economic security is widely acknowledged. He explains that Tibet's security situation is intricate due to historical and geographical ties to Nepal's border. Therefore, safeguarding the security of the China-Nepal border region is of utmost importance to China, according to Yonghong, an expert at the Institute for China's Overseas Interests. He further notes that both countries are sensitive to this issue due to their long-standing friendly relations and mutual political trust.
Nepali Ambassador to China, Bishnupukar Shrestha, expressed, "the joint statement of the two countries provides more clarity on the agreement's issues. We believe it also encompasses matters such as the Belt and Road Initiative (BRI) and energy." In Beijing, the two parties have agreed to collaborate on institutional reforms, including agriculture, trade, infrastructure, science, technology, and the digital economy. A memorandum of understanding was signed to establish a joint technical working group that would review and amend the 1981 China-Nepal trade and payment agreement.
Geopolitical analyst Chandra Dev Bhatta observed that the two countries have identified areas of cooperation during the visit. According to Bhatta, the visit has instilled confidence and provided an opportunity to discuss various issues related to bilateral cooperation, including unresolved matters.
The 13 Point Agreement
The joint statement released after Prachanda's visit only mentioned Xi's Global Development Initiative (GDI) without reference to his other two doctrines: the Global Security Initiative (GSI), which advocates a shared global security paradigm, and the Global Cultural Initiative (GCI), promoting culture.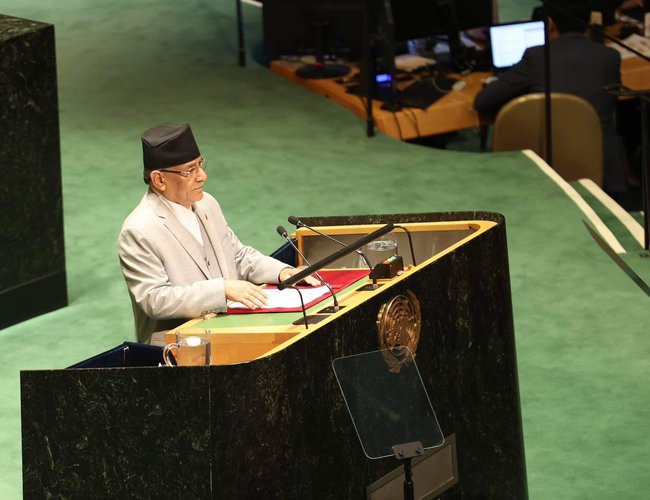 The Nepali side expressed support for China's proposed Global Development Initiative (GDI) and is contemplating joining the Group of Friends of the GDI, as stated in a Joint Statement issued after discussions between Prachanda and Li. The two sides agreed to conduct joint inspections of the China-Nepal border and expedite the implementation of the Agreement on the Boundary Management System between the Governments of the People's Republic of China and Nepal. This marks a significant milestone as they have agreed to a joint inspection for the first time.
China affirmed its firm support for Nepal in upholding its independence, sovereignty, and territorial integrity. It also respects and supports Nepal's independent choice of a social system and development path that aligns with its national conditions, as outlined in the joint statement. Additionally, the statement highlighted numerous infrastructure projects connecting Nepal and China through Tibet, including the cross-border railway from Lhasa to Kathmandu, for which China has initiated a feasibility study.
Prime Minister Prachanda made history as the first Prime Minister of Nepal to visit Kailash-Mansarovar and pay homage to Lord Shiva. While he pledged to make the pilgrimage more accessible through his country, Prachanda flew directly to China on September 23rd from New York, where he addressed the 78th General Assembly of the United Nations.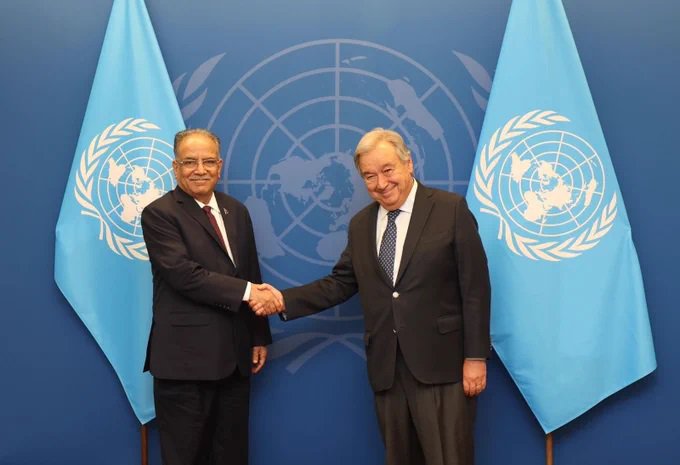 Nepal's Prime Minister Prachanda visited Mount Kailash and Mansarovar Lake in China's Tibet Autonomous Region. He pledged to enhance accessibility to these sacred sites for pilgrims, including those from India, through Nepal.
Prachanda has adjusted Nepal's foreign policy in response to Oli's removal from power, as Oli's decisions were heavily influenced by domestic political considerations. The joint statement reaffirms both sides' commitment to respecting and addressing each other's concerns and interests. The visit was quite but successful. In the joint agreement everything is there is nothing is there.