"I learned a great deal during my time in Nepal and am dedicated to utilizing this knowledge to aid in the fight against climate change and promote the growth of the country.
Recently, I witnessed firsthand the dramatic retreat of glaciers in Nepal. It is imperative that we take action to end our reliance on fossil fuels. The UN Secretary General tweeted about my experiences, sharing video clips that highlight the urgent need for climate action and drawing attention to Nepal's vulnerability."
He suggested that attendees of COP 28 should view the glaciers residing here. These glaciers are rapidly receding causing severe flooding, landslides, and impacting communities dramatically. If climate change continues at this pace, there will be no more ice, and the rivers Indus, Ganges, and Brahmaputra will lose their supply of water. The rising sea level would lead to the invasion of salty water into the delta. Millions of people inhabit these areas, necessitating significant action to combat climate change.
A powerful message from the UN Secretary General in Nepal emphasizes the importance of Himalayan glaciers as a source of river systems that sustain crops, livestock, and the local economies of a region inhabited by more than 1.8 billion people. This situation is alarming. A diplomat reports that the glaciers have melted at a record rate, with the mountains losing one-third of their snow in the last three decades.
Despite visits from numerous western leaders and UN Secretary Generals, none have demonstrated the same level of emotional attachment to Nepal as Secretary General António Guterres.
To illustrate his deep connection with Nepal, he stated, "When I am here, I am twice at home." I am currently in Nepal, and my location here in the parliament brings a sense of familiarity. I served in my own parliament for eighteen years, so please allow me to address you as "dear colleagues".
It is an honor and a privilege to revisit beautiful Nepal. I made my first trip here in 1978, and every visit continues to astound me. "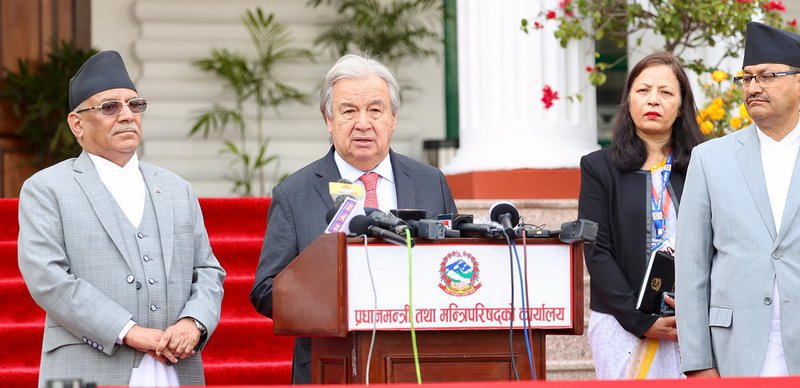 During his three-day stay, Secretary General Guterres visited all three of Nepal's ecological zones, including the high Himalayas, mountains, and plains.
In the Himalayan region, he interacted with the local community, spending over an hour at both Everest Base Camp and Annapurna Base Camp, which are highly vulnerable to climate change. Secretary General Guterres spent two nights each in Kathmandu and Pokhara, where he also learned about the climate of the midlands.
He visited the sacred site of Lumbini, the birthplace of Buddha, to promote peace and emphasize the significance of Buddha's teachings for global peace amidst the current crisis in the Middle East caused by Hamas' attack on Israel.
He also inquired about the Nepalese casualties and injuries from the attack. Standing in Lumbini's hallowed garden, Secretary General António Guterres offered his condolences to the families of the ten Nepalese individuals who lost their lives in Israel due to Hamas.
"I extend my condolences to the families of the 10 Nepali students who lost their lives in the terror attacks by Hamas in Israel and my best wishes for the safe return of Bipin Joshi, a Nepali citizen who is reported missing. From Nepal, I will consistently advocate for the immediate and unconditional release of all hostages in Gaza.
As he addressed Parliament, he asserted that there is no justification whatsoever for injuring, abducting and killing civilians."
Secretary General Guterres addressed both houses of Nepal's parliament and senior political and civil society leaders, emphasizing the importance of prioritizing the perspective of victims in concluding Nepal's transitional justice system.
With Nepal set to graduate from the LDC by 2026, the Secretary General assured full support during the transition period.
During his entire three-day visit to Nepal, Secretary General Guterres addressed Nepal's concerns regarding climate change and its impact on the country's ecosystem.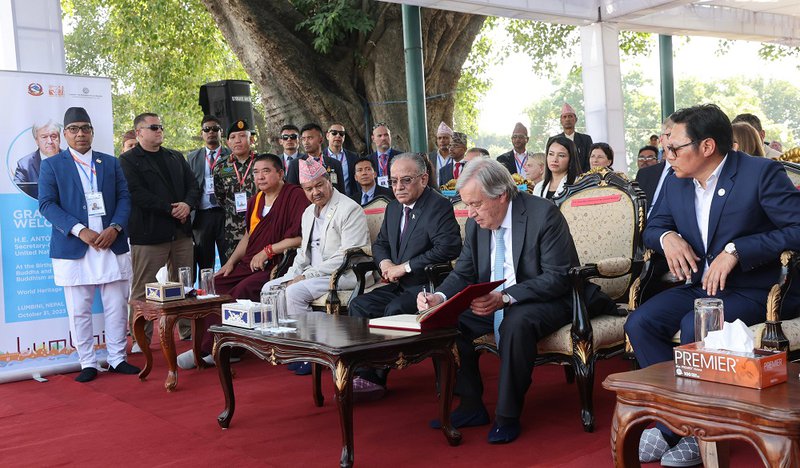 Secretary General Guterres praised Nepal's global significance for issues such as climate change, transitional justice, sustainable development goals, democracy, and visiting Lumbini, the birthplace of Buddha.
During the Prime Minister's meeting with the Secretary General last month, the visit to Nepal was finally confirmed. The Prime Minister expressed his desire for the Secretary General to be present in Nepal during the country's peace process.
Welcoming the UN Secretary-General and members of the UN delegation, Prime Minister Prachanda reminisced about receiving former UN Secretary-General Ban Ki-moon in 2008 during Nepal's transition to peace after a significant political transformation. Bias has been avoided by excluding subjective evaluations unless marked as such. The language is clear and concise, avoiding sprawling descriptions and complex terminology, while maintaining logical structure and causal connections. The conventional structure has been employed with consistent technical terms and formatting features. Formal register has been used with precise word choice, high-level, standard language, and balanced sentence structure. Spelling adheres to American English, while grammatical correctness has been ensured, with clear, objective language and passive tone and structure throughout.
Prime Minister Prachanda stated that Nepal's peace process has made a lengthy and successful journey, which attests to the commitment and determination of Nepali political leadership, the enduring resilience of our people, and the continued goodwill and support of the international community, including the United Nations.
"As we approach the final phase of the peace process, I am confident that we will achieve success and set a valuable example of conflict transformation for peace and democracy," he stated objectively.
In response, PM Prachanda and the UN Secretary General emphasized the importance of adopting a victim-centered approach to bring closure to transitional justice.
"We understand that successful transitional justice requires inclusion, comprehensiveness, and prioritizing the needs of victims. This includes a focus on truth, reparations, and justice, as well as enabling full participation from women. It is also critical that all victims of human rights violations receive meaningful redress."
"The United Nations is ready to support Nepal's victim-centered process and its implementation in line with international standards and the Supreme Court's rulings, while respecting Nepalese leadership.
The impact of climate change in Nepal, including receding glaciers caused by rising temperatures, is a major concern.
Although Secretary General Guterres has prioritized Nepal's major issues such as LDC Graduation, SDGs, transitional justice, and Lumbini, the birthplace of Buddha."
During his visit to the Everest Region, Annapurna Base Camp, and Pokhara, the United Nations Secretary General conveyed the implications of climate change in a robust and objective manner. Thus, immediate and decisive action is required to combat this urgent issue.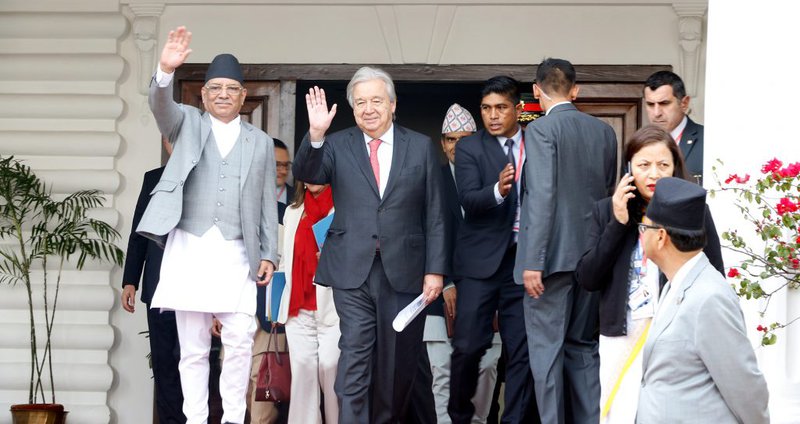 He noted that, from the base of Mount Everest, he himself witnessed the severe impact of the climate crisis on the Himalayas. As temperatures continue to rise, the increasing glacier melts pose a significant threat to the lives and livelihoods of entire communities in the area.
As a prominent proponent of climate action and the second largest contributor to UN Peacekeeping, Nepal deserves the complete solidarity of the international community," tweeted Secretary General António Guterres.
"It is crucial to halt the exploitation and generation of climate change to preserve the country's incredible mountains and glaciers. Supporting Nepal, as well as other nations that suffer the consequences but do not contribute to climate change, is imperative. We observe numerous regions affected by climate change, including numerous landslides and impacted communities. Thus, I urge the international community to demonstrate solidarity by providing increased funding for adaptation, resilience building, and community protection, as well as ensuring implementation of the loss and damage fund to benefit communities like those I have visited that suffer greatly due to climate change."
He mentioned that the effects of the climate crisis are increasing, resulting in floods, fires, and droughts that are taking lives and ruining livelihoods globally, including here in Nepal where I witnessed it firsthand during my visits yesterday and today.
During his visit to Lumbini, the Secretary General delivered a message for world peace by referencing the principles of Buddha for nonviolence and peace.
In these challenging times, the Secretary General's message from Lumbini - the birthplace of the Lord Buddha - is straightforward: Humanity has a choice. We possess the power to take the path toward peace. Let us act now for the sake of peace. The Secretary General thanks the Nepali government for inviting him to the country.
"This is a place to reflect on the teachings of Lord Buddha, and to consider what his message of peace, interdependence, and compassion means in today's troubled world," he said.
"But inspired by Lord Buddha's timeless example, I firmly believe that this vision can become a reality through concrete actions: actions to safeguard the rights and dignity of all; actions to cultivate healing, bridge divides, and foster mutual trust and understanding; actions to realize the Sustainable Development Goals, with particular focus on aiding the most vulnerable; and actions to halt the onslaught on our planet by rapidly reducing greenhouse gas emissions and restoring biodiversity."
Condolence to Nepali Killed By Hamas
The Secretary General expressed solidarity with the families of Nepalese students killed and missing in an attack by Hamas terrorists.
The Secretary General provided a condolence message to the families of the ten Nepalese individuals who were killed in Israel by Hamas.
"I offer my condolences to the families of the ten Nepali students killed in the terror attacks by Hamas in Israel and my best wishes for the safe return of Bipin Joshi, a Nepali citizen who is currently missing." From Nepal, I insist on the immediate and unconditional release of all hostages in Gaza.
There is never a justification for killing, injuring, or abducting civilians. I appeal for an immediate humanitarian ceasefire, the release of hostages unconditionally, and the delivery of relief at a level commensurate with the dramatic needs of the people in Gaza, where a humanitarian catastrophe is unfolding before our eyes.
Humanity is currently battling with both nature and itself.
In various places across the world, such as the Middle East, Ukraine, the Sahel, Sudan, and many others, conflicts continue to wreak havoc. Human rights and international law are disregarded as global institutions and regulations are undermined.
Tragically, ordinary individuals, including children, women, and men, bear the brunt of the consequences of these conflicts in the form of devastating loss of life and human suffering. A vast number of individuals have been forced to leave their homes in order to escape violence, conflict, and persecution, leading to a historical high of displaced people. Additionally, poverty and inequality are rampant.
Visit a success
The three-day visit by the Secretary General holds historic importance and is considered a success. According to a press release issued by the Ministry of Foreign Affairs, the visit by the UN Secretary-General to Nepal aided in enhancing the Nepal-UN partnership and provided important momentum for greater collaboration as Nepal progresses towards graduation from LDC status as well as towards accelerating the implementation of sustainable development objectives.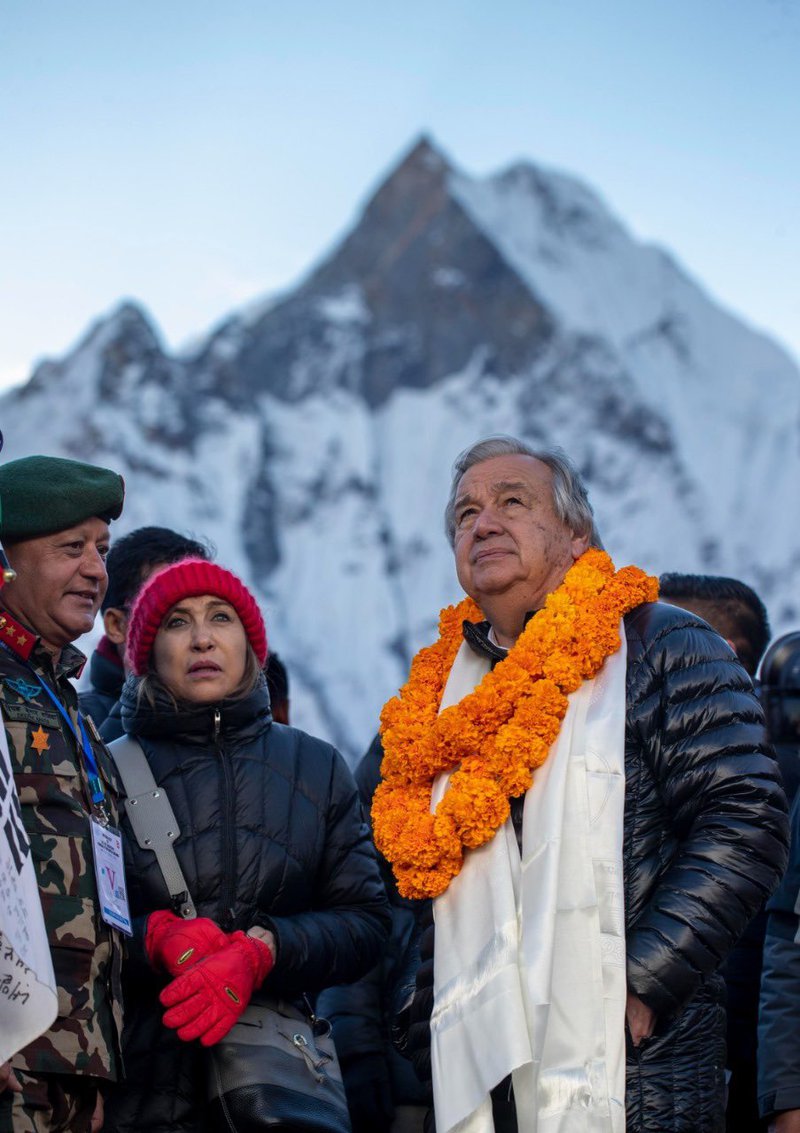 "Your visit has facilitated a deepening of the Nepal-UN partnership and expansion of our cooperation in areas such as peace, development, and climate change. Nepal remains committed to multilateralism with the UN at its core," tweeted Lok Bahadur Thapa, Nepal's permanent representative to the UN.
"Thank you, UNSG Antonio Guterres, for highlighting the impending climate disaster in Nepal and emphasizing the need to redouble our efforts to combat climate change." "This will remain a priority for the EU," tweeted EU Ambassador to Nepal Veronique Lorenzo. "During his visit, Secretary General Guterres delivered a statement on the implications of climate change in Nepal that will have a significant impact. All Nepalese are grateful to him," stated Dr. Maheshwor Dhakal, Joint Secretary at the Ministry of Forest and Environment and former head of the Climate Change Management Division. "The Secretary General's acceptance of our case on a global level is a significant triumph.
However, there were some shortcomings during the visit. The United Nations Secretary General addressed all of Nepal's major issues, but neglected to mention the unresolved situation of Bhutanese refugees returning to their homeland," expressed Dr. Dinesh Bhattarai, former Permanent Representative to the UN Mission in Geneva.
Nepal's Role in UN System
United Nations Secretary-General Guterres stated that Nepal has been a consistent supporter of the international system and a strong advocate for multilateralism, peace, and the interests of developing nations.
During his speech to the joint session of the federal parliament, the UN chief emphasized the urgent necessity for revitalization and reforms within the system.
Noting that the world is in a state of flux and moving towards a multi-polar structure, he stated, "A multi-polar world presents fresh prospects for global leadership and equitable balance."
However, the UN Secretary-General emphasized that these opportunities require the backing of strong multilateral institutions to maintain peace, citing past events as evidence. "At the beginning of the twentieth century, Europe was multi-polar, yet without robust multilateral institutions, war erupted and engulfed the world." We cannot afford to take that risk.
Guterres highlighted the necessity for robust international institutions that align with present-day realities. He added that developing countries require a more significant representation in global organizations.
The UN leader asserted that multilateralism should mirror and address the world, which entails establishing the necessary institutions and resources to address new challenges and capitalize on prospects.
Guterres also stated that technology has the capacity to solve problems and boost growth. "It can exacerbate divisions and worsen inequality," he stated, emphasizing that presently it is promoting insufficient unity and fostering excessive discord.
MoFA's Strategic Role
This marks the initial instance of a distinguished individual championing Nepal's interests and advocating for the country. Acknowledgments also extend to the political and bureaucratic leadership and institutional capabilities of the Ministry of Foreign Affairs, (MoFA).
Managed by a highly efficient MoFA team under the leadership of Foreign Secretary Bharat Raj Paudyal, with the support of Minister of Foreign Affairs NP Saud, the Secretary General's visit to Nepal highlighted the country's perspective. The three-day visit will be long remembered for its significance.
Secretary Paudyal has made significant contributions to the success of the visit, thanks to almost eight years of experience heading the UN Division and serving as a spokesperson during former Secretary Shanker Das Bairagi's tenure.
Although some of Secretary Paudyal's colleagues criticized him for working individually, one of the strongest aspects of his career is his hardworking nature and extensive knowledge. Even his harshest critics acknowledge these qualities of Secretary Paudyal, who works behind the scenes throughout this entire visit.
"I am deeply grateful for the exceptional hospitality I received in Pokhara. It is one of the world's wonders, yet endangered due to climate change." "The purpose of my visit was to send a clear message to the world that it is crucial to put an end to the war against nature," stated the Secretary General during a media interaction at Pokhara Airport.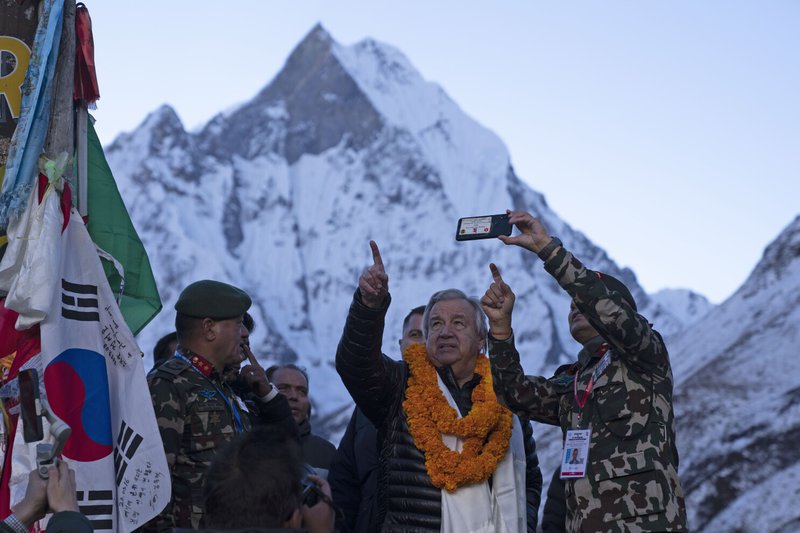 "I express deep gratitude towards the Nepalese Government and its people for providing me with wonderful hospitality during my three-day visit. The facilities that were made available to me significantly contributed to making this visit a huge success," added Secretary General Guterres."
For him, Nepal is a familiar country, not a new one. During his time as head of UNHCR, Secretary General Guterres, a seasoned former politician from Portugal, oversaw the successful repatriation of more than 100,000 Bhutanese refugees.
Nepal's former permanent representative to the United Nations, Amrit Kumar Rai, contributed to making this visit possible. Additionally, Secretary Pauddyal, who spoke as a Nepalese leader at the UN General Assembly last year, extended an official invitation to the UN Secretary General to visit Nepal.
The Secretary General Guterres's words express immense fondness for Nepal. "As a determined advocate for multilateralism, peace, and the interests of developing countries, Nepal will prove to be a crucial ally at the Summit. My recent visit to this remarkable nation has brought me great pleasure, and I can confirm one simple truth: Nepal is a friend to the world. Therefore, it is imperative that the world reciprocate this friendship. My recent visit to this remarkable nation has brought me great pleasure, and I can confirm one simple truth: Nepal is a friend to the world. The United Nations remains committed to the fight for making this a reality."