For Foreign Minister Naryan Prasad Saund, a youth leader of Nepali Congress, the schedule is busy with visits and meetings with international officials from powerful countries.
His schedules are well-planned and arranged with the support of carrier diplomats and senior officials from the Ministry of Foreign Affairs.
During this transitional period of leadership change within the Nepali Congress, there is intense competition among youth leaders to secure positions. Minister Saud, who was groomed under Nepali Congress leader Sher Bahadur Deuba, has identified an opportunity to establish himself in the international arena.
After his recent visit to the United Nations and China, where he successfully carried out a mission to bring Nepali students back from Israel, Minister Saud completed another high-level
visit to Washington D.C. In the past five years, Foreign Minister Saud is the second Nepali official to pay an official visit to the United States, with CPN-UML leader Pradeep Gyawali having also done so in the past.
Minister Saud and Antony J. Blinken, the US Secretary of State, held a bilateral meeting at the Department of State in Washington, D.C. During the meeting, they discussed matters of common interest regarding bilateral, regional, and international issues of common concern. The exchange of views was objective and free from bias.
During the meeting, the representatives of both Nepal and the USA expressed satisfaction with the current state of bilateral relations while reaffirming their commitment to expanding and deepening engagement across mutually beneficial areas.
Foreign Minister Saud emphasized the development priorities of Nepal in the context of its graduation from the least developed country and requested increased support from the United States in various areas, including trade, investment, market access, food security, and IT. To further promote Nepal's exports, he also requested that the United States consider reauthorizing and expanding the Nepal Trade Preference Program (NTPP) and GSP facilities by adding new exportable items of interest.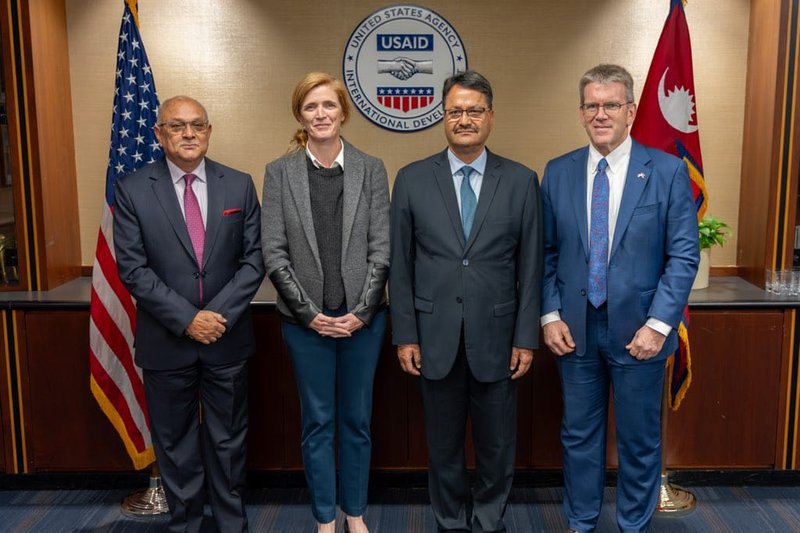 Minister Saud expressed gratitude to the US government for its ongoing support of Nepal's socio-economic development, including recent aid provided through USAID and the Millennium Challenge Compact. Both parties emphasized the crucial need for timely implementation of MCC projects.
Secretary Blinken acknowledged Nepal's progress in strengthening democratic governance and conveyed the US government's desire to see Nepal as a strong and prosperous democracy. Secretary Blinken assured the Foreign Minister of continued US support for Nepal's developmental endeavors.
The two sides exchanged views on Nepal-US cooperation in multilateral forums, as well as regional and global affairs, including the ongoing situation in the Middle East.
Ambassador Sridhar Khatri and senior officials from the Ministry and Embassy accompanied Minister Saud during the bilateral meeting. Secretary Blinken was accompanied by US Ambassador to Nepal Dean Thompson and senior officials from the Department of State.
Along with the Secretary of State, Foreign Minister Saud met with other high-level officials in Washington, including a powerful U.S. senator and senior, influential officials from USAID, USIP, and DFC.
Foreign Affairs Minister Saud met with Senator Chris Van Hollen to discuss the overall context of bilateral relations, emphasizing the importance of exchanging between parliaments.
Additionally, Minister Saud held meetings with high-level officials such as Samantha Power, Administrator of the United States Agency for International Development (USAID), and Alice P. Albright, Chief Executive Officer of the Millennium Challenge Corporation. He will meet Congressman Mike Carey, Nepal Caucus Co-chair in the US Congress.
Other engagements of the Foreign Minister will include a talk program at the United States Institute of Peace (USIP), interactions with the Nepali-American business community and IT advisory network, and meetings with representatives of the Non-Resident Nepali Association and Nepali-American professionals.
Managed by Bharat Raj Paudyal, a competent and professional foreign secretary, the Nepali delegation includes Ambassador to the United States of America Sridhar Khatri, Joint Secretary from the Ministry of Foreign Affairs Ganesh Dhakal, and senior officials from the Nepalese Embassy in Washington, DC. Their purpose is to support Minister Saud in making a successful visit.
As the delegation aimed to negotiate trade issues, it included Presidents Chandra Prasad Dhakal of FNCCI and Ajit Shah, President of the American Chamber of Commerce in Nepal.
The Minister held both virtual and in-person discussions with Nepali-American IT professionals and business owners employed by various companies in the United States and worldwide. The discussion illuminated the advancements in Nepal's IT industry and the involvement of Nepali-American entrepreneurs in facilitating its growth.
Amid Nepal's endeavor to broaden its diplomatic engagement in its quest to secure support after graduating from the LDC category, the visit of Foreign Minister Saud to the United States and his rendezvous with high-level American officials, including Secretary of State Blinken, holds significant weight.