Russian Centre of Science and Culture , Nepal Russia Friendship and Cultural Association, Nepal Russia Chamber of Commerce and Industry, Mitrakunj, Russian Compatriots Program organized Photo Exhibition "61 years of Friendship" to mark the anniversary of the establishment of the Diplomatic Relations between Russia and Nepal.
Addressing the program chief guest deputy Prime Minister and Foreign Minister Krishna Bahadur Mahara said that Nepal-Russia relations always remain cordial and Russia is Nepal's trusted friend.
"Nepal always attaches a great importance to Relations with Russia," said DPM Mahara. DPM and foreign minister Mahara said Russia has been playing a very important to maintain the world peace and harmony.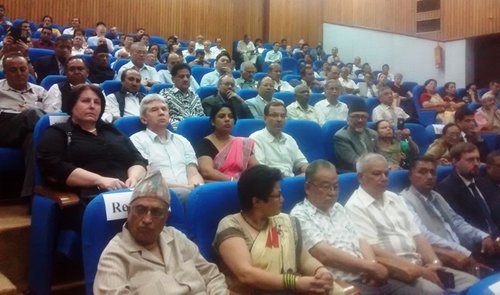 Addressing the program Minister-Counselor, Deputy Head of Mission, Embassy of the Russian Federation, Yury I. Yuzhaninov also addressed the program as a guest of honor said that Russia Nepal holds similar views on world peace. "Russia Nepal bilateral relationship has been stable and friendly, we want it to be vigorously engaging and mutually rewarding in the days ahead."
 Stanislav Simakov, Director of Russian Centre of Science and Culture Prof.  Bhagwan Ratna Tuladhar, President, Nepal-Russia Friendship & Cultural Association, Nahendra Pradhan, President of Mitrakunj Naresh Shrestha, President, Nepal Russia Chamber of Commerce and Industry also addressed the program.
Nepal Russia Relations
Nepal and the then Soviet Union had established diplomatic relations on June 5 - July 9, 1956. Then in 1958, late King Mahendra paid a state visit to the Soviet Union, which helped solidify the diplomatic relation between the two countries. Soon in 1959, Economic and Technical Cooperation was signed between the two countries. Similarly, from the Soviet Union, President Marshal Voroshilov paid a state visit to Nepal in 1960. These efforts forged an era of profound scientific, technical, technological, and industrial collaboration between the Soviet Union and Nepal.
As a part of the strengthening of that cooperation, Soviet Culture Centre was established in 1979 in Nepal along with library service and is serving ever since. During its first decade, Soviet Culture Centre was considered a great intellectual and cultural center in Kathmandu that attracted youth like a magnet. Nepali youth were inspired by the scientific and technological program the Soviet Union had demonstrated and they went to study in the Soviet Union in large number. That created a pool of technological skill in Nepal.  Then came in 1993 when the Soviet Union was dissolved to form more than a dozen countries. At the same time, the Soviet Culture Centre shifted to Kamal pokhari in its own building from Putalisadak with new name Russian Centre of Science and Culture (RCSC). In that context, Nepal naturally learned to Russian Federation to continue the historic relation. However, both countries started to undergo major structural changes, consequently, our relation and mode of cooperation needed adjustment. In recent decades, both countries are making effort to find new and effective dimensions in the relationships between our countries.