Just a day before the formal meeting begin, Indian Prime Minister Narendra Modi made a surprise call on Nepal's PM Sher Bahadur Deuba. Nepali ambassador to India Deep Kumar Upadhayay termed it as a "warm up meet" .
 PM Deuba is on a first official foreign visit to India, after being elected to the head of the executive through Parliament voting on June 6, at the invitation of Indian PM Narendra Modi.
 PM Deuba embarked on the state visit leading 48-member delegation team including DPM and Minister for Foreign Affairs Krishna Bahadur Mahara, other Ministers, Members of Parliament, Secretaries and other high ranking government officials this morning.
 After arriving in the Indian Capital this afternoon, PM Deuba was received by the Indian External Affairs Minister Sushma Swaraj at the Indira Gandhi International Airport.
 PM Deuba interacted with Nepali diaspora at the Nepal Embassy and lauded on their contribution for nation's building.
 He also assured them of providing a mechanised channel for transferring hard earned money back home. Prime Minister also addressed the Associated Chambers of Commerce and Industry New Delhi.
 Addressing the meeting, prime minister Deuba said after years of policy stalemate and instability, Nepal is on the verge of a growth take-off. "We are ready to gather pace, and we warmly invite you to engage with us. We welcome you to do business in Nepal, invest there, create jobs, and nurture a new climate of innovation and entrepreneurship," said prime minister Deuba.
 According to the Ministry of Foreign Affairs, PM's official visit will begin from tomorrow after inspecting a Guard of Honour at the Rashtrapati Bhavan.
 After paying homage to Mahatma Gandhi at Mahatma Gandhi Memorial at Rajghat, the PM will pay courtesy calls on the President Ram Nath Kovind, Vice President M Venkaiah Naidu, Ministry of Foreign Affairs said.
 PM of India and Nepal would inaugurate Katiya-Kushaha and Raxaul-Parwanipur Cross-border transmission line for supply of 50 MW each through remote operations from Hyderabad House, New Delhi on Thursday.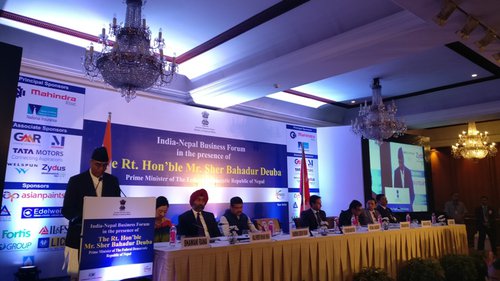 Later, PM Deuab and his Indian counterpart will hold 30 minutes of the one-on-one meeting at the Hyderabad House.
 Similarly, the delegations from both sides will hold 1 hours of meeting and are expected to put signatures on some agreements.
 During talks with Modi, PM Deuba is expected to raise the issues of inundation in the Terai region and other national interest issues.
Indian PM Modi will host a banquet in honour of PM Deuba and his delegation in the evening.