An International Conference on Current Status and Legal Issues of Land Expropriation in Asia was held in Kathmandu today sharing experience between some Asian countries on the problems and potential solutions in this area.
Welcoming a group of 30 international delegates in Kathmandu, Dr. Ram Kantha Makaju Shrestha, the Vice Chancellor of Kathmandu University said that the issue of land expropriation is as important to Nepal as many other countries in Asia and the world.
Delivering his keynote speech Dr. Surya Dhungel, a senior advocate of Nepal emphasized that despite the comparative legal framework, the procedures and practices of land acquisition and compensation, and approaches for evaluating compensation, which is now available, there are still some gaps and missing elements.
The Conference was co-hosted by Korea Legislative Research Institute (KLRI) and Kathmandu University School of Law (KUSL) under the Asia Legal Information Network (ALIN) established more than a decade ago for this sort of initiative.
ALIN was founded in 2004 "to promote cooperation and mutual understanding through the exchange of legal information among Asian countries" said Dr. Ikhyeon Rhee, President of Korea Legislation Research Institute.
Dr. Rhee said ALIN has since bloomed as the region's renowned legal information network with 31 member institutions from 17 countries.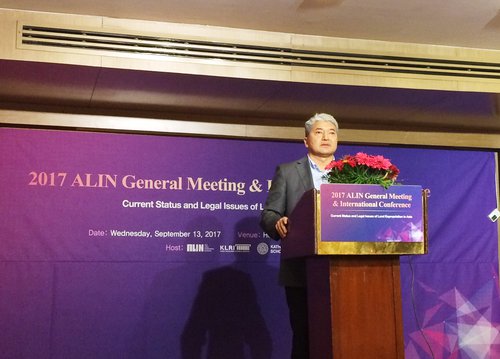 The ALIN General Meeting is an important forum where all ALIN partners gather once a year to review ALIN's activities throughout a year and discuss the direction of research cooperation for the year ahead. It is also a place to seek the future direction for ALIN.  
Researcher Dr. Eunhye Jang, who presented a paper at the Conference pointed out that the concept of compensation for land expropriation has been changed recently. According to the changed concept, compensation should be made not only for the objective exchange value but also should provide a basis for life.
According to Dr. Bipin Adhikari, the Dean of Kathmandu University School of Law, significant papers were presented at the Conference today from the experts of different Asian countries including Vietnam, Mongolia, Korea, India, China and the Philippines.