A group of 9 students and 4 staff under Himalayan Dream Team recently concluded their visit to South Korea exhibiting the paintings created in Nepal. Led by Neelam Thapa, a program manager of Um Hong Gil Human Foundation, the students displayed their work in South Korean capital Seoul.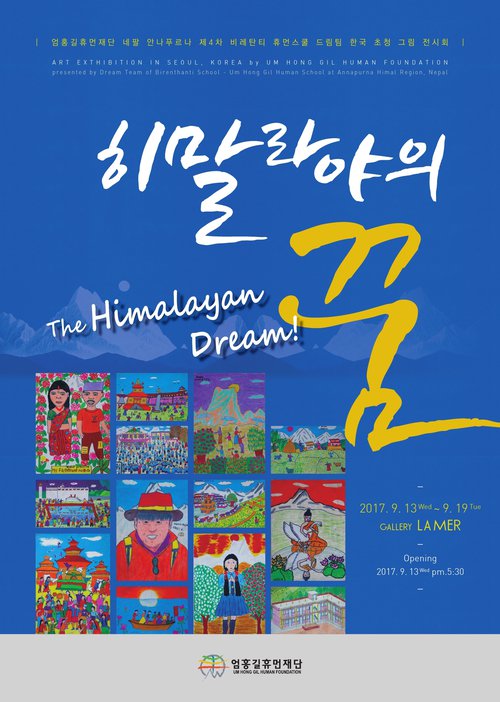 Under the guidance of Hyun Ku Kim, a famous Korean artist who teaches students since last two years in school, Nepalese school children painted 118 paintings which were displayed in Korea. Organized by Um Hong Gil Human Foundation, South Korea, the students of Birethathi Secondary School Kaski aged from 10 to 14 displayed 118 paintings on the mountain, Buddha, natural surroundings in an effort to fundraising for the construction of the school.
 The students include Aitasuba B.K., Anjajana Sunar, Alisha Tamang, Arjun Rai, Bishal Chapai, Manika Tamang, Nabin Pariyar, Pradeep Acharya, Puja Pariyar,Sabita Pariyar,Shova Pariyar, Srijana Rai and Yam Bahadur Sancheuri.
 Selected on the basis of their paintings, the mission to display their paintings was a unique experience for the poor and marginalized students of Birethati. Selected for Himalayan Korean Art Exhibition, they shared their experiences in Korea and their feeling.
 Students said they were thrilled by the Korean lifestyle, culture and infrastructural development. They performed dances and music in Korea.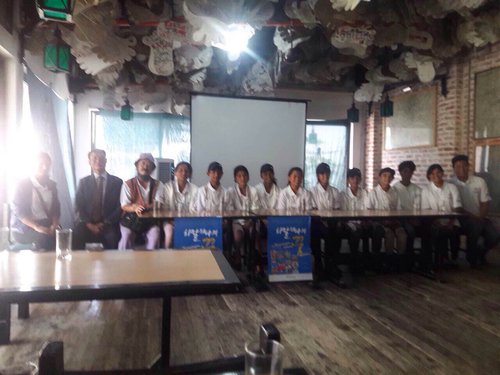 Um Hong Gil Human Foundation has introduced an Art Class at Birethanti Secondary School, Kaski as an extracurricular activity for last two years. Arts are not only fun to the kid, but it also helps children develop on many fundamental levels, such as creativity, confidence, decision-making and group work etc. UHGHF Head Office in Korea invited 9 students from our built schools to hold an art exhibition in Seoul from 13~19 September 2017 to give hope and dream to children who never ever had a chance to have a canvas and color to express themselves.  About Um Hong Gil Human Foundation
Um Hong Gil Human Foundation (UHGHF) is a non-political, non-governmental, non-religious and non-profit making humanitarian organization, which was first founded in Korea in 2008 to support Korea's most renowned and strongest climber; Um Hong Gil whoever first climbed all 16 eight thousand meter peaks in the world and ever wished to help Nepal and her people, as he always has done more than 30 years as an individual social worker even before this Foundation was registered.
How Foundation tries to fulfill Um Hong Gil's wish
The mission of the UHGHF is to aid the vulnerable children of Nepal by empowering them through education and other supportive activities. Education is the key to effecting change in the lives of others. UHGHF aims to help the children, schools, and communities by providing a safer, healthier and more effective learning environment.
Giving the high value to education, it has been providing technical and financial support for the infrastructure development of government and communities schools of remote Nepal.
Since 2009 the foundation has started to build schools in Nepal for the children deprived and excluded living in remote Himalaya regions. The foundation has completed 12 well equipped, child-friendly, earthquake safe, modern RCC school buildings with toilet, drinking water, and playground facility and 3 more schools are proposed for upcoming years. And the 16th school is being designed as the last and largest one of our first phase before we go over to the 2nd phase for the next round of 16 schools.