As the forthcoming general elections for the House of Representatives and Provincial Legislatures are just a month away, the mobility of senior citizen Himalaya Sumsher Rana, 89, chairperson of General Election Observation, has started becoming hectic. He is busy to ensure the elections are free and fair. With many important historical feathers in his cap, including  the first governor of Nepal Rashtra Bank, finance secretary, entrepreneur, international bureaucrat and successful banker, Himalaya Sumsher Rana, the great-grandson of reformist liberal Rana prime minister Dev Sumsher Rana, is concerned how to ensure free and fair elections  and how to provide stability to the country through democracy
Although the mercury is gradually dipping with the arrival of November, the political atmosphere is warming. With the election dates approaching, renowned and respected senior citizen Himalaya Sumsher Rana is busy to hold conversations and meetings with visitors.
Close to 90 years, he is discussing not his personal health nor his family well-being. With visitors, he is in a serious conversation about how to ensure the impending elections to the House of Representatives and Provincial Legislatures are free, friar and impartial. Rana, 89, is concerned about how to sustain the liberal democracy in the country. 
For the last few months, he has been meeting his colleagues from the General Election Observers Organization,(GEOC), the election commission officials, other civil society members, and political leaders, discussing ways to ensure free and fair elections.
"After the announcement of national elections, I have been busy meeting people at home and attending meetings in other places," said Rana, during one of his hectic schedules.
Having observed all the elections after the political change of 1990, Rana believes observing the election and voting process requires high alertness. For stakeholders, from voters to election commission, and political parties to candidates and administration, the observer groups have to watch all their activities cautiously, he says.
Born in a historical palace, the Thapathali Durbar, close to Bagmati River, on January 8, 1928, Rana has seen all the major political changes that have passed in the last eight decades.
His great-grandfather Dev Sumsher Rana was thrown out from power in a bloodless coup when he thought of bringing political reforms and a liberal political system. Fulfilling his great grandfather's wishes, Rana signed a document on May 9, 1949, at the age of 21, calling an end to family Rana Rule and joined a movement to establish an open and liberal democratic system in Nepal. His commitment to liberal democracy has remained unmatched since then.  
Although he is 89, the first governor of Nepal Rashtra Bank and prominent civil society activist, Himalaya Sumsher Rana is still active in his daily life. He wakes up early in the morning and still prefers to play golf.
As the election for the House of Representative is around the corner, Rana, chairperson of General Election Observers Organization,(GEOC), is busy to depute observers to monitor the elections. He has spared no time except attending important meetings.
As an active citizen, committed to liberal democracy, Rana has been monitoring all the elections since 1991 and presenting the reports through the media. This election is not an exception. Rana has shown that age is no bar for anyone with commitment.
Having enormous exposure to an international system through UN, the great-grandson of  Dev Sumsher Rana, who was overthrown by his brother for pursuing a liberal political system over 160 years ago, Himalaya Sumsher Rana has the zeal and spirit to protect democracy. After the dismissal of the democratically elected government, Rana also left Nepal for an international job in the United Nations. His choice of job avoided him to see King Mahendra's direct rule in the country.
Having worked in Afghanistan during the tenure of King Jahir Shah, Rana spent his entire career under UN, serving in Indonesia, Myanmar and other places.
"As free, fair and independent elections are the backbone of any liberal democratic system, I have been consistently monitoring the elections and suggesting how they can be made free and fair," said Rana.
With a complex electoral system, Rana is a bit concerned about the issue of invalid votes. "In the last local elections, there were large numbers of invalid votes. The Election Commission has failed to introduce adequate measures for decreasing the invalid ballot percentage in the second phase. We don't want to repeat the same mistake," said Rana.
Publishing their review of the May 14 vote on the eve of the first phase of polling, the General Election Observers Organization (GEOC), urged the Election Commission to  mobilize more resources for voter education, given the last local elections, when the campaign failed to reach people in remote villages and settlements and first-time voters.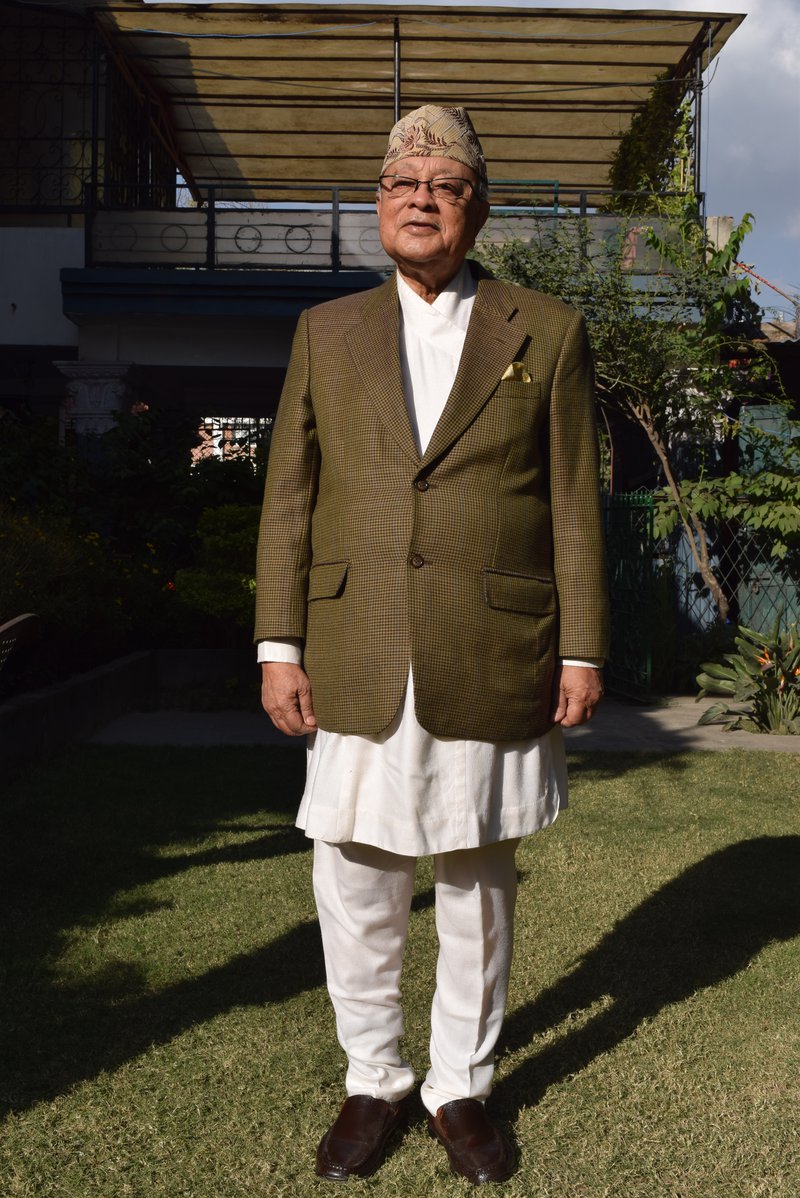 "As an observer, we need to remain alert all the time. We need to be watchful on voter intimidation, polling station, the safety of voters and mobilization of observers," said Rana. "People's access to voter education and to minimizing technical problems for the November and December Poll is important. The EC needs to show voters how to stamp the ballot correctly. As the number of invalid votes was higher in urban areas in the last elections, there is the  need to launch voter education all over Nepal."
Other important roles of observers include monitoring the election code of conduct and seeing how EC enforces the code in campaigns. "In the last elections, candidates breached the expenditure ceiling and used vehicles, distributed T-shirts and organized parties. We are more cautious on these issues this time," said Rana, who was the founder of first private sector-led Himalayan Bank.
Along with observing the elections, Rana also initiated the peace committee to negotiate with Maoist insurgents in 2002 to prevent the loss of life and property. With his initiative, 10 prominent figures issued a public appeal calling for peace talks between Maoists and the government.
Along with all these moves, Rana was also the founder of Gurkha Brewery, which is a joint venture partner of Carlsberg Beer. The opening of the beer industry in Nawalparshi has completely transformed the area from poverty-stricken and remote place to an accessible and affluent place.
His family members, including his grandsons and granddaughters, have established their names in banking, heritage conservation and art and culture and politics. Yet, Himalaya Sumsher Rana's quest to see a stable liberal democratic order continues.
Whenever he meets his visitors, Himalayan Sumsher Rana starts his conversation, not from his family and personal matters, but with worries and concerns about the country's prosperity and happiness. For showing similar concerns, his great-grandfather was forced to leave the country.
Now, Himalaya Sumsher Rana is living as the conscience keeper of Nepal's liberal democratic system. After an hour of interview, Rana poses the same question: will political leaders show their commitment to the constitution?
At a warm evening in his garden, Rana shared his thoughts with Keshab Poudel.
How do you see the political transformation of Nepal?
The first major departure in Nepal's history was the end of Rana regime in 1950. The period marked an era of modernization and democratization of Nepal. It was an inception of a new chapter in Nepali political and economic history. After 1950, there started the new era in social sector ending the discrimination on the basis of cast and creed.
How do you see the setbacks?
After 1960's dismissal of BP Koirala's government, there was a major setback in the liberal democratic process. With the introduction of partyless Panchayat system in Nepal, there were reverse gears in the democratic process. However, the political change of 1990 incepted the new democratic era with a revival of multi-party democracy. 
How do you see the state of politics now?
There were intense, violent, years following the launching of Maoist movement in 1996. After the peace agreement in 2006, Nepal has seen a drastic transformation in Nepali society and political system. Nepal has been declared as a republic with federal and secular states. There is more social justice and equality prevailing now than in any period of Nepal's history. There was a drastic change in the social structure.
What is your impression of the change?
There is more voice for women, Janjati, Madheshi, Dalit and backward classes. It heralded the era of the end of social discrimination and end of cast discrimination. Nepal has turned into a just society. However, the change is not the same in politics as it is with economic and other sectors.
What is your concern now?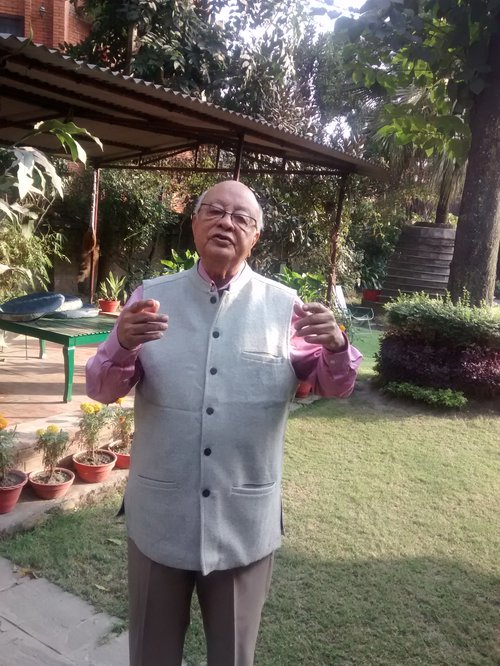 I am much concerned now about how the political process will move ahead with the spirit of the new constitution. There is a very high uncertainty in politics. Although Nepal now requires political stability, it is yet to be tested whether the new constitution will guarantee political stability or not. Nepal requires a good and strong political leadership that can provide an honest leadership. There is the need for political leaders to implement the constitution to address the country's problems. Given that happens, Nepal can make major transformations.
How hopeful are you about this?
Given their track records, political leaders have failed to fulfill the wishes of people. Instead of making the country rich, our political leaders are more interested in power mongering. Their only aim is to prolong the life of the government they lead. Here they compromise on anything with anybody. They have concentrated their efforts on power. If political leaders just confine themselves to the power game, people will not get the change they aspire for. For instance, in the last local elections, all the candidates had exceeded the limit of expenditure allowed by Election Commission. We can see similar trends now as candidates are in the spree of spending money to influence voters.
How do you see election trends?
In the first election of 1991, the candidates spent very small amounts of money. After the first elections, costs of contesting the elections have been rising. The election is more expensive now. Money and muscle power is equally marching ahead. We don't have valid pieces of evidence to prove it, though. According to reports of our observers, award candidate even spent 10 million rupees. A village candidate spent a million rupees.
Do you foresee any change for the coming elections?
You cannot imagine how much money the candidates will spend in the coming national and provincial elections. This is a great threat to the electoral and democratic politics. If the current trend continues, politics will be only for the rich. We have been saying that there is democracy in the country, however, the current situation shows that the democracy is going under the grip of rich, contractors and others, not for the poor people as they cannot contest it. This is not good for democracy at all.
How do you suggest reforms should happen?
Media can play an important role in this. It is the media which are raising the issue of money and muscle power.  The society needs to follow values. If we all see money is everything, you can imagine what the future of our democracy will be? The role of media is important.
For a change, as a senior citizen, how do you look at the demolition of classic Rana Palaces?
There is a group of people in power who wants to break the historical continuity in Nepal. Maoists have been saying this for as long as they are, preaching for new Nepal, giving up all our past, culture, religion and system. The current spate of the demolition of historical palaces is part of this. As a citizen of Nepal, everyone needs to oppose the demolition of old palace and heritage sites. Rana Palaces are not owned by Ranas, but the people of Nepal. There were bad as well as good people in the Rana period. Our new rulers are destroying the old palaces made by Ranas and Thapas. They have already demolished Singh Mahal, Lalita Niwas, and Babarmahal. Media reports say that Shital Niwas is also in the process of demolition. Old buildings are part of our historical moments and they need to be kept there for the history of Nepal.
As Nepal has been in the process of reform and transformation, how do you see the recent political economy of Nepal?
Of course, we have established modern institutions. There are many financial institutions, including development banks, commercial banks, micro-finance institutions, and cooperatives. They are all supporting industrialization. That is good. However, our physical infrastructure has not changed much over the period. Our contract system needs to change to accelerate the infrastructure development. There are so many weaknesses. Nepal needs to have the infrastructure for development. The energy crisis is another major challenge for the country. Since the last one year, there has been much improved. With the amendment of labor law, investors can be expected to come here.
How do you see the challenges?
Energy supply and infrastructure like highway, airport, and energy plan are key to industrialization. Another challenge is to generate employment. Nepal needs to establish industries aiming to have sustained production capacity. We have good industrialists, with highly qualified new manpower. However, there is no conducive environment. What we required now is political stability to create the conducive environment. Political stability is key to economic development.
As a great-grandson of Dev Sumsher Rana, do you have the contents of the reform bill which he held?
I have tried to find it out. When he was overthrown, it was said all the documents and his personal collections were also thrown here and there. Since he was thrown out from power because of his reformist ideas, the rulers might have thrown out his bill as well.
For Video Interview