British Council Nepal in collaboration with the Language Commission hosted the Languages in Education Symposium.
The event brought together policy makers, planners, administrators, teachers, students, NGO and private sector and development partners to share different perspectives on the role of languages in the education system of Nepal. 
With the change to the federal structure of government, provincial and local governments will now have the power to make decisions on key issues in education and will potentially be considering the question of medium of instruction in schools.
At the same time, languages of education have been identified as one of the 10 key priority areas on the School Sector Development Plan (SSDP). With these changes and priorities, we see both challenges and great opportunities for schools in the country.
 "The Government of Nepal is publicly committed to improving quality, equity and inclusion in education – most recently through Schools Sector Development Plan (SSDP)(2016 – 2023). The British Government representatives in Nepal and the British Council are committed to working in partnership with GoN to help them achieve these goals. The changing nature of the Nepal political system – the creation of the new federal structure - means that this is a good time to reflect on the journey to reaching these aspirations," said British Ambassador to Nepal Richard Morris.
Dr. Lava D Awasthi, Chairperson, Language Commission started the program with a presentation on the mandate, current activities and future roadmap of Language Commission in Nepal.
"Our new constitution states that every Nepali citizen should be treated equally so our education system should not rank citizens in any way. Our diverse languages all our country should be a reason for us to nurture and celebrate our diversity," said Dr. Awasthi. "Knowledge and learning should be the center of our education system and not limited to language learning. If we follow knowledge then language learning will come with it"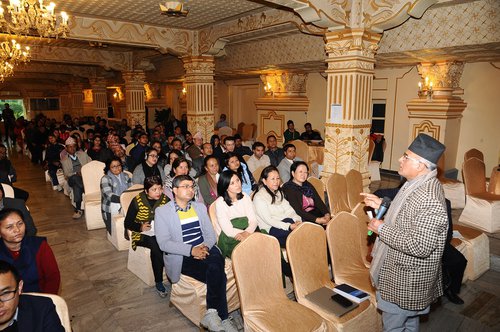 "English Language Teaching in Nepal, edited by David Hayes" a publication by British Council was launched and the British Council's global position paper on English Language and Medium Instruction were also presented at the occasion.
Rhona Brown, Head of Programs, British Council Nepal said, "we are really excited to be able to host this Language in Education event in collaboration with the Language Commission.  In Nepal, this is such a vast and complex subject that to have so many experts, advisors and practitioners together is a fantastic opportunity to really try and get to grips with some of the key issues.  In particular, I hope we were able to explore some of the critical questions around the medium of instruction that can have such an impact on student learning." 
A panel discussion was organized to understand the students' perspectives on "Medium of instruction in Education" as part of the program. Six students representing different government/private schools and University presented their voice on the preferred language for the medium of instruction. Even the students from EMI background demanded their mother tongue or Nepali language as the medium of instruction. The panel also discussed that English is an international language and meets the demands of globalization. The English Language is important but it shouldn't subtract the other languages. They also focused the need for trained teachers, access to books and other resources so that they can learn, explore and be more competitive.