Yeti Airlines in partnership with United Nations Development Program (UNDP) has formally initiated the process to transform itself into a carbon neutral airline.
At a workshop held this morning at Hotel Himalaya attended by representatives from the Government of Nepal, Civil Aviation Authority of Nepal (CAAN), UNDP, civil society organizations, and the private sector, the Airline shared the results of its 1st annual Greenhouse Gas (GHG) inventory along with plans to reduce and offset emissions.
According to a press release issued by Yeti Airlines, this first exercise examined the GHG emissions resulting from air travel, vehicle use and facility operations. In doing so the airline has established a carbon baseline which will be used to monitor progress and ultimately become carbon neutral through emission reductions and offsetting. Building on this initiative, the airline plans to move towards the ultimate goal of climate neutrality which includes other impact areas of its operations such as water use and waste management.
"With the invaluable support of the CAAN and UNDP, it is my pleasure to announce to all our airline guests, partners and staff that Yeti Airlines will be embarking on a committed journey to Carbon neutrality – the first airline in Nepal to do so," Yeti Airlines CEO Umesh Chandra Rai. "We hope you will all extend your support in our endeavor to minimize and offset greenhouse gas emissions."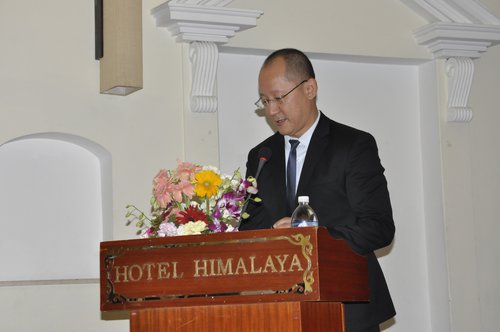 UNDP Nepal Country Director, Renaud Meyer said, "I would like to congratulate Yeti Airlines for taking a bold decision to transform itself into a climate neutral company in partnership with UNDP. I believe this will inspire several other Nepali businesses to adopt a goal of climate neutrality, and the 2030 Agenda of Sustainable Development."
Sanjiv Gautam, Director General of Civil Aviation Authority of Nepal said, "With its decision today, Yeti Airlines has aided CAAN in its ongoing efforts to promote environmental sustainability in the aviation sector. This will contribute towards meeting national and global commitments to reduce greenhouse gases. I am sure the airline will continue its efforts to regularly monitor, report and offset carbon emissions".
The preliminary carbon footprint report shows Yeti Airlines produced 18,113 tons of CO2 equivalent emissions in 2017 mainly from aircraft fuel consumed to service the cities. This total equals the amount of carbon sequestered by approximately 470,000 trees over 10 years. The emissions from air travel accounts for nearly 100% of the company's emissions. Between 2016 and 2017, the CO2e emissions per km decreased by 7% while the CO2e emissions per passenger decreased by 11% due to a more efficient fleet.
 "We plan to adopt industry-leading practices to reduce our emissions, which includes more efficient routes and operations, fleet upgrades, public incentives, staff training, and load reductions. Any unavoidable emissions will be offset by purchasing UN-certified carbon credits and other initiatives that support climate mitigation and sustainable development for the benefit of the Nepalese people. We aim to become a carbon neutral company by 2018," said Yeti Airline CEO Rai.