Nepal has to link its festivals, modern or traditional, to money. This is a way to perpetuate our diverse cultures and get us prosperity. Festivals are a fusion of culture and tourism. They are environment friendly and sustainable. They give tourists the ultimate local experience. Tourists have seen Mount Everest, the snow peaked Himalayan range, cultural heritage, natural heritage, wildlife, experienced meditation, white water rafting and bungee jumping, and admired temples and monasteries and have even been awed by the funeral pyre. They have trekked up in the hills and scaled the highest peaks of the world. Now let them experience how every Nepali lives. Let them revel and relish at every festival that happens every other day in Nepal. Let every foreigner mingle with every other Nepali in the celebration. Let them understand what lies in the heart of a Nepali. Let them know the secrets of every Nepali's smile on their faces despite poverty and hardship. But that has be for a price. This price will be easy for any explorative tourist, domestic or foreign, in understanding Nepal in a complete sense to pay.

There are countless festivals celebrated in Nepal. The Nepali New Year is celebrated by every Nepali. Then there is Loktantra Divas, Mother's Day, Labor Day, Buddha Jayanti, Ubhauli Parba in the month of Baishakh. In the second month of Jestha, there is Ganatantra Divas (Republic Day). In the third month Asar, Rice Planting Day, Teacher's Day and the most revered poet Bhanu Bhakta's birth anniversary (Bhanu Jayanti). In Shaun, there are Nagpanchami, Janai Purnima, Gaijatra and Shree Krishnaastami. On the fifth month, there is Father's Day, Haritalika Teez, the favorite amongst women, Rishi Panchami, Indra Jatra, the Civil Servant's Day, and the Children's Day. In Asoj, Constitution Day and a fifteen-day Dashain are celebrated. Fifteen days after that, Tihar, the festival of light, is celebrated. Then the Chaat fasting is observed. Haribodhani Ekadashi is celebrated around the same time. In the month of Mangsir, Bibaha Panchami, Udhauli Parba and Yomari Punhi are celebrated. In Poush, Christmas, in addition to the great unifier of Nepal Prithivi Naryan Shah's Jayanti, is celebrated. In the month of Magh, the first day is celebrated as Maghi and then there is Sonam Loshar and Martyr's Day. In the eleventh month of Falgun, Lord Shiva is worshiped during Shivaratri. It is a day appealing to people of all walks of life. Gyalpo Loshar, Democracy Day, festival of color Holi and Women's Day are also important festivals. In the last month of the Nepali calendar, Ramnamami and Chaitya Dashain are celebrated. And this is not an all-inclusive list. These are celebrated as national festivals. There are international festivals celebrated as well. There are other occasions when we sneak out time from busy schedule to celebrate other more personal occasions. There are also marriages, Bratabanda and Shraadhas, and other fasting periods. Full moon night and new moon night are special too. Marriages are performed differently within different ethnic communities. Every stage of growing up is celebrated. Birth is celebrated, naming ceremony, rice feeding ceremony and it goes on. Life is a festival in Nepal no matter which ethnic community we belong to.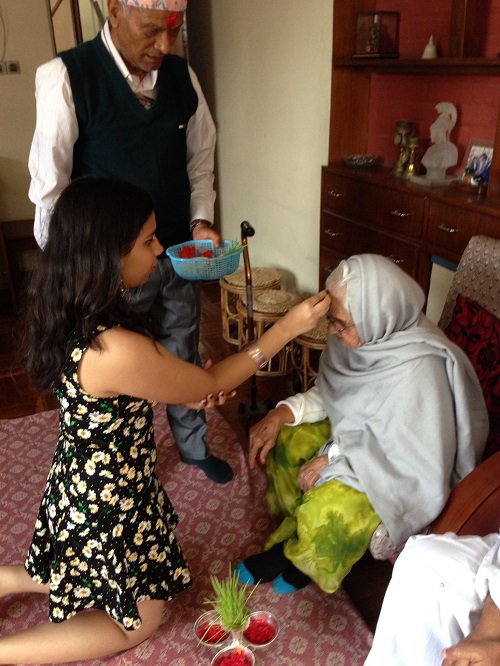 To understand Nepal, only eating and reveling aren't enough. Sometimes we need to fast as well. And there is immense satisfaction when one fasts and eats again. The value of every grain makes sense. It is a way to understand the importance of food.
Surprisingly we haven't been able to open up all these festivals to tourists. Even many Nepalis wouldn't know much about these festivals. These are thought to be private affairs. Nepal is still a closed society. The debate might be that of outsider and insider. Mine and thine. Ours and theirs. But to integrate Nepal better, all Nepalese should celebrate all these festivals. Revel, relish and enliven spirits. Once we open up and welcome outsiders we all become one. We share the concept of a global village in its true sense.
Sharing our cultural values with tourists for economic gains is not a new concept. In Nepal, Tharu communities have already been showing cultural shows in Sauraha. There is a homestay service in Chitlang, Ghalegaun and Bandipur. Nepal is rich in ethnic diversity. Every community has its own culture. Let's show off of our culture. Let's show our roots. In celebrating our culture we will be integrated locally and globally. We will be happy and prosperous. Let celebration of the festivals be the thread that binds us all.