Traveling in Nepal is an adventure. But this may be an understatement. It is an extreme adventure. There is often a rush of adrenaline. Narrow one lane dirt roads, vertical slopes, sharp turns and difficult terrains are sure to give you goose bumps. These roads are the necessary evil as even the bumpy flights close to tall hills are another life and death experience.
This time around Advocate Padam Bahadur Shrestha (Dai) and I were traveling along Karnali Highway. Padam Bahadur Shrestha (Dai) informed me that we were traveling to Kalikot, Jumla and Mugu for an orientation on legal issues on environment. I was excited. I had heard of Karnali for different reasons. Richness in natural resources, yarshagumba, medicinal herbs, root of Khas civilization, ignored region, deprived people, Rara Lake, stories of Jumleli people, Karnali river and hydro energy potential among other things. It was an eight day travel altogether.
During eight days we interacted with local students of Jumla and students of Karnali Secondary School, Khin, Kalikot. Padam Dai duo and I also gave interviews to local FM radios on the legal issues on environment touching upon the local environmental issues on the occasion of World Environment Day. Padam Bahadur Shrestha (Dai) and Padam Bahadur Shahi (Dai) had arranged a week long program on environmental issues to celebrate World Environment Day in Kalkot, Jumla and Mugu. Unfortunately, the Kalikot and Mugu interactions didn't happen as planned for various reasons. However, we were satisfied with the prearranged interactions we had with students of Karnali Technical School, Shree Chandannath Higher Secondary School, Khalanga, Shree Karnali Secondary School, Anamnagar, Shree Ratna Chundeshwor Higher Secondary School, Boharagaun, Janjyoti Secondary School, Barakotegaun, in Jumla and Karnali Secondary School Khin, Kalikot at Rara Lake. All interactions in Jumla were arranged by Nepal Bar Association Central Committee Member Advocate Padam Bahadur Shahi (Dai). Students from Karnali Secondary School, Khin, Kalikot had come to Rara Lake for study visit and we seized the opportunity to interact with them in the early morning at Dhanfe Hotel. It was Padam Bahadur Shrestha Dai's impromptu initiation. Gopal Bam, the only people's representative to the federal house of representatives, graced the occasion as the chief guest during the interaction with the students. Anil Kedia, principal of DAV School, also provided valuable thoughts to the students on the occasion.
Let's start the journey.
Padam Bahadur Shrestha (Dai) and I flew to Nepalgunj from Kathmandu rather late in the afternoon. We were received by my uncle Nirmal Dhungana at the airport. From the airport he took us to Kohalpur where he arranged a ride till Surkhet. It was late into night when we reached Surkhet. We had a brief stopover at Chinchu. We had to renegotiate the ride from Chinchu to Surkhet with 'jeep' driver. For another sixteen hundred rupees he agreed to take us to Surkhet. At Hotel Hamro Sahara our food and accommodation was prearranged.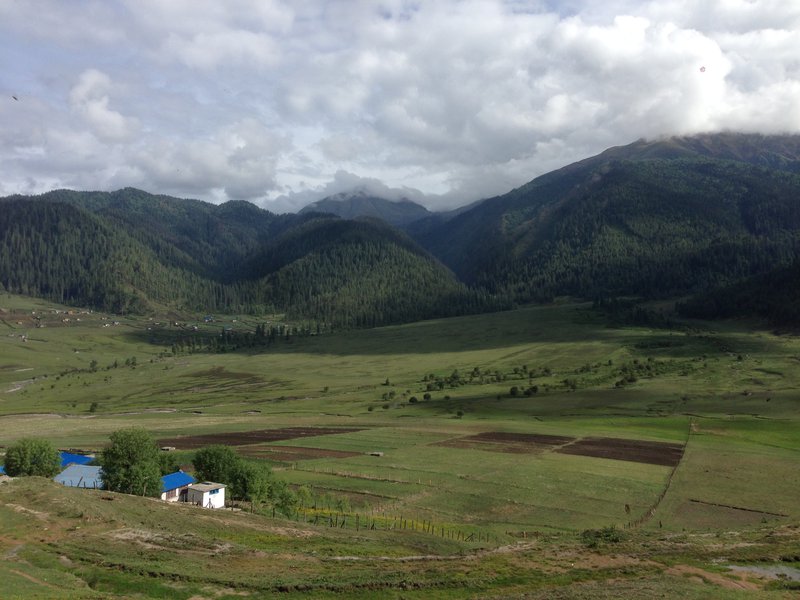 Early in the morning anticipating we would reach Kalikot on time, we started our second day journey. The greenery around was soothing to the eyes. The road was comfortable. Though the eyes would close because of deprivation of sleep, I tried opening my eyes to not miss the scenery. As we climbed up, the roads were getting narrower and the slopes were intimidating. Our vehicle broke down and it needed repairing. But there was no mechanic in the nearby places. While the driver and his assistant fixed the vehicle temporarily we touched the water of Karnali river playfully. Looking at the flow of river I went into a meditative mood.
The Kalikot program was getting uncertain as we had lost time on the way. As we reached Kalikot in the hope of fixing our vehicle we stopped by a locked workshop. Even after making calls the mechanic didn't turn up. We proceeded further after having wasted some valuable time. We encountered another obstacle. Nepal Students Union had organized a half-an-hour strike in protest of government decision to hike fuel price yet another time. By then we had an understanding that the program at Kalikot wouldn't happen on that day.
It took more time to repair the vehicle as there was another problem seen. We had snacks and tea and had enough rest. It was anticipated that we would reach Khalanga, Jumla around nine thirty in the evening. We proceeded while there was still light. The roads were not comforting. Certain section of roads were fear instilling. One wrong move and it was surely a matter of life and death. I must salute the driver to have the courage to drive on those terrain. I also salute the Army for having constructed the difficult section of road. Certain portion of the road was also completed by the efforts of local residents. The road was completed with an effort of all concerned. It has just been a decade or so since the track was opened. This justifies the grievances of people from Karnali Pradesh that government hasn't done much to make Karnali connect with the other regions of the country. With Karnali Highway built now and with courage to face even death people are traveling and are more connected now than ever. They have access to necessary commodities but the price is still high.
We interacted with students of different schools. To my surprise the students were sharp and intelligent and already knew what I was sharing with them. If not individually but altogether as a group. Probably their IQ is better than students of other polluted regions like Kathmandu and other cities. I have read literatures where it is mentioned that IQ of a person is adversely affected by the increase in the level of pollution. These students breathe pure and fresh air. Eat organic food. But these students weren't the Jumleli I had heard of. Chaka Bahadur Shahi (uncle) was the Jumleli I had heard of.
We were hosted by Advocate Padam Bahadur Shahi (Dai) at his residence while we were in Jumla. He arranged an evening with Chaka uncle. That evening it was just Chaka uncle who talked. And we laughed till our eyes closed and tears came. His story revolved around his six wives. That's how he got the name 'Chaka'. Locally meaning having six wives. The adventures and nearly executed experience he had were a matter of laugh for us now. His way of wooing a woman were interesting and unique. He had a wife at home and there were other two women wanting to join the gang. He accepted them. But one of them was already married and her relatives came to take his life. His escape story is hilarious. By the time this escapade ended his other wife had left him too. However, he is now married with his sixth and only wife and lives happily. Upendra Bahadur Shahi (Dai) vouched for consistency of what Chaka uncle had said. Though I promised 'Chaka' uncle I would pen down his experiences it looks like everything will be lost in translation.
We had a prearranged interaction program with the dignitaries of Chandannath Municipality, Jumla in the presence of Mayor Ms. Kantika Sejuwal. We discussed local environment issues. The landfill site was within the town and river Jugad was being turned into a sewerage. We discussed the issue but nothing can be done until action is taken. From students to mayor, from locals to police, everyone has agreed to clean and save Jugad river. 
Before leaving for Rara Lake we had enough time to visit Tatopani (hot water spring) and Gothichaur. Gothichaur has a government sheep farm. It lies on the Jumla-Dolpo Highway. The road is a dirt road. A four wheel drive just managed to take us there. It is a beautiful place. Pristine, plenty of greenery and unique landscape. The surrounding hills have plenty of pine trees. The low lying area has grazing opportunities for cattle. Needless to say the grazing land and the hills are lush green. There were sun rays at certain areas and shades at others. It made the observer perceive different shades of green. It looked like sister of places of Switzerland that I have seen on television. Gothichaur is mesmerizing. While Padam Dai duo and others celebrated being at Gothichaur, I was intoxicated by its beauty. I couldn't have been disturbed and found complete peace there.
Next day we left for Rara, Mugu by public transportation.