Nepal Communist Party's Secretariat meeting decides to lift Dr. Govinda K.C. back to Kathmandu for further treatment and agree to unconditional discussions on Dr. K.C's demand. Attended by Prime Minister K.P. Sharma Oli, Nepal Communist Party (NCP) NCP leader Pushpa Kamal Dahal Prachanda, Madhav Kumar Nepal, spokesperson Narayan Kazi Shrestha and minister Giriraj Mani Pokharel.
Dr. Govinda KC, whose fast-unto-death for reforms in medical education entered the 20 day on Thursday, said the current government has lost any basis for holding the next round of dialogue.
"NCP has directed the government to hold talks with Dr. KC on his demand and medical bill," said Dr. Narayan Kazi Shrestha, spokesperson of NCP.
The government on Monday formed a talks team to initiate a dialogue with the protesting Dr KC. However, KC has accused the government of just feigning interest in dialogue without any intention of addressing his demands.
"As the government has not yet created an environment for implementing the demands, they have no basis for holding any dialogue," he said.
Issuing a press statement Wednesday, Dr KC further stated that the talks team consisted only of some employees. He claimed that the government does not want to take responsibility for change as it does not really care about the plight of the public.
According to My Republica,A brief dialogue was held on Monday following the formation of the government's talks team. Another dialogue was held on Tuesday. However, KC said the dialogue has not made any progress in addressing his demands.
His first demand for making the dialogue constructive is the immediate withdrawal of the medical education bill. He has also requested the government to send in a dialogue team with a full mandate.
"Only then would the next phase of dialogue be possible," reads the statement of Dr KC, who is staging his hunger strike at Jumla-based Karnali Academy of Health Sciences (KAHS).
As KC's health deteriorates, his respiratory problem has gotten worse. The heartbeat is very irregular, according to doctors involved in his treatment. The severity of his condition could require ICU treatment any time. However, KAHS does not have this crucial facility.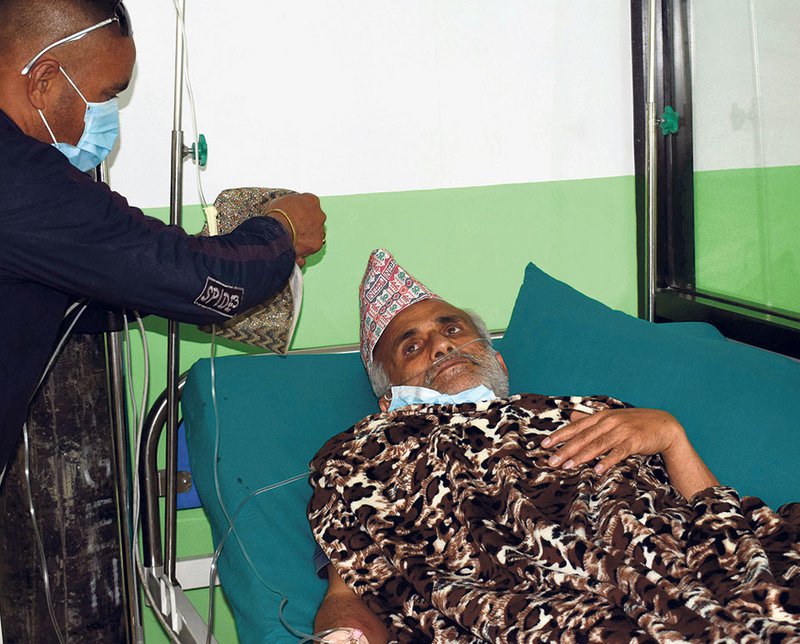 Furthermore, the levels of potassium, magnesium and calcium in the blood are very low, informed doctors attending to him. While Dr KC has been made aware of the complications that could arise from the low level of such electrolytes in his blood, he is still refusing to take medication.
The severity of his respiration problem has forced doctors to keep him under oxygen 24 hours a day.
Meanwhile, protests have flared in Jumla and elsewhere in support of the medical reform crusader. The agitated locals have taken to the streets shouting slogans against the government and its attitude of indifference.
All health institutes in Karnali Province have shut down operations except emergency. Such protests have been occurring since the past two days. Doctors said they would not treat patients except those in emergency and referrals. Patients meeting these criteria are receiving treatment in the open grounds.