After an enthusiastic response from teenagers around the nation, Wai Wai Glocal announces the shortlist for Wai Wai Glocal Teen Hero 2018.
According to a press release, this year's competition received over 532 applications, from fascinating teenagers demonstrating the diverse potential of this often under looked age-group of people. The applicants had demonstrated their skills and expertise, and made an impact in their society, from areas like social work to journalism, from mobile app development and computer programming, to robotics, and from entrepreneurship to community development among others.
Bikalpa Dhungana (19 years, Inventor, Tanahu), Deepshikha Ghimire (18 years, Writer, Makwanpur), Prashansha KC (17 years, Social Activist, Rukum), Saugat Tiwari (19 years, Entrepreneur, Chitwan), Sudarshan Subedi (19 years, Ecopreneur, Okhaldhunga), and Swornim Shrestha (17 years, Social Entrepreneur, Sindhupalchowk), have been selected among top 6 candidates for the competition, the only national platform in Nepal to recognize and honour the outstanding teenagers.
Glocal Teen Hero is a platform for Nepali teenagers to share their initiation, creativity, and enthusiasm which will then motivate them and more of the other teenagers in the nation to develop an entrepreneurial thinking.
This is the fourth edition of the first ever program designed in the country to recognize dedicated, passionate, and innovative teenagers so as to encourage their initiatives. Bipana Sharma, a 17-year old child rights activist from Sunwal, Nawalparasi, and Santosh Lamichhane, a young scientist were felicitated with the First and Second Glocal Teen Hero awards in the years 2015 and 2016 respectively. Similarly, Sachin Dangi, Social Activist was felicitated Wai Wai Glocal Teen Hero in 2017.
Started from inside the Kathmandu valley only in the year of inception, the competition this year had reached out to teenager's nationwide and conducted information sessions in various schools and colleges. The reach and interaction with the teenagers were overwhelmingly high reaching to 50000+ teenagers.
Promoted by SAARC Chamber of Commerce and Industries and Nepal Tourism Board. European Union and UNDP are the Strategic Partner, Soaltee Crowne Plaza is the initiative partner. Likely, Coca-Cola, VOITH, Panchakanya and Honda as Partners, Turkish Airlines and Yeti Airlines as Airlines Partner, Prisma Advertising as Creative Partner and Sparrow SMS is the SMS Partner.
The initiative is supported by Tara Air, Landmark education, Worldlink, IMS Group, IME, AYON, YUWA, Restless Development, Facts Nepal, SmartDoko, View Your Choice and Yes Club Nepal. Partnership with various such organizations working on youth-segment helped the program reach every nook and corners of the country, and ensured no teenagers having talents and potential were left-out from the competition.
The jury panel this year comprises of Renaud Meyer, UNDP Country Director to Nepal, Suraj Vaidya, President of Vaidya's Organization of Industries, Upaul Majumdar, General Manager of Soaltee Crowne Plaza, and Ranjit Acharya, CEO of Prisma Advertising, Srijana Shakya Jyoti, Chief Branding Officer, Jyoti Group, Ambuj Singh, Country Manager, Coca-Cola Nepal and Alina Prajapati, General Manager, Glocal Pvt. Ltd.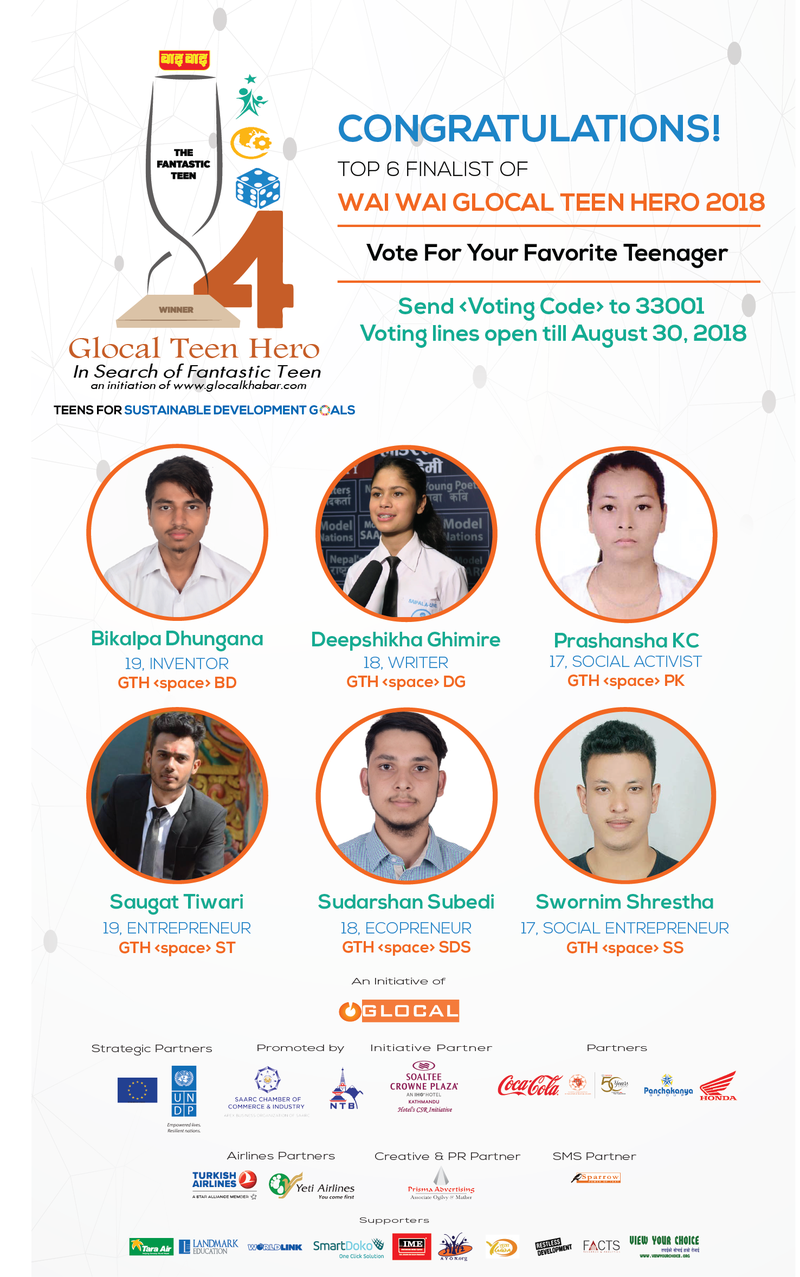 To vote for the candidates, text the voting code of your favourite finalist to 33001. The voting codes for the finalists are:
Bikalpa Dhungana- GTH<SPACE>BD
Deepshikha Ghimire- GTH<SPACE>DG
Prasansha KC – GTH<SPACE>PK
Saugat Tiwari - GTH<SPACE>ST
Sudarshan Subedi - GTH<SPACE>SDS
Swornim Shrestha - GTH<SPACE>SS
Award ceremony of the Wai Wai Glocal Teen Hero will be held on 1st of September in the presence of 250+ personalities of Nepal from different walks of life, such as diplomats, politicians, film stars, entrepreneurs, youth leaders and many more at Soaltee Crowne Plaza.
On August 8, 2018, Glocal Pvt. Ltd. unveiled the list of 20 brightest Nepali youths under the age of 20. The youths are from various diverse fields ranging from social work, child right activism, computer programming, science, journalism, technology, and entrepreneurship among others.
The annual list of game changers seeks to recognize and honor the exceptional youths from various fields.
Releasing the list, Asish Thakur, Executive Director of Glocal Pvt. Ltd., said, "The Glocal's 20 Under 20 list is the ultimate honor roll of young game changers reshaping Nepal for the better.