Rev. Dr. Martin Junge, General Secretary of The Lutheran World Federation paid a courtesy call to Prime Minister KP Sharma Oli. Yubaraj Khatiwada, Minister for Finance, also attended the meeting.
Rev. Dr Martin Junge was accompanied by Rev. Dr Philip Lok Oi Peng, Area Secretary for Asia Department for Mission and Development, Rev Joseph Soren, Chairperson, Nepal Evalengical Lutheran Church and LWF Nepal staff including Dr Prabin Manandhar, Country Director;Rajendra Kumar Raut, Regional Program Coordinator;Vishruta Singh Rana, Project Manager and Kritagya Regmi, Communication Officer.
PM Oli expressed gratitude and appreciation to LWF for providing humanitarian and development support for over three decades. He appreciated the work of LWF Nepal in the care and maintenance of Bhutanese Refugees and support to the host communities since 1991. He said, "The support provided by LWF has supported thousands of refugees to live a secure and dignified life".
He further appreciated the work of LWF Nepal in the earthquake response and flood response reaching most vulnerable and marginalized people. He said, "LWF Nepal should continue to provide to the efforts of the government towards inclusive economic growth focusing on the most marginalized people".
In addition, PM Oli encouraged LWF Nepal continue its support on disaster risk reduction and emergency response. He also emphasized on close collaboration with LWF.
Rev. Dr Martin Junge expressed gratitude for the government for its excellent cooperation. Stating that LWF is committed towards migrant and refugees. He said, "We began supporting the Bhutanese refugees in Nepal from the beginning and we will continue the support till the end".He pledged to support Bhutanese Refugees and the host communities according to the political direction provided by the government of Nepal.
Rev. Dr Junge arrived Kathmandu on September 12. The objectives of his visit are learning and sharing of humanitarian and development works in Nepal carried out by LWF Nepal. The key element of this trip is to watch the activities conducted by LWF Nepal closely and to maintain a positive relationship with the government and other concerned stakeholders.
According to a press release issued by LWF Nepal, Rev. Dr Junge met with Tham Maya Thapa, Minister for Women, Children and Senior Citizen, Hikmat Karki, Minister for Internal Affairs and Laws of Province 1 and Matrika Yadav, Minister for Industry.
He observed field work carried out by LWF Nepal and its implementing partners in Jhapa and Morang. He also visited flood affected areas in Morang and interacted with the affected people. He is scheduled to visit earthquake affected areas in Kavre district.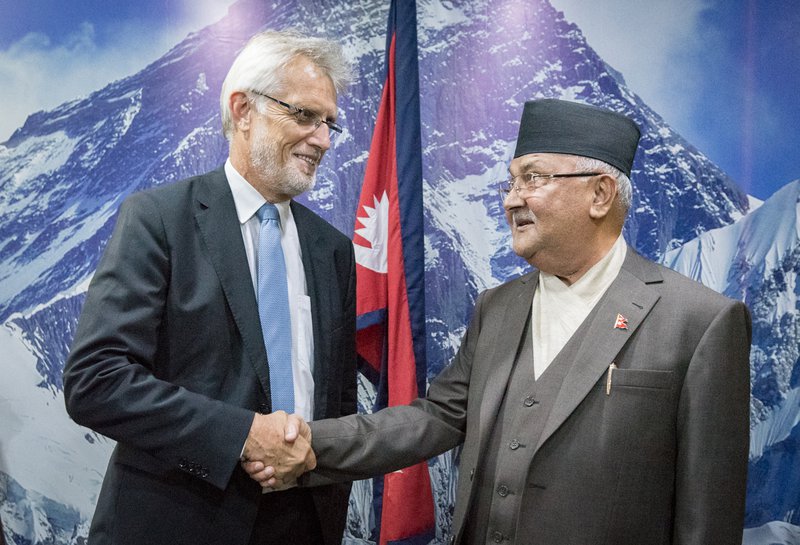 The General Secretary of The Lutheran World Federation met with Prime Minister KP Sharma Oli. Photo Credit: Albin Hillert/The Lutheran World Federation