Bhimfedi road, as a first pilot track road constructed by Chief Engineer Brigadier. Colonel Daly Jung Thapa was looking awesome with scary slopes all over. The hills solitude of the dense forest along with steep slopes all over is added sensation and excitement. I was trying to find out the suspension bridge installed by my Grand-father Chief Engineer Brig Col Daly Jung Thapa when I reached Kulekhani, " heaven on Earth ".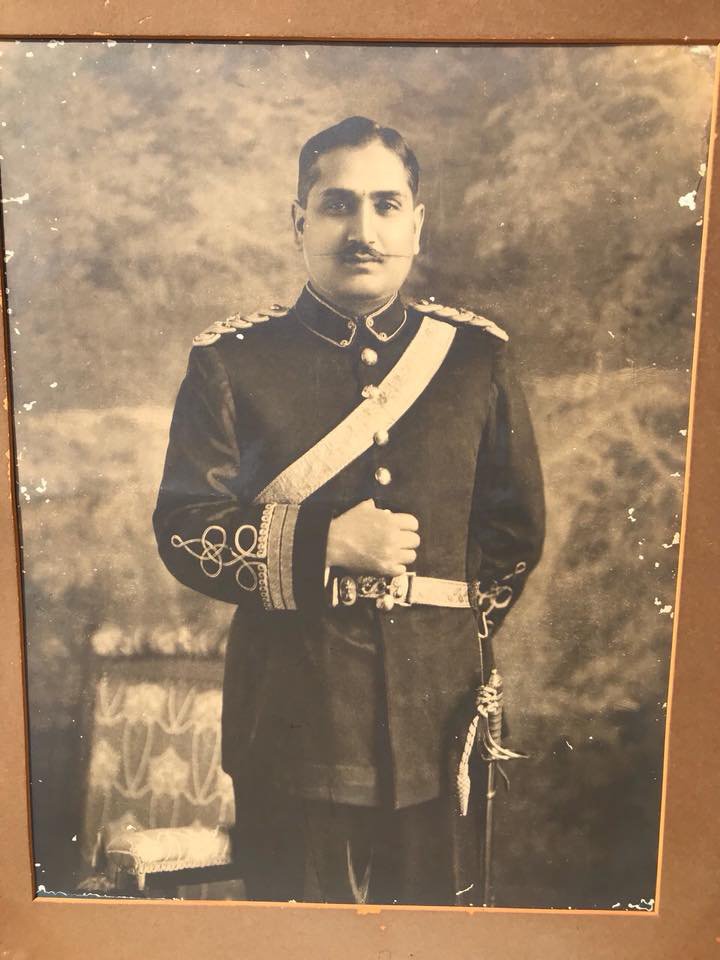 Chief Engineer Brig Col Daly Jung Thapa
Just above the crystal clear blue, Reservoir of Kulekhani I noticed few containers of the Ropeway still hanging swaying with the cool breeze of the Kulekhani carrying the interesting history of adventures while constructing the first track road. Ropeway hanging just above the reservoir was also built as first Ropeway of Nepal again by my Grandfather Chief Engineer Brig Col Thapa at the time of Prime Minister Bhim SJB Rana. It reminded me of the picture we had of my handsome Grandfather crossing the suspension bridge he built along with his horse and him crossing the Bhimfedi Karra river on horses with his six sons. Noticed many tiny Durbar like buildings he built for Rana rulers as guest houses.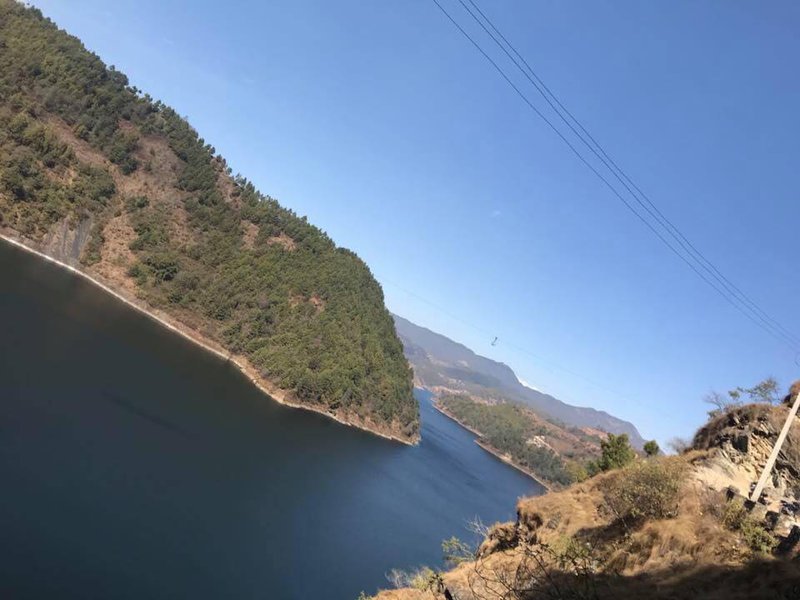 Kulekhani Reservoir
As on the way, it was thrilled to be at Simara as soon as possible to visit Neejgadh forest for a noble cause. Seeing the Grand Iccha Hotel at Simara made me think we are advanced in promoting tourism through Bliss showered to us as "Hariyow Ban Nepal ko Dhan. " I was dreaming to have adventurous field trip of Neejgadh next day. With Dr. Suraj Shrestha And two of my companions Laxmi Rana and Jyoti Rayamajhi and our Avas team for filming we zoomed off to the jungle of Neejgadh. (We missed Dr. Prabhu as he was engaged at Kathmandu but we had his great help from there as whom we should meet etc etc). Our nonstop ten hours drive, and walk sneaking inside the 8000 hectares of proposed jungle for International Airport of Neejgadh was really a fun with adventure. Thank God it was my Scorpio which could manage to take us deep inside the jungle everywhere we wanted to explore checking the possible damages of the Nature we love due to construction of Second international Airport.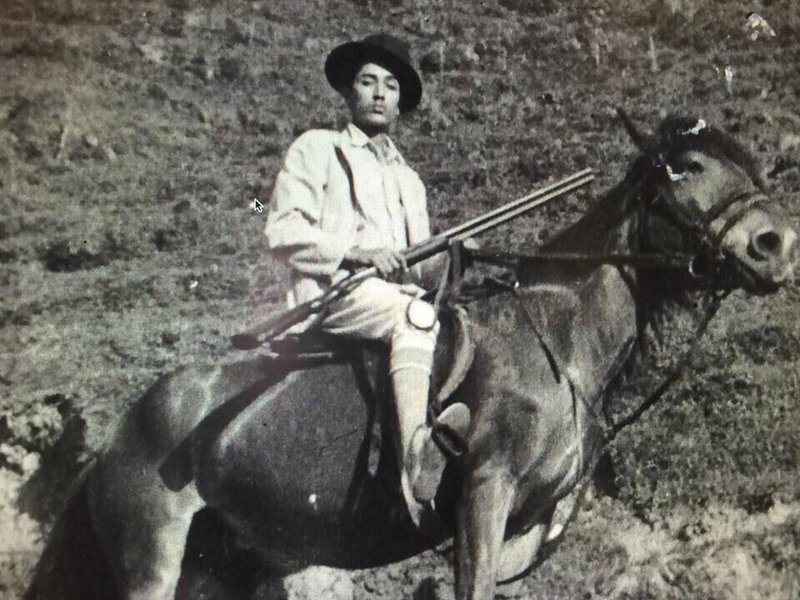 Late Keshav Jung Thapa, seventh son of Chief Engineer Brig Col Daly Jung Thapa
We enjoyed walking inside the virgin jungle taking interviews with concerned / villagers, forest officers from DFOs to junior officers, ward chairpersons and others. Measuring the distances of the total loss of the jungle made me sad / seeing the Sal dominating forest being barb wired to be chopped off made me feel like crying, honestly. I could hear their outcry. Not only that we manage to do awareness campaign in brief to few villagers too who were misleading and confused about the issue. Dr. Suraj never failed to run to grab his information full lap top with pictures to educate the confused villagers.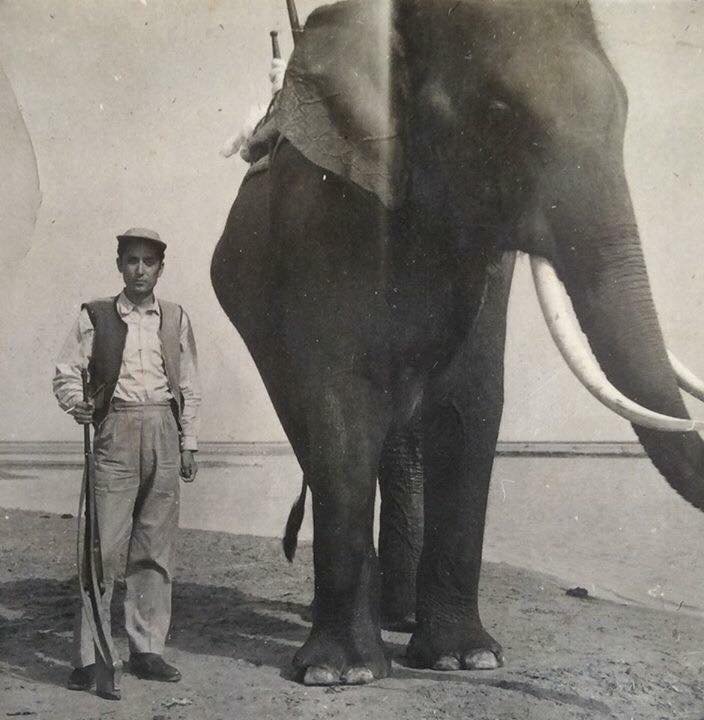 When we witnessed the Bhim Sakhuwa, we were so excited and thrilled jumped out of the car and ran to hug it. Hmmm yes of course we took group photos like teenagers with this awesome Nature standing taller at the middle of the Neejgadh jungle as protector of all the Nature. With gesture to challenge the "invaders who were trying to chop off Her jungle representing all the 24 lacs trees to entire living things of the region " I felt hats off stand taller so that you can notice any nasty chain saw being used on your trees! just got carried away being at the motor I love with our team. I could see Dr. Suraj in same jolly mood exploring the jungle with the team. When ward chairman of Kathghat mentioned his village is one of the main corridor of elephants from decades (which will also be destroyed for airport) and we were told elephants explore the territory single or mostly in a group, hearing him I felt thrilled and so excited.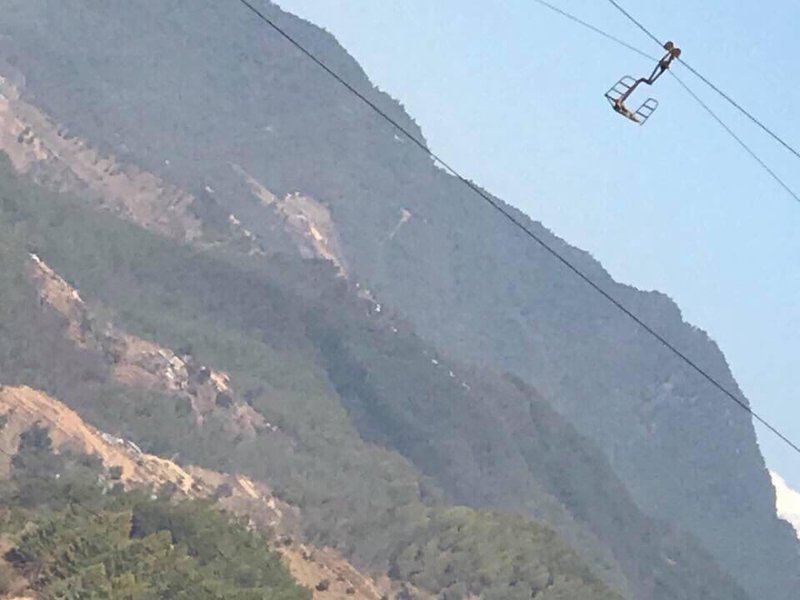 Rope Way
When I looked far away at the premises, I imagined pampered cute elephants running around some where every where near us requesting us "Not to touch an inch of their territory "! I saw my elephants everywhere! Then we noticed few confused villagers of Kathghat (Tharu) stuck with their uncertainty as where they would be chased away and what they will be receiving as compensation? According to them, other castes like Brahmin and others had already received good deal but only those (Tharus) are exploited. Hearing them I felt "why on earth "Tharus "only??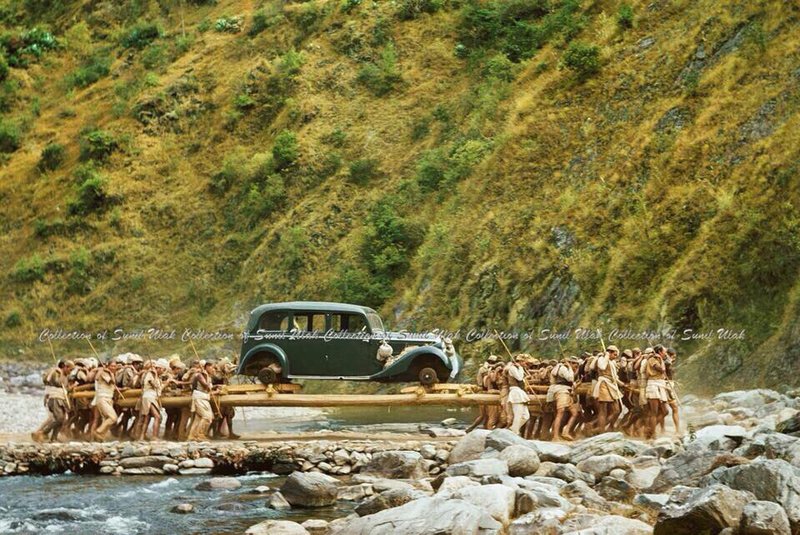 Kulekhani porters carrying car to Kathmandu
Tharu communities are the protectors and saviors of the jungle who even did not leave the jungle fighting Malaria too? They love the territory more than others? Why on earth discrimination! It made me feel sad again as I love THATRU as HEROES of the JUNGLE! Then we reached at Lal Bakia and Pasaha river belt, I felt "Why earth is so Beautiful "? Even in dry I could hear sweet melody of these two rivers singing"Men May come and men may go but I go on forever"! Dr. Suraj mentioned me jungle between these two awesome rivers would be wiped out for International Airport! I told myself "No Way "not a single tree would be chopped off. We have thousands of "Chipko warriors "! I felt determined NO WAY! Then we reached the Sarlahi "Murtiya "! I could notice the glow on Dr. Suraj face shouting he expressed "look Chanda Ji, how do you Find Murtiya? "I jumped with excitement! I assumed " This is the perfect site for second international Airport with Zero Damage of Natural jungle except few thin scattered newly planted Eucalyptus trees planted just two years ago under the Sagarnath Ban Bikash Pariyojana " No human settlement ! Flat land with low mountain than Neejgadh! Then I felt more determined Ok we manage to give alternative to Government to spare our 24 lacs trees along with our rich Biodiversity of Neejgadh , Rest government has to do it's EIA / DPR to go ahead !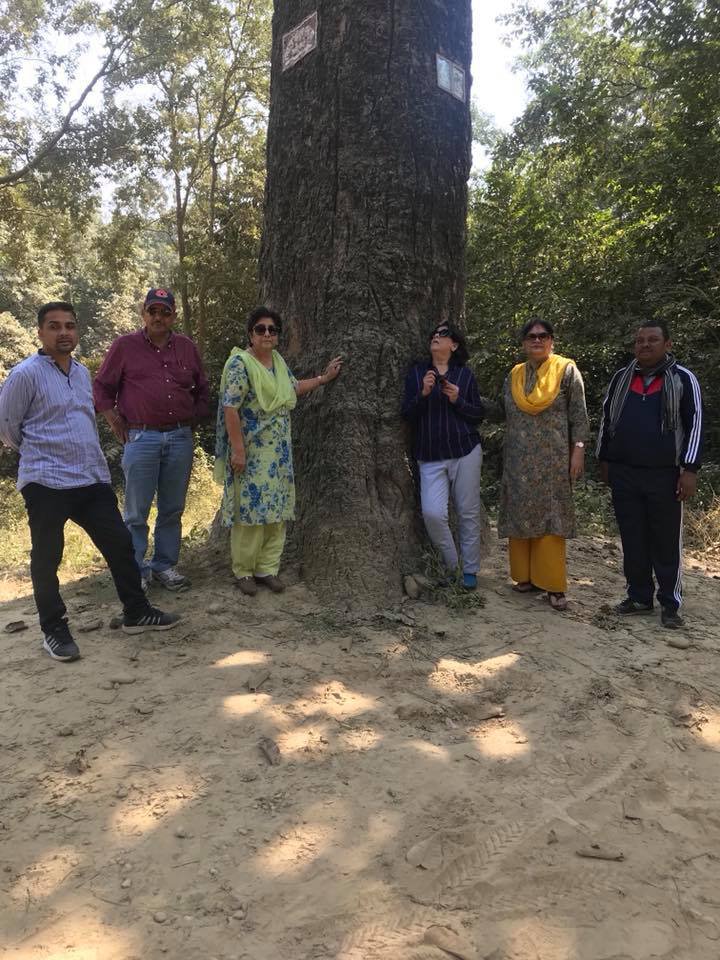 Rana with her team in Neejgadh
Anyway ten hours trip with a toast and an egg we did not realize how time passed and we did not feel hungry and thirsty too enjoying the Nature for a noble cause as a small contribution toward Nature I enjoyed my inexperienced live commentary with video shoot interviewing Dr. Suraj for his genuine information ! As I was exploring the dense jungle for ten hours I felt presence of my beloved father as it was him who used to take me to the jungle as kid of 7 years to when I was teenager at various jungle camps of his which developed the "passion of the jungle into obsession like him .We came back at hotel at 7 PM with thrilled! We were waiting for former prime minister Madhav Kumar Nepal's arrival to site visit of Neejgadh but got informed that he has cancelled. Right now I am at Chitwan at studio all day making a documentary on it to screen amidst press conference to make aware " yes we need International Airport but saving 24 lacs trees and we have found an alternative too " ! Ok Here I stop! Happy Tihar to all my Ban Chautari Group '!!!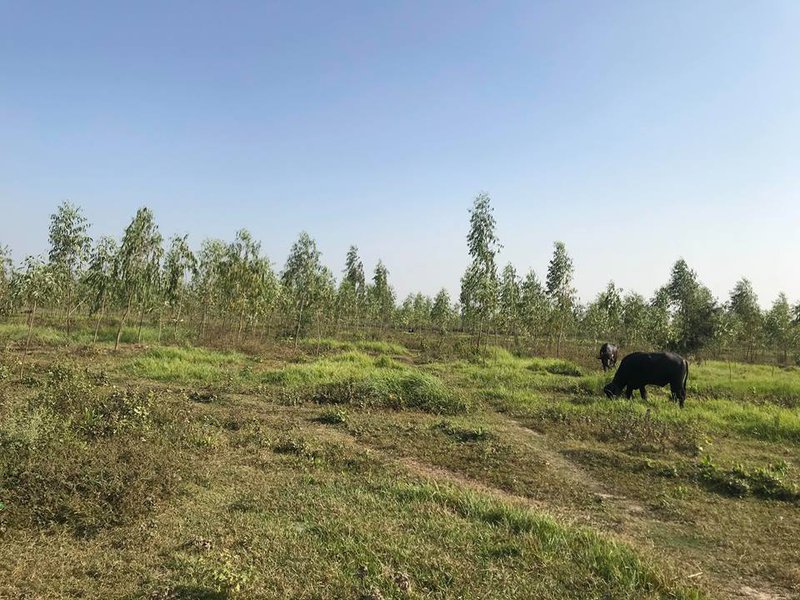 Murtiya, Sarlahi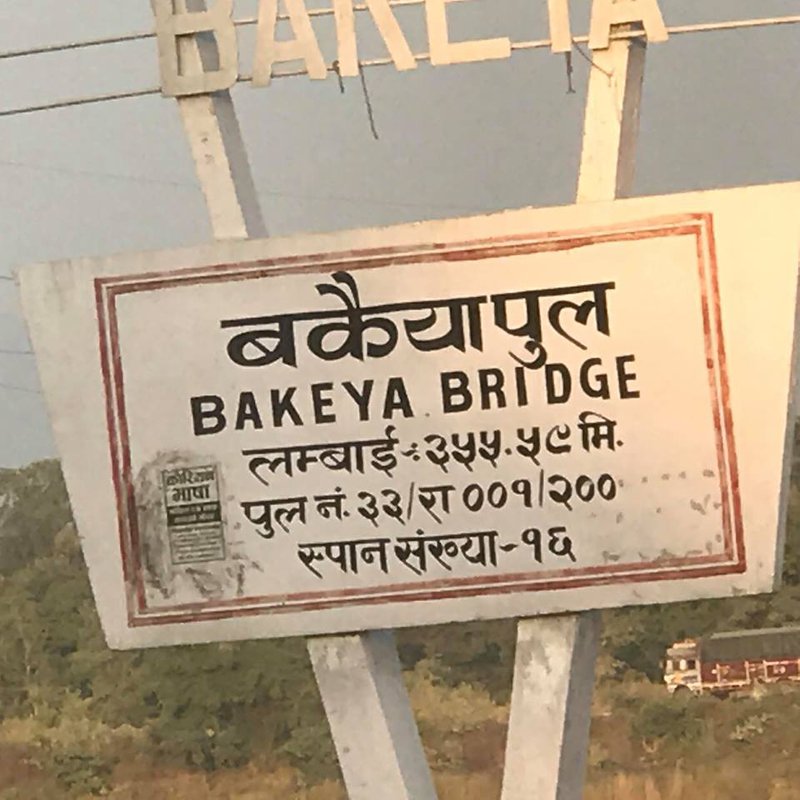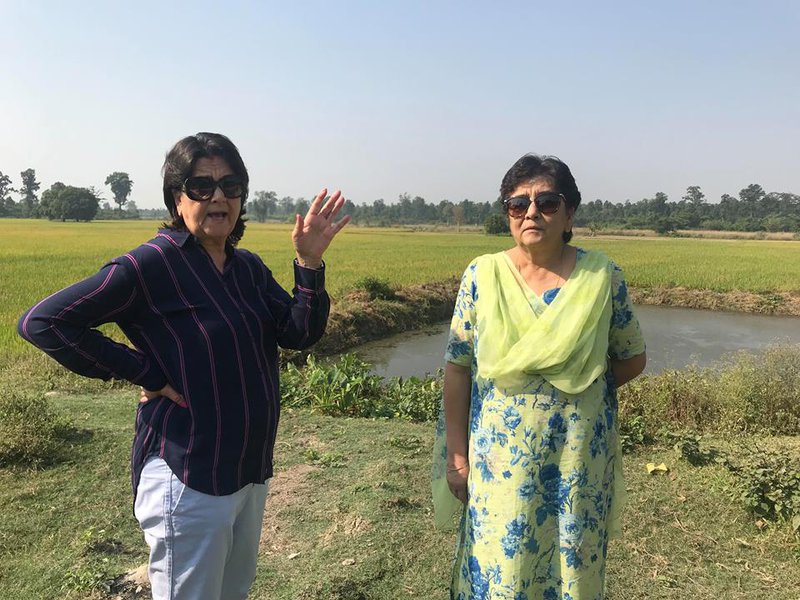 Rana in Bara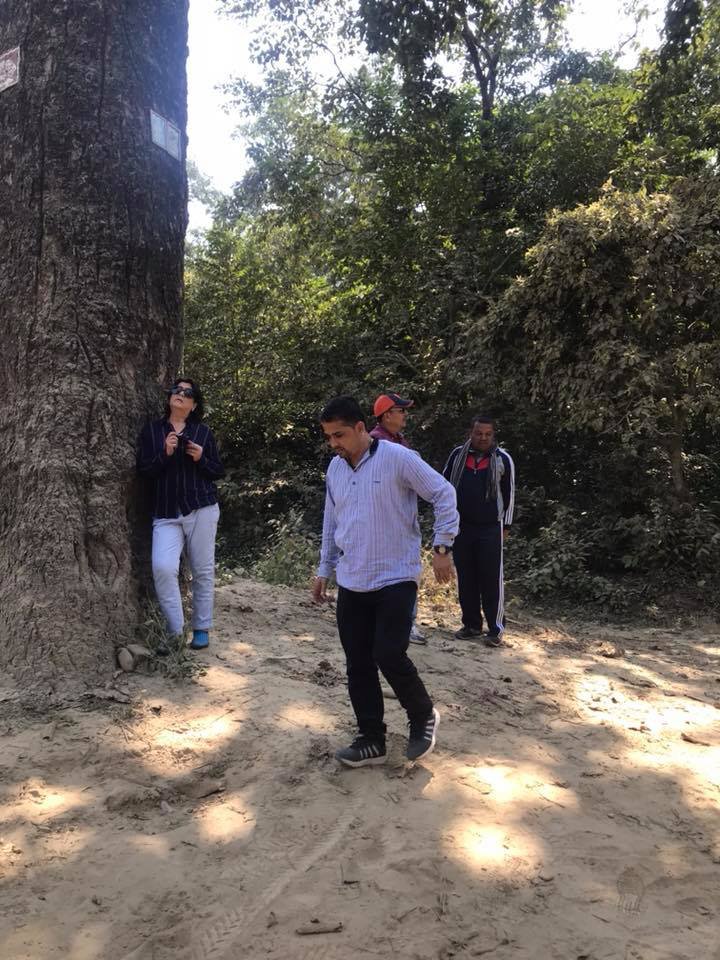 Neejgadh Jungle