The United Nations in Nepal together with IOM, UNESCO, UNV and Directorate General for European Civil Protection and Humanitarian Aid Operations (DG ECHO) organized a panel discussion to bring forth the issues faced by youth in migration and advocate for protection issues to promote their human rights.
The panel discussion titled "Youth in Migration - Protecting and Promoting Human Rights" brought together representatives from UN agencies, EU, National Youth Council, Foreign Employment Board Secretariat, National Human Rights Commission, academia, and private sectors among others to understand ways to address the challenges faced by youth in countries of destination and delineate ways to promote safe, orderly, and dignified migration, securing human rights of the youth.
Evidence from various studies shows that youth migrant workers are particularly vulnerable to exploitation. They experience maltreatment by unscrupulous employers; and they suffer isolation, substandard working conditions, non-payment of wages, and the threat of being reported to the authorities and deported to their countries of origin.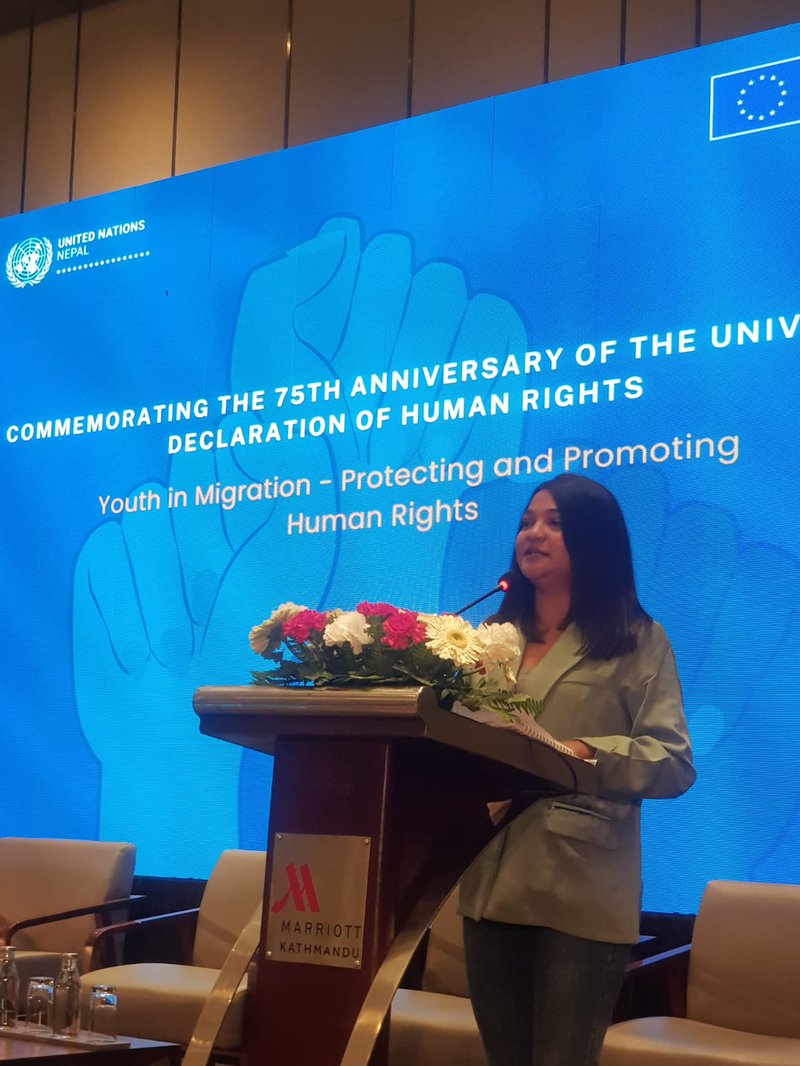 Speaking at the event the, the UN Resident Coordinator a.i. Mr. Robert Kasca said, "More than 2.1 million Nepalese people are currently abroad for employment or education. Their remittances contribute to 25 % of Nepal's GDP. But this does not come without a price. Today, we are here to bring our partners together to discuss and identify how we can jointly protect and realize the human rights of migrants, particularly young migrants."
The half day event allowed for youth to discuss and share their experiences in relation to human rights and returnee or aspiring migrants.
"When I returned to Nepal from India during COVID-19 lockdown due to job loss, IOM supported me with re-integration that gave me hope. With the support, I was able to start a beauty parlor. It helped me to gain my economic independence. I would like to strongly request for reintegration support for the returnee migrants who are in need." shared Anju Bishwakarma, a Returnee Migrant from Province 1.
This panel discussion aimed to give a voice to the challenges face by youth while migrating to destination countries and pave a way forward to enable them to access their rights, both abroad and at home. 
"National Youth Council is engaged in building skills of youth in support of private sectors. The unskilled youth is vulnerable to exploitation, in the country and also in the country of destination. Thus, we are focusing on increasing their skill and capacity and reducing their vulnerability to exploitation. We are seeking support and partnership with a range of stakeholders in our effort to protect and promote human rights of youth." Said Mr. Ramakanta Sharma, Member Secretary, National Youth Council
This event was organized as part of 'Commemoration of the 75th Anniversary Year of the Universal Declaration of Human Rights' and part of the 'Effective case management by strengthening isolation centers and ground crossing points management for rapid response and preparedness against COVID-19' project funded by DG – ECHO.