With the erection of Chair at Basantapur on Monday the Holi festival has been formally begun.
Formal celebration of Holi, the festival of colours, began today after locals and priests erected a chir, a ceremonial bamboo pole with a shrine of colourful cloth at Basantapur Durbar Square in Kathmandu.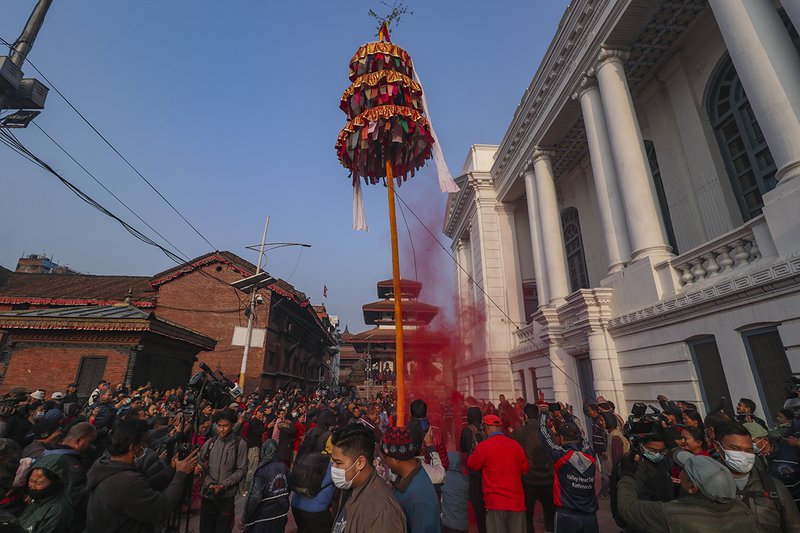 Participants at the programme threw vermilion powder in the air and smeared colour on each other after erecting the 32-feet tall chir at around 12:00pm to mark the beginning of Holi, which is also known as Fagu Purnima. Holi is celebrated by playing with colours, water and merrymaking. It falls on March 6 and 7 this year.
The historical Nepali Army's Sardul Jung Gulma, also famously known as 'Guruju ko Paltan' (Platoon of King's Mentor), stationed at Hanuman Dhoka fired shots in the air to commence the festival.
Chir is a symbolic representation of the beginning of the festival.
The festival ends on the seventh day after the chir is formally brought down. Holi is believed to be celebrated from Treta Yug after Pralhad, an ardent follower of Lord Vishnu, burned a female demon called Holika, who was said to be dressed with fireproof garments.
Holika had intended to burn the child, Pralhad while placing him on her lap. From that day onwards, the festival of Holi was celebrated on the full moon day in the month of Falgun as per the lunar calendar.
A wooden pole 'Chir' has been erected at the Hanumandhoka Palace premises at 7:45 AM this morning.
Holi festival is going to be celebrated in the Hilly and Terai regions on March 6 and 7 respectively.