Ikramul Hasan Shakil, the first Bangladeshi to successfully complete the Great Himalaya Trail expedition was accorded a reception today by the Embassy of Bangladesh in Kathmandu.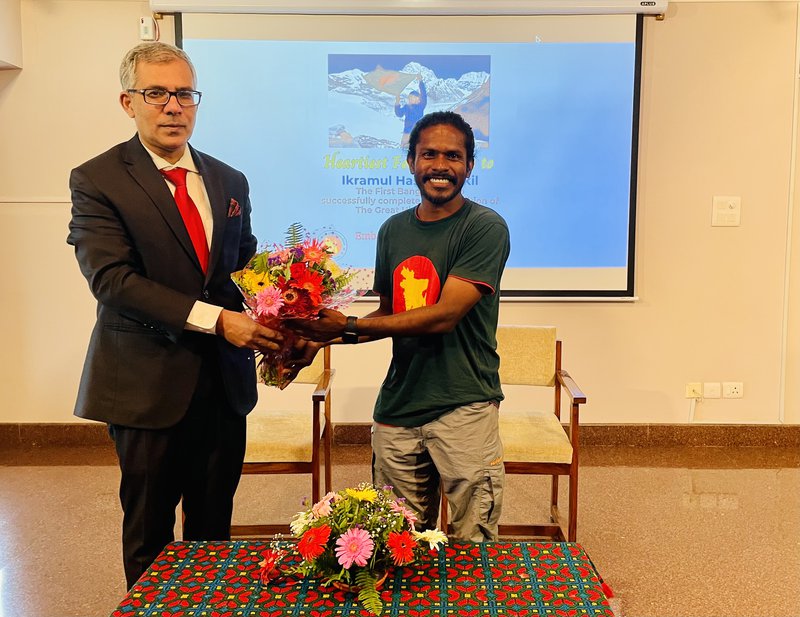 Shakil walked 1,700 kilometers border-to-border trail in 102 days, starting from the Hilsha border in the west and ending at the Kanchenjunga base camp in the east. Only a very selected number of mountain climbers from around the world have successfully completed the trail so far.
During the expedition, Shakil had to cross 29 difficult mountain passes, 14 of which are above the altitude of 5000 meters and are marked as inaccessible and extremely difficult.
Shakil earlier conquered several mountains including Mt. Kayazo Ri (6,186 m), Himlung Himal (7,126 m) and Dolma Khang (6,332 m). A prolific writer of travelogues, Shakil promotes awareness building on education in mother language and conservation of environment.
During the interaction with Embassy officials, Shakil shared his experience and thanked them for the support. He was honored with a crest by the Ambassador.