Madhesh based leaders of Rashtriya Janata Party, Nepal (RJPN) call on External Affairs Minister Sushma Swaraj at Indian Embassy in Kathmandu. According to a press release of Indian Embassy, Minister Swaraj and RJPN leaders discussed Nepal's current situation.
Observers see this is a major political development in the context of ongoing local, national and provincial elections and participation of RJPN. Following the stalemate with China in Dolkan, India is taking initiative to convey its stand.
Although officially no statement issued by both the parties, Madhesh based parties said to have requested Indian External Affairs Minister Swaraj to press the current government to amend the constitution. RJPN leaders have made it clear that it is impossible to take part in the elections without amendment of the constitution. Indian Foreign secretary was also present on the occasion.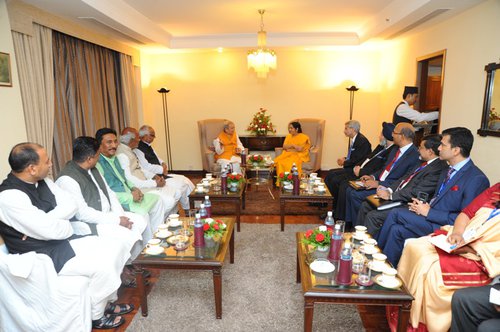 "We have just paid a courtesy call on External Affairs Minister Swaraj," Rajendra Mahato leader of RJPN told New Spotlight.
All the eight leaders of RJPN's top body including leader Mahanta Thakur was present at the meeting.
External Affairs Minister Swaraj is in Kathmandu to attend 15th BIMSTEC ministerial meeting.