The Embassy of Nepal in Beijing hosted a reception to observe Nepal's National Day, also the second anniversary of the promulgation of the Constitution of Nepal, in Beijing Qian Hongshan, Assistant Minister of Foreign Affairs of the Government of the People's Republic of China graced the event as Guest of Honor.
In his welcome remarks, Leela Mani Paudyal, Ambassador of Nepal to the People's Republic of China, stated that the promulgation of the new Constitution of Nepal was a watershed moment in the country's history as it institutionalized Nepal as a federal democratic republic, and ushered in an era of democracy and political stability.
Ambassador Paudyal mentioned that Nepal and China enjoy the best of relations and that the two countries have made remarkable achievements in the fields of border connectivity, cultural co-operation and people-to-people level contacts in the past year. He said that new initiatives for economic co-operation based on traditional friendship and goodwill are likely to bring greater prosperity and benefits to the people of the two countries in the days to come.
According to a press release issued by Nepali Embassy in Beijing, the event included a cultural show, including Kumari dance and other musical and dance performances, by Nepali and Chinese artists.
The reception was attended by Ambassadors, senior officials of the Government of the People's Republic of China, visiting secretaries and senior officials of the Government of Nepal, the business community, scholars and academics, friends of Nepal, prominent Nepali nationals living in China and the Embassy family.
Similarly, ambassador to Nepal to Republic of France Ambika Devi Luitel hosted a reception in Paris to celebrate the national day of Nepal. Many high-level officials and people from different walk of life attended the program.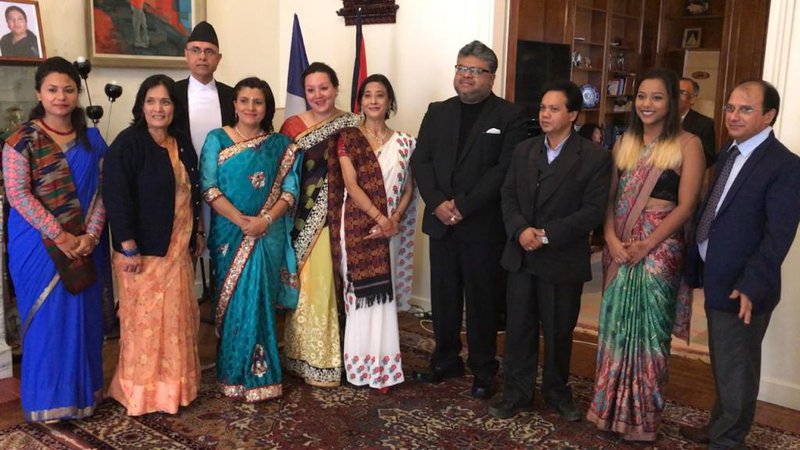 Similarly, ambassador of Nepal to Pakistan Sewa Lamsal Adhikary hosted a reception in Islamabad to celebrate the constitution day. Federal Minister for Federal Education and Professional Training Muhammad Baligh Ur Rehrnan attended as a chief guest.