As Himalaya Sumsher Rana was celebrating his ninetieth birthday with his family and close relatives, everyone was talking about his regulated and happy family life, professional achievements and social activities, even as an elderly active citizen.
Every one aspired to have a decent life like that of Rana who is surrounded by all the family members with high recognition and social reputation. There was a reason to talk about his happy life even at ninety.
With two great grandsons, seven grandsons from two sons and two daughters and wife with certain health ailment, Himalaya Sumsher has a happy family environment only a few can aspire for. As everything is normal before him, Rana even spends certain of his time in the golf course, that too at his 90th year now.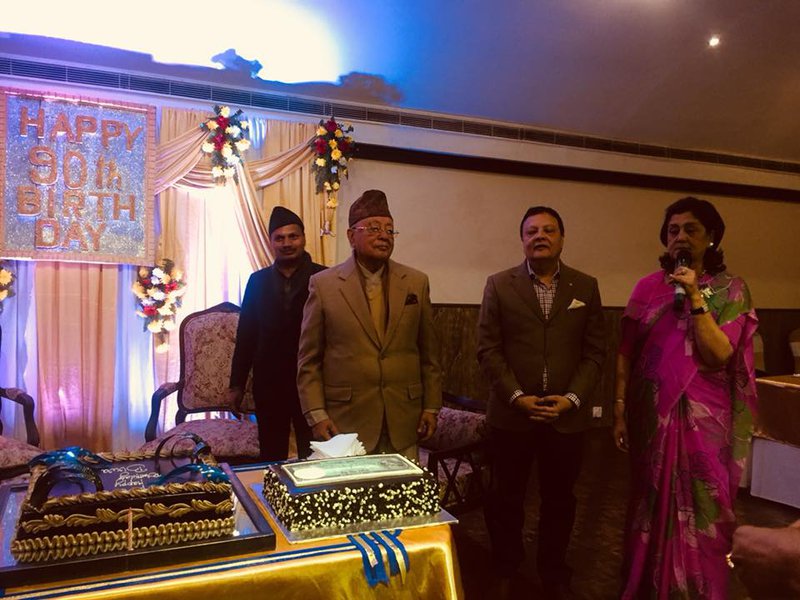 Born on January 8, 1928, Rana lost his mother when he was just three years old. The loss of his mother in his early days still haunts his mind. "My mother died when I was only three years. I feel a pang whenever I recall staring at her fair, oval face as I dripped holy water on her before she breathed her last," recalls Rana in his biography Reminiscences and Reflections. "I missed maternal affections during my childhood as I did not have the good fortune of lolling around in my mother's love," Rana reveals in his biography.
Although his pain of losing his mother early still haunts him, Rana's family offers a warm environment, love and affection at the age of ninety. Having received high quality education in reputed universities of the world, his sons and daughters are now giving him return in terms of high achievement and recognition in their professional life. As he groomed all his children with a family value, there is warmth all over.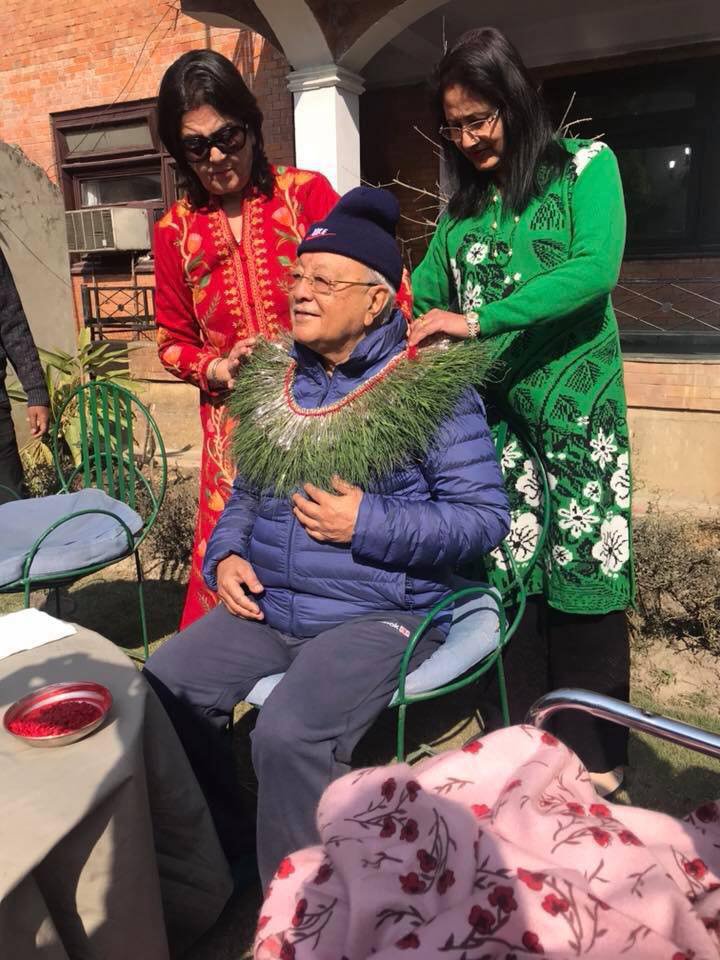 Rana at home (Photo Courtesy: Chanda Rana Face Book Page)
"We are very proud of our father who sent us to renowned universities to acquire degrees and taught us to love the nation," said Ashoke SJB Rana, CEO of Himalayan Bank. "He stands behind us all the time."
"The exposure given by our father through education and interactions in different parts of the world helped us to build our professional career," said Sangita Thapa. Youngest son Amar also expresses similar views. "Our father also taught us family values and respect."
 At ninety, Himalaya Sumsher has seen his sons, daughters; daughters-in-law and grandsons making progress and achieving professional success while contributing to the society and nation as a whole. His daughter Pratima Pande has her own national and international recognition as a pioneer and dedicated heritage conservationist of Nepal. His son-in law Prithvi Bahadur Pande, son of renowned diplomat and civil servant late Bhim Bahadur Pande, is a leading banker of Nepal as a chairman of Nepal Investment Bank Ltd.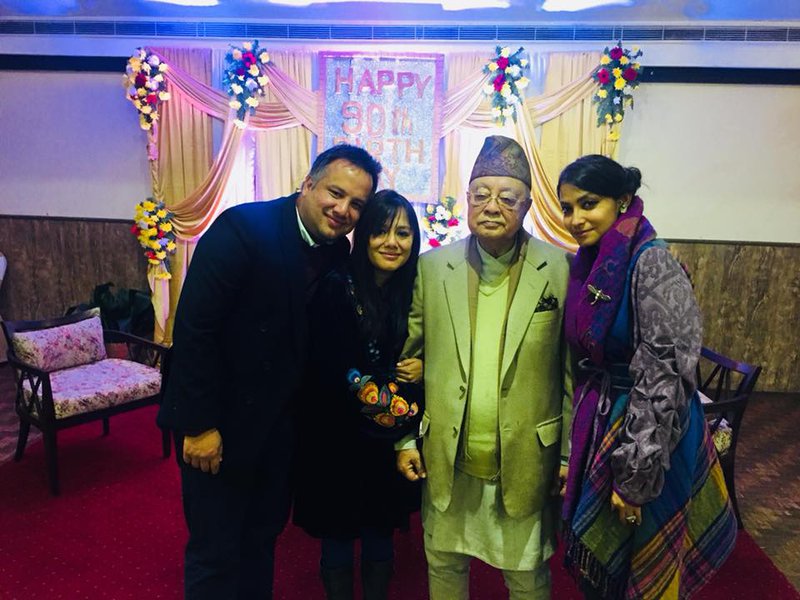 Rana with grand children (Photo Courtesy: Chanda Rana Facebook page)
His son Ashoke SJB Rana, Chief Executive Officer of Nepal's premier commercial bank, Himalayan Bank, has a high reputation in the banking sector of Nepal. His daughter-in-law Chanda Rana has established herself as an environmental and heritage conservation activist.

His daughter Sangita Thapa is well known artist and curator of Siddharth Art Gallery, having national and international reputation and son-in-law Sunil Thapa, who is the son of renowned politician late Surya Bahadur Thapa, is a minister and elected member of parliament.
Rana's another son Amar Rana is in business sector with his own reputation and daughter-in-law Sharda is an active social worker. As is his family life and professional life, Rana's social life has many events of success worth cherishing.
He still spends a lot of his time in the social sector as a responsible senior citizen leading youths, and hence, Rana has many young admirers. For his contribution and dedication, Rana is widely respected and recognized in the society.
Born in a family of liberal Rana Prime Minister Dev Sumsher, Himalaya Sumsher Rana also inherits many liberal attitudes from him. Whoever meets him, the perception of liberal values is reflected in his behavior and dealings. This is the reason every one maintains cordial relations with Rana.
As he has accommodative and liberal attitude, Rana has been leading the General Election Observation Committee (GEOC) since 1990 without any dispute and controversy. This is one of the testimonies of his way of working.  Formed with the objective of supporting the holding of free and fair election through independent observation of election procedures and processes, Rana led GEOC has its national and international recognition. Presently, there are 10 NGOs affiliated with the GEOC and the GEOC has observed six elections since 1990.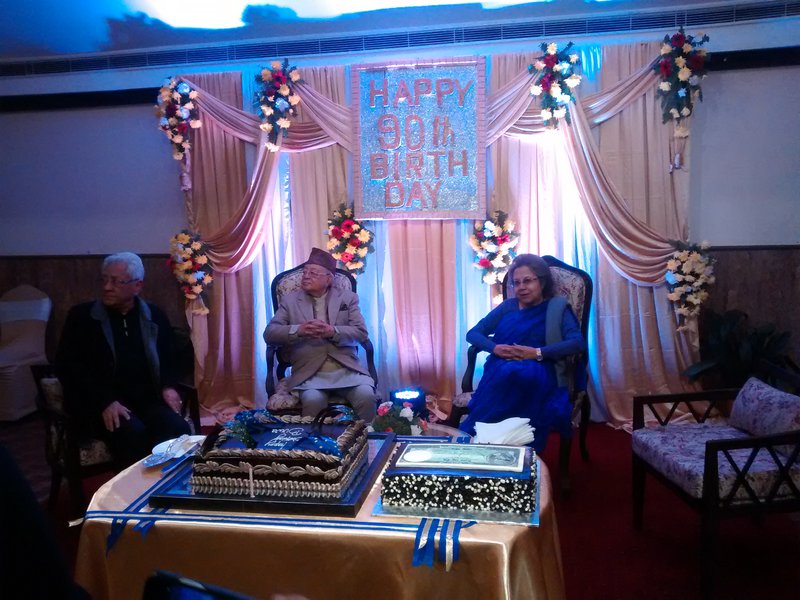 Even during the recently held national and provincial elections, Rana went to inspect the polling booth with the young people or a generation born after 1990. All the young people felt comfortable accompanying him in the poll observation.
"I wish he can go 100. He is a person with all good things. He has certain peculiar qualities, as he can interact with people of all ages which I can't," said Maharajkumari Rama Rana, the daughter of the late Prime Minister of Nepal Maharaja Sir Padma Shumshere Jung Bahadur Rana, and a granddaughter of Bhim Sum Sher Rana.
Contribution in Nation Building
As the first finance secretary and first governor of Nepal's central bank, Rana's contribution is always remembered in Nepal's history. He became the governor at young age but then he made bold decisions. Among many achievements, Rana succeeded in circulating the Nepalese currency as a legal tender in the Terai region of the country, where Indian currency was in circulation.
After conducting research for more than three years, he persuaded Nepal government to declare unlimited convertibility between the Nepalese and Indian rupees at the exchange rate of Rs.160.00 Nepalese to Indian Rs.100.00.  The rate of exchange prevails even now after more than fifty-five years. Through NRB, Nepal has become independent in carrying out transactions in foreign exchange which hitherto had to be done through the Reserve Bank of India.
"Had not he taken the decision on convertibility of Nepalese currencies, we would not have to sustain our economic independence. This is one of the most important decisions taken by him," said Prabhakar Shumsher Jung Bahadur Rana.
As he served in early days with vigor and hardship, he has a good reputation among the civil servants in Nepal. Since he spent a long time in international development sector leading UNDP in different parts of the world, Rana has international recognition as well.
Soft spoken and person with a vast knowledge on statecraft and international development, Rana, the first governor of Nepal's central bank, not only decided to circulate Nepalese currencies all over Nepal as legal tender as a milestone he also helped make Nepal an independent and sovereign nation with its own currencies.
"His contribution as a governor and finance secretary was remarkable. His decision took Nepal into an era of economic independence," said Chiran Sumsher Thapa, former principal secretary to King Birendra.
Rebellion  
Although he had a choice to side with Ranas, he decided to side with rebel Nepali Congress in the revolution of 1950, issuing a joint statement demanding establishment of a liberal democratic order in Nepal. From 1950 to till now, Rana has seen many political and economic upheavals in Nepal from autocratic Ranas to monarchy and now federal republic; he has always stood for liberal democratic order.
He has also contributed a lot in the economic liberalization. He opened the first private sector bank in Nepal opening the Himalayan Bank, partnering with Habib Bank of Pakistan. Similarly, he opened Gurkha Brewery, bringing Denmark's world class brand Carlsberg in Nepal.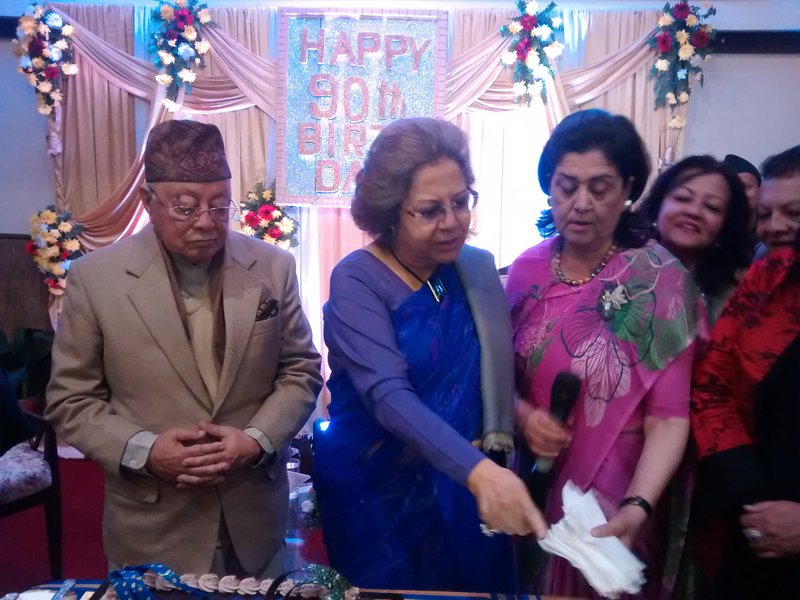 "I am really grateful to those who admire me," said Rana.
At a time when everyone is talking living a healthy life, Rana, 90, reveals three secrets: exercise, regulated food at home and positive thinking.
Himalaya Sumsher Rana has a perfect life, for having made great contribution to the country's political and economic sectors, bringing up a good family and maintaining social relations with people of all ages and walks of life.