Besides the main tourist attractions in the valley such as Pashupatinath Temple, Durbarmarg or Kumbheshwar Temple, there are some ways to enjoy Kathmandu like a local would do.
1.    A day exploring Thamel. - Thamel is a prime tourist spot and hence the cluster of many ethnic and religious stores. It also is known for its fine dines such as Fire and Ice to hangout places like Electric Pagoda.
2.    Take artsy pictures in Basantpur - Basantpur is yet another fascinating spot to wander around, which has several beautiful and historical architectural buildings that are of great value to our customs. It naturally has a good view to take artsy pictures with friends.
3.    Lhaphing at Boju, Boudha - In the midst of the noisy crowd in Boudha lies a very peaceful little place called 'Boju' that serves the best la-phing in my experience. Lhaphing is a Tibetan summer snack and also one of the main street items of Nepal.
4.    1000 steps at Dhulikhel - In the outskirts of the town lies a mild hike of 1000 steps atop a mountain called Dhulikhel. Let alone the explicit view of the Kathmandu valley with shimmering lights like a panorama, the path leads you to a vintage temple that freshens one's mood.
5.    Golf at Gokarna - Gokarna a.k.a Le Meridien Resort is a massive resort with many activities, which also includes a downhill golf course. I believe that this is a perfect way to spend a warm sunny day with friends or family in the nature.
6.    Wear dhaka with pride - Dhaka is a traditional Nepali clothing material that ranges in many colors and patterns. As a fashion enthusiast, I think there are many ways to jazz up the piece. Imagine wearing a dress of dhaka material, you would be wearing western, but it'd still be ethnic, how cool is that?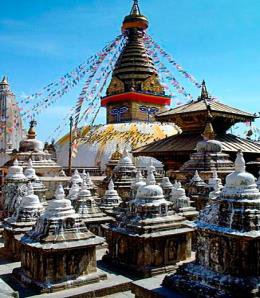 7.    Swayambhunath Stupa  - One of the most attractive spots for me is this unique world heritage site. It is truly intoxicating that the stupa has ancient work carved to its structure. The ambience created spreads a strong positivity in the body and mind.
8.    Go cycling around Patan - Patan Durbar Square is clustered with the finest remarkable ancient foundations with intricate carvings jammed up to its structure. This beautiful place lights up at night making it even more mesmerizing.
9.    The Shangri-La Rooftop Swimming - The Shangri-La Hotel is listed as one of the top reputed hotels in the Kathmandu Valley. The rooftop swimming pool is a great idea to bask beneath the sun and the view from top is inexplicable.
10.   Momo Competition at Nandan - How could our list as a foodie possibly end without having a momo competition? For those who haven't, check out the restaurant 'Nandan' in New Road that serves the most delicious momo's of all time.