There aren't many public vehicles going from Khalanga, Jumla to Talcha, Mugu. Mostly people reserve vehicles. The prices are high -- rupees twenty to twenty five thousand one way and thirty to thirty five thousand two ways. Padam Bahadur Shrestha (Dai) and I booked our tickets for a morning seven o'clock bus at a price of eight hundred and fifty rupees each. This by any standard was reasonable for us. My stomach was upset and I was drained of energy. I had been careless in drinking tap water without purifying it while we were stranded on Jumla-Dolpo highway on our way back from Gothichaur. Nonetheless we had to resume our journey. I had taken medicine which worked wonders. I had no serious problems once we were on the move. We were headed for Rara Lake.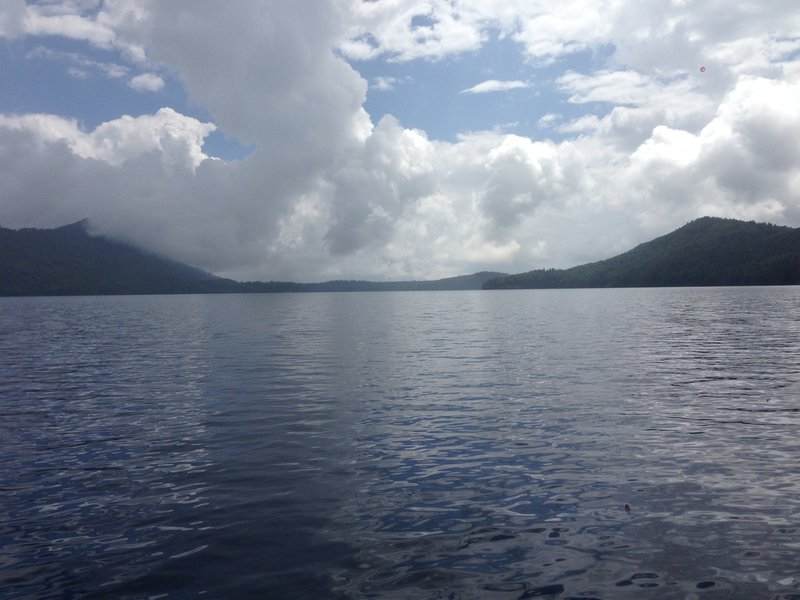 We travelled across Sizha. Sizha, we were told repeatedly, to be the birth place of Nepali language. The roads weren't the best. It was a dirt road throughout. Many a times the turns were so sharp and roads were narrow. From the window I could see the bottom of the hill without much margin between the wheels of the bus and the edge of the road. It was an extreme adventure traveling in Karnali Highway. The drivers are skillful and courageous.
We stopped by Gothijyula to have lunch. I skipped lunch owing to loss of appetite and stomach upset. During lunch Padam Dai befriended a young couple. We would travel together till Rara Lake. Not everyone on the bus was going to Rara Lake. The bus was packed with locals going to their respective villages.
We reached Talcha after four in the afternoon. Padam Dai made quick calls and arranged for a 'jeep'. The jeep would take the four of us to Rara Lake for a price of three thousand and five hundred rupees. The distance was less than half an hour. We did feel the pinch of expense while paying it. But we were unsure how to proceed from Talcha as dusk was approaching and we were excited to see the 'queen' of lakes, Rara. We were also rightly told that it would take another hour and half to walk till the hotel after we were dropped by the jeep. Hotel Danphe and Village Heritage Resort are at the other side of Rara lake.
Excited, we walked towards Rara lake. We were told that the view was ten minutes walk after we passed the jungle and we were to follow a trail alongside the lake to reach the hotels. After a short walk anticipating Rara lake in excitement, yes, we did see Rara for the first time. Stretched from one end to the other till our eyes could see, there was Rara. The 'queen' of lakes. It could only be contained by lush green hills surrounding it. We also spotted a few buildings. One of them was our hotel. It took us one hour and forty minutes to reach the hotel.
The trail was beautiful. Trees on either side of the trail, through the forest and keeping Rara on the right we walked in a pleasant weather. We were rejuvenated. There was no tiredness. Not even once, it occurred to me that we had travelled through treacherous terrain all day long. I loved the silence in the forest. I was immersed in it. As it was already dusk only a few birds were still singing. Rest of Rara was quiet, silent, mysterious and in harmony. Along the trail I paused to appreciate the purity and serenity of water of the lake. Rara has different shades of blue and green and colorless water. It's mesmerizing and captivating.
Soon the darkness engulfed Rara and all its grandeur and beauty were veiled. After a light meal Padam Dai and I interacted with others in the hotel by the fireside. I retired earlier than others as I was feeling weak. Others sang and laughed. One of them was an artist who had a beautiful voice. She reigned that evening. I could hear them enliven the environment from the bed.
Next morning Padam Dai had impromptu arranged an interaction with students and teachers of Karnali Secondary School Khin, Kalikot, on local environmental issues. The students had reached Rara lake on a study visit. Lawmaker Gopal Bam was the chief guest and Anil Kedia, principal of DAV School, shared his thoughts with the students. After the unofficial program concluded we went for boating.
There are just two rafts on Rara lake. These rafts are used as a mode of transportation. It's disappointing for boating enthusiasts because leisurely boating is limited to only ten-fifteen minutes on the lake. Probably it could be one of the reasons why foreign tourists were nil at Rara. I was indeed surprised to have not seen even a single foreigner at the 'queen' of lakes.
Padam Dai had an army friend. He suggested he would arrange a boat ride for fifteen-twenty minutes. I wasn't impressed. I wasn't aware that boating on Rara was mostly for transportation purpose. Five hundred rupees per person from the army camp side to the other end. And seven hundred and fifty rupees from the other end to the army camp side. While returning it depended whether there were passengers on the other side waiting for the boat. Because the wind would make it difficult for boating, normally after eleven there was no boating.
After hearing our interest of boating for longer duration Padam Dai's army friend arranged for us to reach the other end of the Rara lake with other passengers and return on the same boat. That was just perfect. I was excited. We had a boating time of an hour and half.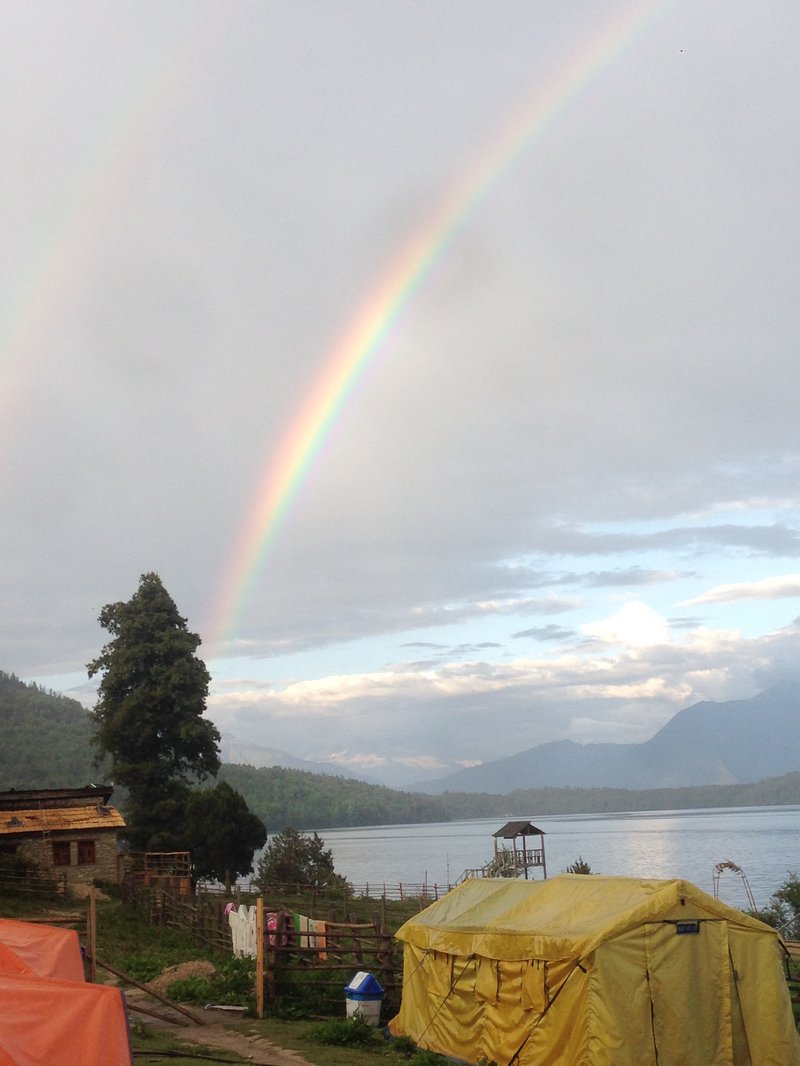 The pristine water of Rara lake has different shades of blue and green. We asked ourselves where does Rara get its colors from? The 'queen' lake is believed to be the deepest and biggest fresh water lake in Nepal. At an altitude of 2290m its average depth is 100m, its length being 5.1km and breadth being 2.7km. It covers an area of 9.8sq.km. One and half hour of boat ride compensated taking all the pains to travel to Rara.
The only canteen there, it is much more reasonable than the hotels. We had coffee and next day morning breakfast there. At Hotel Danphe a vegetarian meal would cost Rs. 250 and with meat the prices soar up to Rs.450.
At Rara tourists can admire the nature and be at home in it. One can also trek to a view point to see the seven districts. Padam Dai and I also kept ourselves busy by walking along the trail surrounding the lake, took snaps riding a horse and lent a hand picking up trash which were thrown on the trail. It's heart rending to see how people aren't conscious about keeping environment clean. Most of us are careless and throw plastics and other trashes without taking notice of the pristine surrounding.
We were fortunate to witness the heaven-earth connecting rainbow. There were two of them simultaneously. We also took rest admiring the magnificent Rara lake from our veranda. We knew we would soon be in the hustle and bustle of Kathmandu. For next morning we had planned to walk till Talcha Airport. It was a two and half hour walk. One hour would be along the trail surrounding the lake and the next hour or so would be through jungle. Padam Dai and I spotted a couple of Danphes, Nepal's national bird, along the trail by the lake.
At Talcha Airport it is interesting to watch flights take off and land. Only problem is there aren't many flights landing there. On either end of the runway there is a steep slope. The engineering is marvelous. The pilots are fearless and courageous. Everything has to be just perfect. We were fortunate to have a second flight coming within a couple of hours of reaching at the airport. Though we had booked tickets we could buy them only on the spot. Some were stranded there since a couple of days. They were relieved as well after boarding the flight. But there was so much uncertainty whether the airplane would land or not.
The flight from Talcha Airport to Nepalgunj was one's nerve testing. The plane was flying too close to the surrounding hills. And there were plenty of jerks. A lady was praying throughout the flight duration and the captain was calm and composed in the cockpit. For these reasons I was assured that we would land safely, though not without an adrenaline rush.