More than 37,100 soldiers have taken control of the polling stations across Pakistan to ensure smooth voting on July 25 as the election campaign came to an end last night.
Though the campaign trail has been a bit lacklustre affair compared to previous elections due to bomb blasts at some rallies killing 160 people, leaders of the major political parties did not budge as they continued to campaign hard until the last minute.
"This election is a serious challenge for security forces as the recent wave of terrorist attacks has created an atmosphere of fear across the country," Sohail Warraich, a political analyst told Gulf News.
Although more than 100 parties have pitched more than 12500 candidates for the National and the four provincial assembly elections being held on the same day, the real battle for power is amongst three major political parties –Imran Khan's Pakistan Tehreek-e-Insaf, Bilawal Bhutto Zardari's Pakistan People's Party and Shahbaz Sharif's Pakistan Muslim League-Nawaz. With none of them expected to get clear majority to form the government, some smaller but significantly strong parties and independent candidates are set to play key role in an expected coalition government.
PTI Chairman Imran remained steadfast on his slogan of making 'Naya; (new) Pakistan' if he wins elections. "This time, there is a wave of support for the PTI's agenda for change and against corruption. We have finally succeeded in making the people understand the direct link between corruption and under-development.
Bilawal's campaign focused on basic human rights, economic reforms and fight against extremism. "The biggest threat to Pakistan's present and future is extremism, I ask for your support in eradicating this menace from our society," he tweeted.
Shahbaz said that he would bring Pakistan at par with Malaysia and Turkey. "Low cost housing for the poor and tackling water and energy crisis will be top of my agenda if elected," he said.
While the campaign for the general elections scheduled on July 25 (Wednesday) comes to an end, two major political parties of Sindh, the Pakistan Peoples' Party (PPP) and the Karachi based Muttahida Quami Movement (MQM), blamed that they were not given a free hand to run their election campaigns in the province as well as in its capital city.
The leadership of PPP and MQM-Pakistan claimed that their political movements were restricted unnecessarily while other political parties, specially Pakistan Tehreek-e-Insaaf (PTI), did not face such hurdles.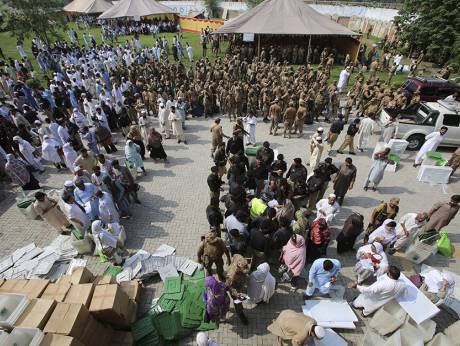 For the first time in last three decades, the MQM-P, who had upper hand in general and local bodies elections in urban Sindh and mainly in Karachi might face toughest time ever and some major setbacks could also witness in this election as positions of few of their leaders are not as good as it used to be in the past.
Not only their opponents have done all the hard work to convince voters, internal rifts among MQM-P leadership, emergence of Pak Sarzamin Party (PSP) within the party and most importantly the boycott call given by its founder, Altaf Hussain, who is in self-exile in London, United Kingdom, could damage its vote bank.
This situation has given PTI a great hope to capture as many seats as possible but they could be challenged by the grand religious parties alliance called Muttahida Majlis Amal as well as in some pockets (provincial seats) the Tehreek-e-Labaik Pakistan (TLP), Awami National Party (ANP) could also give surprising results.
This general election is not only critical for the MQM-P but it is also very important for the MMA or mainly Jamat-e-Islami, one of MMA partners, as both of them claimed to be the true representative of Karachi. On the other hand, the PTI, TLP and even PPP has nothing to loss.