When it comes to modern innovation and novel thinking in paintings, artist Sangeeta Thapa, Director of Siddhartha Art Gallery, has always been in the forefront. Although Nepal's modern art and painting have a long history, they are often confined to the walls of galleries, out of reach of the common people.
Realizing the need to reach the commoners, artist Thapa came up with the novel idea of linking health and art. Thanks to the support from young Nepalese artists, her vision to reach the broader public has materialized. For the first time, Nepalese artists have found a space to use their creativity at the dirtiest wall of Kanti Children's Hospital, a national children's referral public hospital, under a project Health Transformed by Art.
To promote art and painting in Nepal, artist Thapa started her journey by establishing Siddhartha Art Gallery in 1987 as the first private modern art gallery at the heart of Kathmandu giving access to many new comers and old timers. Although there were a few public art galleries, it was the first private modern art gallery of Kathmandu.
Painted under the project Health Transformed by Art, the paintings and works done in Kanti Hospital have now reached to Siddhartha Art Gallery. Inaugurated by Ani Choying Dolma, famous musician and founder of Nuns' Welfare Foundation of Nepal and Dr. Ganesh Kumar Rai, Director of Kanti Children's Hospital, the exhibition, together on the steps of the gallery, has shown various stages of the project.
The Health Transformed by Art Documentation Exhibition, opened on July 22nd at Siddhartha Art Gallery, will run till August 17th.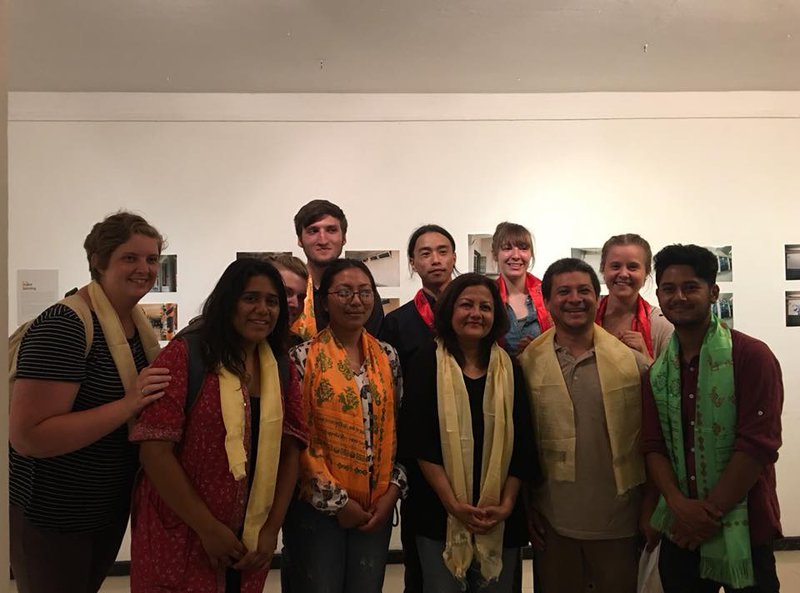 Visitors can see MCUBE's table designed from hospital waste in the gallery. The work is up for auction.
"The project passed through three stages. In the first stage, Dr. Lajja Dixit, the first art therapist of Nepal, started the therapy class for the children. Art Therapist Lajja Dixit sat down with children and carried out her art therapy sessions. Highlighting the significance and benefits of the therapy, Dixit said, "There are so many emotions and feelings one cannot talk about. And since art is the easiest way of expressing oneself, art therapy can do wonders."
Then Kiran Shrestha and Shraddha Shrestha made mirror at Kanti Hospital spending huge time. Then, the hospital wastes, non-hazardous, were collected by the students of Kathmandu University of Art and Science. "The painter used these non-hazardous hospital wastes to create their work in Kanti Hospital," said Thapa.
In the work of Kanti Children's Hospital, there is also active involvement of fine art students of Sirjana College of Fine Arts. The whole concepts revolve around the concept of healing.
They created different pictures of sun, birds, elephants, trees and so on. These are metaphors of illumination sources of healing mechanism. As most of the public hospitals in Kathmandu valley are in pathetic conditions with the wall full of dirt with all kinds Gutka spit, the artists have changed the Kanti Children's Hospital. Visitors of Kanti Hospital now see more than dirt here and there. The paintings in the corridor cure the minds of sick children.
At a time when there is a growing concern about hospital wastes and dirt, chairman of Siddhartha Art Gallery, Thapa has shown a way out. Her initiative makes the hospital's wall clean with paintings and art works, even using the medical disposals. This also helps to heal the sick better.
Following the completion of the project, Kanti Hospital is now child friendly, with the hard work of a group of young artists. One can see the children enjoying the art work and playing with it.
"This is a great venture. Studies have shown that art also transforms health. It is very important for children to show that hospitals are like a place to entertain them along with treatment," said Dr. Rai. "Art and paintings easily attract children's psychology. It has already proved that there is a need of a friendly atmosphere to effective treatment. Arts and paintings can play an important role in mental therapy."
Organized by Siddhartha Art Gallery, three young artists Raju Giri, Anoj Subedi and Shrsti Karki led the campaign. For these young artists, students from School of Art of Kathmandu University and Shrijna College of Art backed them, helping them wash the walls and change it with creative works where children can feel happy.
Supported by Surya Bahadur Thapa Foundation, one of the main aims of the project Health Transformed by Art is to link therapeutic value of arts with hospital setting. Since Kanti Children's Hospital, Maharajgunj, is the oldest referral national government hospital for children in Nepal, the organizers were able to spread the message of decorating the hospitals across the country.
After completion of the project, the corridor area of the hospital is now more colorful and lively, where one can see children, parents and thousands of visitors enjoying. The work shows the way how art can be used outside of galleries into public spaces and impacting the general public.
Initially, the project was only concerned with mural paintings as a medium of providing psychological relief, but later the idea broadened to include installation of artworks made out of hospital waste as a way to manage a certain level of hospital waste and up-cycle/ create value out of them.
The project also collected non-hazardous wastes, uncontaminated by patients, from six different hospitals of Kathmandu -- Kanti Children's Hospital, Norvic Hospital, Manmohan Cardio Hospital, Om Hospital, Grande Hospital and Shahid Gangalal National Heart Centre.
Project Health Transformed by Art is currently in its implementation phase and the success of this project will lead to replication of the concept in other hospitals of the Valley.
The artwork illustrates hope for a renewed and hearty life from medical treatment. The colorful and vibrant red, yellow and orange medicine vial caps have been perfectly used to make the bird stand out and also make the atrium of the hospital livelier. On either side of the phoenix, vial caps in the shades of blue and white have been used to make clouds to give an idea of the sky where the phoenix soars gracefully.
The team from Health Transformed by Art worked endlessly to create art work by recycling and reusing hospital waste. "After undergoing several rounds of radiation, your passion for the arts and to facilitate such a project targeting hospitals and cancer children is commendable," Sarbesh Joshi & Ujjwal Shrestha for your support," writes Seetashma Thapa, daughter of Sangeeta Thapa on her Facebook wall.
The paints have been sponsored by Berger Paints Nepal, art materials by Surya Bahadur Thapa Foundation and amazing t-shirts by Butta.
"We also have another activity planned for the hospital. Our mural paintings have completed!! 34 days of continuous paintings in the hospital and here we are with the space totally transformed. Kudos to the entire team!! Feel free to drop by at Kanti and take a look at the space our amazing artists have worked on. "
The team of Health Transformed by Art visited both of these institutions and interacted with the faculties and students to communicate the concept of the project.
Nepali Times quoted Sangeeta Thapa, "these are cynical times, but idealism, hard work and integrity of the artists have brought us this far," adding, her own recent health scare was an impetus for the project.
"As I was lying in a hospital, I would get calls every day from the artists. They asked me to decide on one thing after another, shared their problems, their ideas," said she as she broke down in tears at the inauguration. "It was difficult for me to handle all that, but it came to mean so much to me, personally, as well. This project to heal others has ended up healing myself," Nepali Times quoted Sangeeta Thapa.